Virgin Media's Bigger Bundle + Sports is on offer for just £65 a month, making it £33 less than an equivalent package from Sky.
Bigger Bundle + Sports includes access to BT Sport in HD and the BT Sport Ultimate 4K channel, as well as the Sky Sports pack.
Customers also get Virgin's M500 broadband plan, which offers average download speeds of 516Mb.
Virgin Media also recently launched Sky Sports Ultra HD on their platform, allowing sports fans the ability to watch in 4K resolution for an extra £7 per month.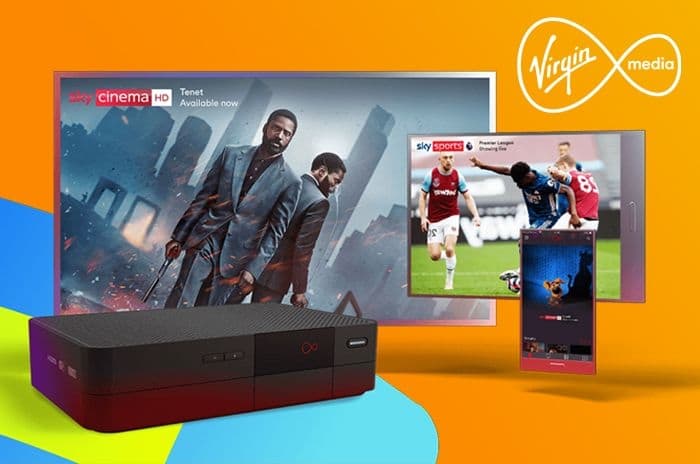 Bigger Bundle + Sports
Virgin Media's Bigger Bundle + Sports offers over 195 channels, including the BT Sport and Sky Sports packs.
It also bundles Virgin Media M500 broadband with average download speeds of 516Mb, along with a home phone line and free calls to UK landlines at the weekend.
Package
TV
Broadband
Monthly price
Upfront price
Contract term
Bigger bundle + Sports
206
516Mb average
£65
£15
18 months
Offer: £15 setup fee (was £35)

(Ends 28/02/2023)
It's currently on offer for just £65 per month, which Virgin say is £33 less than an equivalent package from Sky.
Virgin Media are offering this promotional deal on their Bigger Bundle + Sports package just in time for the return of the UEFA Champions League, and the new Formula 1 season coming in early March.
Read more about Sky Sports and BT Sport packages.
Virgin Media vs Sky
An equivalent package from Sky, offering BT Sport and Sky Sports in HD, combined with 500Mb broadband speeds comes to £101, which is actually £36 more expensive than Virgin Media's Bigger Bundle + Sports.
Virgin Media have used Sky Ultimate TV in their savings calculations, which comes to £105 per month, and includes Netflix Basic. Adding the price of Netflix (£6.99) to Virgin's Bigger Bundle + Sports deal, and you reach the £33 savings.
There are some subtler differences between these offers from Virgin and Sky however.
Virgin Media for example includes BT Sport Ultimate in 4K in their sports bundle, which Sky customers would have to pay an extra £12 per month for, as it's only included with their Ultra HD pack.
Virgin Media customers can also now upgrade Sky Sports to Ultra HD for just £7 per month extra, while this would cost £12 for the Ultra HD pack with Sky directly.
Sky TV offers more channels overall however, including access to their exclusive Sky Atlantic programming, which is the home of popular series like Game of Thrones, House of the Dragon, and Gangs of London.
Read more about Virgin Media vs Sky.
Price rises
While low introductory offers are enticing and can save money for customers willing to regularly switch providers, it's worth being aware of a few terms and conditions within Virgin Media contracts.
In late January 2023, Virgin Media confirmed they would be pressing ahead with annual price rises of 13.8% on average for broadband and TV customers.
While Virgin customers have had a contractual benefit that allows them to leave their contracts early if the provider increases their prices, Virgin have also said this clause will be replaced by a set annual price rise from April 2023.
So, from next year, TV and broadband prices for in-contract customers will go up by RPI + 3.9%, which this year would have meant price rises of 17.3%, in line with their partner company O2.
It's a strange move by the provider considering RPI is due to be phased out by 2030 and all other providers have now moved to CPI based price rises, which are currently around 3% less.
In addition to these mid-contract price rises to watch out for next year, the out of contract price for the Bigger Bundle + Sports is £122 per month, almost double that of the introductory price of £65.
While customers can switch away from Virgin Media at this point, or renegotiate a cheaper deal for re-contracting, it could catch some people out if they don't act swiftly when they receive their end of contract notification from the provider.