Sky have announced they are removing their Essential Plus broadband package from sale and it will no longer feature on the website.
Sky Essential Plus is the provider's basic copper broadband package, offering average download speeds of 11Mb per second.
Copper broadband plans connect to the Internet over the phone line all the way from the telephone exchange, which means speeds are slow and distance can cause problems.
Basic broadband has now largely been replaced by fibre to the cabinet, and more recently fibre to the premises technology.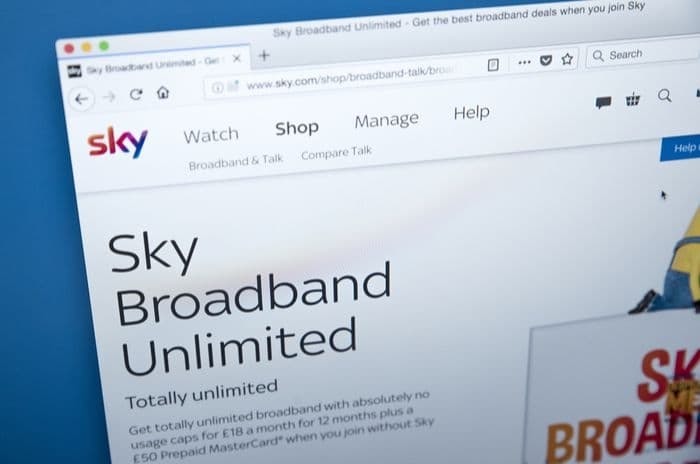 Credit: chrisdorney/Shutterstock.com
Essential Plus withdrawal
Sky has today announced they'll no longer be selling Essential Plus Broadband and have already removed it from their online sales process.
Before it was withdrawn it was priced at £33.25 per month, so it was actually more expensive than Sky's Superfast 80 plan, which is currently on offer for £17 per month for 7 months, and then £34.50 per month for the remainder of the 18-month minimum term.
Sky Superfast Broadband offers average download speeds of 61Mb per second, making it a much faster and more reliable connection, and for less money over the length of the contract.
The provider is clearly choosing to focus on their superfast and ultrafast plans as the broadband market moves closer to a fibre-only network and the copper phone line network is eventually retired at the end of 2025.
Basic broadband customers
While superfast broadband using fibre technology now covers 97% of UK homes, there's still a small proportion of households who can as yet only access basic broadband services.
Those living in exchange only areas, where their street cabinet was too close to the telephone exchange for fibre to be installed, are one such group of people who are still reliant on copper connections until fibre to the premises reaches them.
Yet, providers including Sky and TalkTalk have been pricing their copper plans at the same, or higher prices, than their entry-level fibre deals for some time now, clearly aiming to tempt customers to move to fibre where they can.
It's not surprising then that Sky have chosen to discontinue Essential Plus, despite the small number of households who can't yet access their faster fibre deals.
Customers still living in non-fibre areas can access basic broadband plans for much less money through providers including NOW Broadband and Shell Energy Broadband, who's deals cost £20 and £18 per month respectively.
And of course, as the Universal Service Provider, BT at least will always serve these customers with their basic broadband plan at £29.99 per month.
Fibre first
The move follows Ofcom's announcement that is has approved Openreach's wholesale pricing reduction, which increases the price of copper products, and reduces those for full fibre connections.
The broadband market place is fast moving to a fibre-first industry, and the new Equinox 2 pricing structure from Openreach actively incentivises resellers to sell full fibre connections where they're available.
In fact, customers signing up to a number of providers including Sky and BT will have their broadband connections installed as full fibre to the premises even when they opt for slower superfast plans that have until now been connected using fibre to the cabinet.
The upcoming closure of the copper phone line network, scheduled to be completed by the end of 2025, is also discouraging providers from signing up customers to copper deals.
Openreach has already said they will no longer be installing new copper phone lines from September 2023, so those even able to get basic broadband plans will soon be limited to those with a working telephone line at their property already.