Fibre to the premises (FTTP) broadband from Plusnet is now available to all customers following a soft launch.
Three full fibre speed packages are available offering average speeds of 74Mb, 145Mb and 500Mb.
All Plusnet FTTP contracts are 24 months long and these are broadband only packages with no home phone line included.
The packages are available across the Openreach FTTP network which currently covers eight million premises across the UK.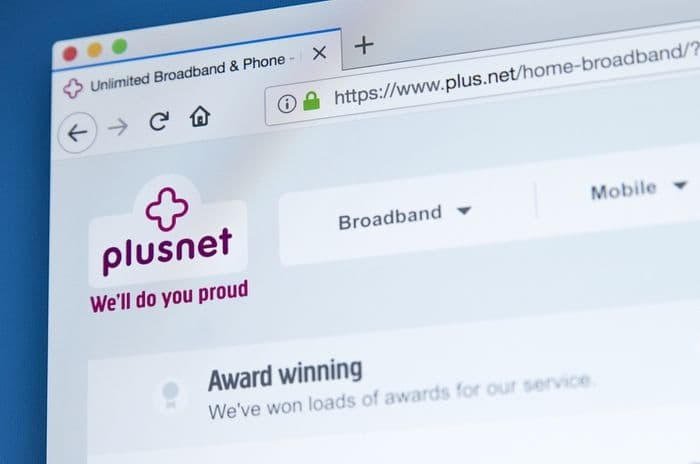 Credit: chrisdorney/Shutterstock.com
Plusnet FTTP
A trio of full fibre broadband packages have been released for general sale to new customers from Thursday 4 August 2022 onwards.
Here are the options:
Full Fibre 74 for £25.99 per month
Full Fibre 145 for £30.99 per month
Full Fibre 500 for £40.99 per month
The name of the package corresponds to the average download speed customers can expect to receive, with the minimum term contract on all of these deals lasting for 24 months.
Upload speeds on the plans are 20Mb, 30Mb and 75Mb respectively. Each package comes with a Hub 2 router.
It's important to note that Plusnet are offering their full fibre broadband deals as broadband only plans, so customers won't be able to add a landline to this package.
Customers who take Plusnet mobile services will be able to get an additional 2GB of data on their SIM only plans each month.
Finally, prices will rise each year by CPI + 3.9% as other Plusnet broadband prices do.
Openreach network
These new full fibre broadband packages from Plusnet will be available across the Openreach FTTP network.
This network passed seven million premises in April 2022 and has since expanded to more than eight million across the UK.
Openreach's aim is to reach 25 million properties by the end of 2026, including building networks in some more rural areas than other FTTP providers.
As Plusnet are owned by BT, they're likely to remain an Openreach exclusive provider and won't join budget rival TalkTalk in utilising two full fibre networks.
Full fibre
Full fibre broadband from Plusnet has been rumoured for a while. Although it has been available on demand to some existing Plusnet customers if they explicitly asked, this launch is the first time many customers will have heard of it.
Plusnet have opted for the same type of no-frills budget broadband they have become famous for, differentiating themselves from their sibling brands BT and EE.
However, while their full fibre launch prices are competitive, they aren't massively lower than similar packages from BT and EE. Here's their Full Fibre 145 package alongside similar deals from the other providers at the time of writing:
Plusnet Full Fibre 145 for £30.99 per month
EE Fibre Max 100 for £32 per month
BT Full Fibre 100 for £35.99 per month
All these plans offer average speeds of around 150Mb on 24-month contracts.
So, while Plusnet is certainly the cheaper of the three, there isn't a great deal in it, especially if customers have EE mobile services and get some broadband benefits associated with those.
The decision to make their FTTP plans broadband-only with no option for a home phone mirrors decisions made by budget rivals TalkTalk and Shell Energy Broadband.
It contrasts with the decision made by Sky to include a digital phone in their broadband packages of up to 900Mb as standard, suggesting a more premium service that is accessible to customers who still want to retain a landline.
Finally, it's noticeable that Plusnet have not yet unveiled a gigabit-capable broadband package. We've seen other providers like TalkTalk and Sky let their other packages settle in before releasing a 900Mb plan, and that could be Plusnet's strategy here.
Read more on Plusnet's performance in our full review.