NOW TV has expanded its availability across Android TV OS devices, including Chromecast with Google TV.
There are now more ways to watch premium Sky content through NOW TV as the app is made available on Android TV OS devices for the first time.
Chromecast with Google TV, NVidia Shield, and eight smart TV brands including Phillips, Panasonic, Sharp, Bush, Toshiba, Hitachi, and JVC, will now be able to access the NOW app.
This expansion of support for the NOW app comes just weeks after Sky launched their own streaming service, Sky Stream, with flexible 31-day terms.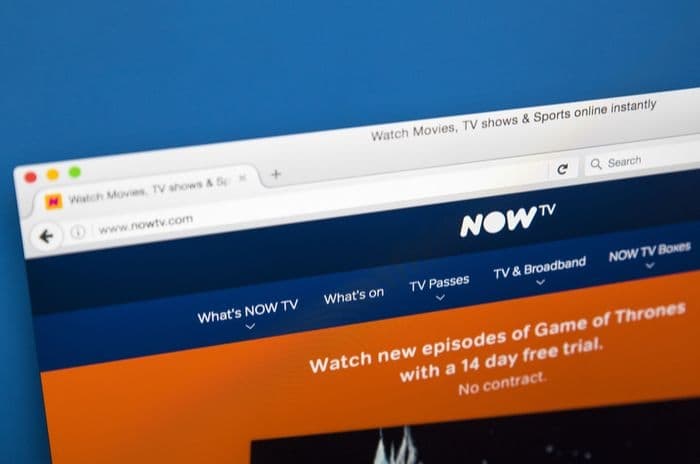 Credit: chrisdorney/Shutterstock.com
NOW on Android TV
While NOW has been widely available across a number of streaming platforms for some time now, their expansion onto the Android TV OS will enable them to reach even more customers.
While the rollout is limited to the latest Google TV devices, including Chromecast with Google TV, the NOW app was already available on older Chromecast sticks from 2nd generation onwards.
However, devices using the latest Android TV OS will now be able to download and access the NOW app through the Google Play store.
Devices in this rollout also include NVidia Shield TV, and smart TVs manufactured by Phillips, Panasonic, Sharp, Bush, Toshiba, Hitachi, and JVC. Xiaomi MI streaming boxes and TiVo Stream 4K will also get the app.
NOW MD Marina Storti commented, "With a wealth of incredible home entertainment devices out there, we're thrilled to be making it easier than ever to get NOW's app and start streaming. Whether you want to watch latest Premier League derby, binge on House of the Dragon or distract the whole family with blockbusters like Sing 2, NOW and our flexible contract free memberships are just a download away."
Read more in our full review of NOW TV.
Where to watch NOW TV?
NOW is available on a wide range of devices from smart sticks, smart TVs, consoles and through iOS and Android mobile apps.
In fact, the NOW website says the app is now available on over 60 different devices. Some of these include:
Sony Smart TVs (2016 models onwards)
LG Smart TVs
Samsung Smart TVs (2016 models onwards)
Amazon Fire TV (2nd gen onwards)
Roku
Nvidia Shield TV
Xiaomi MI box
TiVo Stream 4K
Apple TV (4K, or 4th gen HD onwards)
PS4, PS5, Xbox One, Xbox Series X/S
iOS (version 11.2 onwards)
Android (version 5 onwards)
NOW is also available through pay TV and broadband bundles with BT TV and TalkTalk TV, as well as offering their own NOW Broadband and TV bundles for extra savings on the service.
However, the latest streaming services from both Virgin Media and Sky don't support NOW. Instead, they offer their own Sky TV packs including Sky Sports, Sky Cinema, Entertain Essentials with Virgin Stream, while Sky entertainment comes as standard with Sky Stream.
Netflix rival
NOW's latest expansion onto Android TV devices will help it continue to rival other streaming services like Netflix and Prime Video.
However, research carried out by YouGov in September 2022, found 28% of people living in the UK expected to reduce their spending on streaming services in the coming year, with only 6% expecting to spend more.
Further research undertaken in October 2022, found the reason for wanting to cut back was primarily due to the cost of living, with 80% of respondents from the UK citing they wanted to cut costs, or that the service was too expensive.
Addressing the cost of living, Netflix announced a cheaper 'Basic with ads' plan was being made available from November, allowing customers to reduce their Netflix spend to just £4.99 per month if they were willing to watch ads in programmes.
NOW added ads onto their platform in July 2021 in a bid to help keep subscription costs lower, so unlike with Netflix, NOW customers have to pay more to remove some of this advertising.
NOW Boost costs an extra £5 per month, and offers ad-free streaming, while also boosting the viewing quality to 1080p HD and allowing customers to watch on up to 3 devices at the same time.