Victims lost over £574m on UK-issued cards in 2020, a 7% fall compared to 2019 despite there being a 3% increase in cases.
Authorised push payment (APP) fraud accounted for 38% of total losses, costing customers almost £480m.
The annual report from UK Finance also looked closely at the impact of the Covid-19 outbreak on fraud and losses.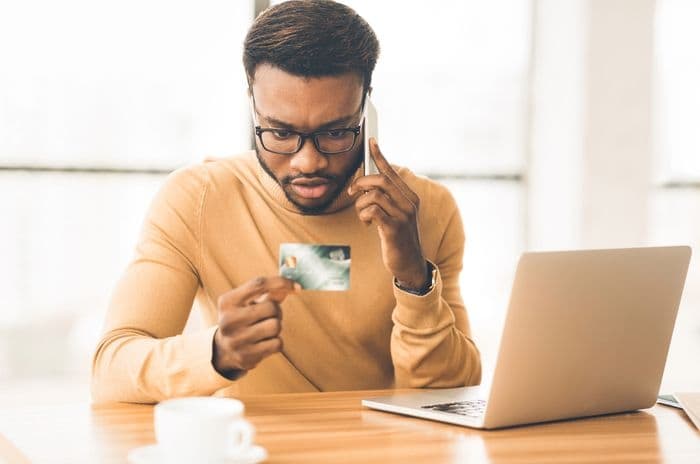 Payment card fraud
Fraud across UK-issued cards in 2020 totalled £574.2m with over 2.8 million cases reported.
While the value of the losses decreased by 7% compared to the previous year, the volume of overall cases rose by 3%.
There was a lower average loss of £203 per fraudulent transaction, something the report attributes to cases being spotted more quickly by card issuers.
Overall, the majority of payment card frauds are Remote Purchase (CNP) frauds, with 79% of cases in 2020 fitting into that category.
This type of fraud takes place when a criminal uses stolen card details to purchase something, usually over the internet but it can also be over the phone or via post.
Losses totalling £452.6m were recorded from Remote Purchase fraud in 2020, a reduction of 4% compared to 2019. However, in terms of actual number of cases, there has been an increase of 12% up around 2.4 million cases in total.
Read more about fraud and how likely it is.
APP fraud
The value of losses to APP fraud in 2020 was £479m, an increase of 5% on the previous year. The number of cases also rose by 22% to almost 150,000.
Out of these cases, £387.8m was lost by personal banking customers, accounting for around 143,000 of cases.
Again, the report attributes the fact there were 22% more cases but only 5% more losses in cash terms to banks introducing measures to prevent larger-scale fraud attempts.
UK Finance figures show £147m of losses in 2020 were refunded to customers under the APP Voluntary Code, amounting to 47% of all losses.
This was an improvement on the 41% recorded in 2019, but it still means customers were defrauded of millions with no refund.
The APP voluntary code has been repeatedly extended while banks work out a more permanent solution. The latest extension covers the period up to the end of June 2021.
Covid-19 fraud
The report also highlights the impact the coronavirus pandemic had on fraud figures in 2020.
For instance, there was a natural reduction in contactless card fraud and cheque fraud. Card fraud at ATMs also fell by 6%.
Yet there has also been an uptick in scams related to Covid-19, with the report charting the first ten months of coronavirus restrictions via the type of fraud especially prominent during that month.
In June, for example, coronavirus holiday scams hit a peak, while shopping scams were prevalent during November, and parcel scams increased around the Christmas period.
Earlier this month, we reported on data from TSB that showed how fraudsters were using Covid-19 to create panic, with one customer losing £2,850 in such a case.
We've got guides to avoiding online scams and telephone scams to help customers spot the signs of fraud.