Only in-home work which is considered low risk and will only take a short period of time will be undertaken as the phased return begins.
Openreach warn the process is under continuous review and if guidance from the Government changes then so will their approach.
Nevertheless, it means some customers may see their new FTTP/G.fast broadband or phone line installed where this was impossible under the previous rules.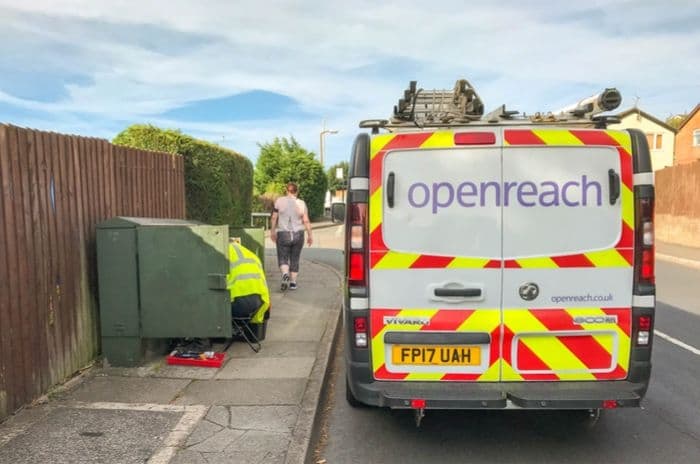 Credit: Ceri Breeze/Shutterstock.com
Safety first
Openreach has reiterated that the safety of engineers comes first, so they will be quick to review the new arrangements if Government guidance changes or the risk to their engineers is higher than currently supposed.
This phased return to working inside a customer's property will allow engineers to undertake some installation tasks within a home rather, although Openreach will prioritise working outside the property and will only go inside when it's unavoidable.
In addition, the installation or repair work inside the home must be low risk and take a short amount of time for it to be considered under the new arrangements.
Engineers will be following the guidance from Public Health England and customers will be expected to take precautions to help engineers carry out their work quickly and safely.
Why were installations paused?
At the beginning of the coronavirus crisis in March, Openreach announced they were prioritising the support of critical infrastructure and vulnerable customers.
They also suspended the vast majority of in-home repairs and installations unless they customers were left without broadband or a landline.
Days later, major broadband providers using the underlying Openreach network including BT and Sky confirmed they were pausing the installation of products requiring a home engineer's visit.
Broadband switches between standard and superfast broadband providers could still go ahead but switching to a faster broadband connection like BT's fastest fibre package was put on hold as it required an engineer to enter the home.
It's important to remember that there won't be a full return to work immediately, and there is already a queue of customers waiting to complete their orders of FTTP and G.fast products.
However, it at least means orders can begin to be processed again and those waiting for broadband installations may get a date for their upgrades.
Broadband during coronavirus
Ofcom confirmed last week that the UK home broadband network was holding up well following the lockdown in March by comparing data from the first and last weeks of that month.
Average download speeds dropped by 2% which, while not ideal, is better than many people expected when the lockdown was announced.
Broadband providers have been among the companies offering reassurance to customers struggling to stay connected such as promising to work with customers who are finding it difficult to pay their bills due to Covid-19.
BT/EE, Virgin Media, Sky, O2, Vodafone, Three, TalkTalk, KCOM, Hyperoptic, Gigaclear and Openreach all signed up to the agreement which also guaranteed vulnerable or self-isolating customers would be supported through alternative methods of communication or prioritised repairs.
At the same time, Ofcom confirmed they would be taking a pragmatic approach to regulation for the duration of the crisis. This included the suspension of the automatic compensation scheme which ensures customers receive home visits, repairs and new installations in a timely manner.