EE led overall and on four additional metrics, tying only with Vodafone on the Text metric.
There was little between the other two networks, although O2 improved on some metrics and Three's standards slipped slightly in comparison to the previous six months.
Alongside their 4G report, RootMetrics has also published a snapshot of three locations where 5G has been switched on: London, Birmingham and Cardiff.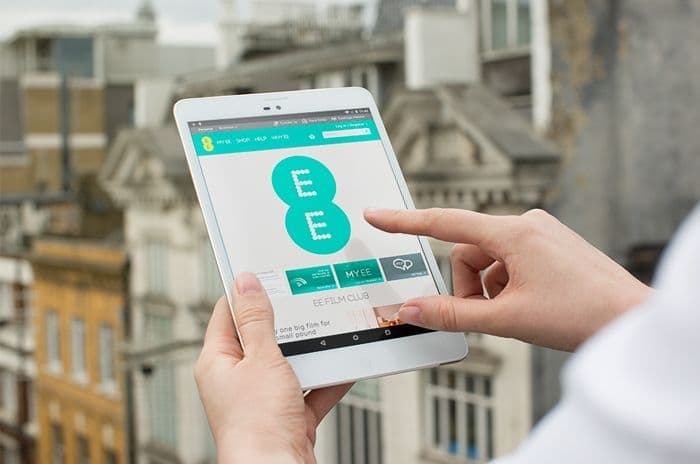 © EE
EE clear winner
Just as we've seen in recent months with Tutela's crowdsourced mobile experience survey and umlaut's testing report, EE are the top when it comes to 4G services.
Overall, EE mobile ranked above their rivals with a rating of 95.6 made up of superior ratings in Reliability, Speed, Data and Call categories. They edged above Vodafone in the Text category, although it was so close that RootMetrics shared that honour between the two.
It's speed where EE particularly excel, providing an aggregate median download speed of 36.5Mbps compared to Vodafone's 19.8Mbps.
They were the only mobile operator to register median speeds of at least 30Mbps in all 16 markets examined in the survey, even passing the 40Mbps mark in 11 of them.
To put this in perspective, the two slowest providers O2 and Three didn't rise above the aggregate median of 30Mbps in any of the markets tested.
Learn more about EE in our in-depth look at EE mobile's network.
Others falling behind
Although Vodafone came solidly in second place for all other metrics, it still feels as though there's an unbreachable barrier between the two operators. This tallies with what we've seen elsewhere, as both operators continue to improve.
For customers of O2 and Three, however, the story is much more mixed. Aggregate median speeds for these two networks were only 12.5Mbps and 11.7Mbps respectively, meaning EE's services are more than twice as fast UK-wide.
More damningly for Three, the fastest median speed they recorded (17.7Mbps in Liverpool) was almost twice as slow as EE's slowest registered median (30.4Mbps in Cardiff).
These results from RootMetrics cover the second half of 2019 and were obtained by using Samsung Galaxy S9 4G LTE smartphones with no modifications.
The 5G picture
As of 2020, RootMetrics will use 5G-enabled smartphones for all their UK testing, but they used OnePlus 7 Pro 5G on the EE network and Xiaomi Mi Mix 3 5G on Vodafone to provide a snapshot of the 5G market.
Only EE and Vodafone were covered in RootMetrics' analysis of 5G services as those were the providers available in the cities at the time of testing. O2 has since launched in various cities but Three's 5G mobile network has been delayed following the launch of their home 5G service.
EE ranked above Vodafone in both 5G availability and speed across London, Birmingham and Cardiff at the time of testing.
To take Cardiff as a specific example, the available of EE's 5G was 43.4% in comparison to Vodafone's 14%, while median speeds were 163.1Mbps compared to 113.6Mbps.
EE's median non-5G speeds were 58.8Mbps in Cardiff while Vodafone's were 37.1Mbps.
These tests make it clear 5G can deliver the promised boost in speeds, but this impact certainly limited right now with relatively few locations having access to 5G and coverage even in those locations being patchy.
In addition to this, 5G smartphones are still new to the market and rather expensive compared to 4G options when customers are searching for a new mobile phone deal.
So, while RootMetrics will be using 5G-enabled smartphones for their next round of testing in 2020, the 4G data they come back with will be as important as the 5G figures.
Find out which is the best mobile network for 5G.