Some of the biggest names in NFC are Apple Pay, Google Pay and Samsung Pay, with all three having partnerships with major UK banks and other card providers.
To use NFC, a customer simply adds their card to their e-wallet and presents their phone at a compatible payment terminal.
Meanwhile, mobile payment apps like Venmo and Paym can be used to send money from one person to another using a mobile phone.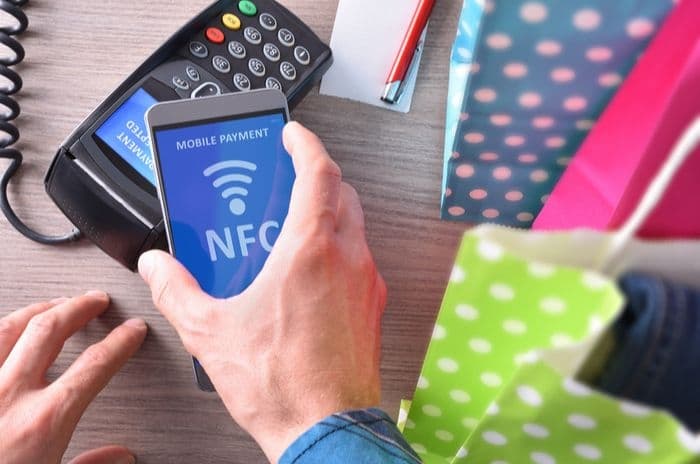 Credit: Davizro Photography/Shutterstock.com
---
What are NFC mobile payments?
NFC stands for Near Field Communication (NFC) and is the technology that powers smartphone payments as well as our contactless credit and debit card payments.
We can use NFC to make a payment in a shop where a terminal accepts it, sending money directly from our phone to the terminal without needing to use chip and pin or even a contactless card.
NFC is touted as a more convenient way to make payments because all we need is the smartphone that we usually carry around with us.
Thanks to an increase in NFC apps and compatibility, it's much easier for us to find an app that works with our device and that we're comfortable with.
Most smartphones come with NFC capability, although it can be worth double-checking before buying a new mobile phone just in case.
How do NFC mobile payments work?
An NFC mobile payment works in the same way a contactless card payment does.
Customers first need to enable NFC payments on their device. This process varies depending on what the device is but on Apple iPhones customers should usually:
Go to Settings > Wallet & Apple Pay
Click to Add Card and choose card type
Enter the card details
Enabling NFC mobile payments in this way is straightforward and usually requires the user to take a picture of their card to allow the details to be captured accurately.
Once NFC is enabled on a device and a card has been added, the customer can use their mobile handset in the same way they would a contactless card.
When paying for a product at a compatible terminal, simply present or tap the phone on the payment terminal, authorise using the device's security method (Face ID, fingerprint recognition etc) and that's all.
Retailers will usually advertise on the door and near payment terminals if they accept certain NFC payment apps in the same way they advertise which debit and credit cards they accept.
One further thing to bear in mind: American Express cards can usually be added to NFC wallets but a retailer must accept both Amex and the NFC payment method for it to be used in a shop.
Are NFC mobile payments secure?
NFC mobile payments are often considered to be more secure than using a debit or credit card to make a contactless payment.
This is because contactless cards hold the information on a static chip, making them more susceptible to fraud.
Meanwhile, NFC mobile payment methods are encrypted and dynamic, so the details don't stay the same and can't be cloned.
When we add a card to our NFC wallet, we go through a security procedure with our card issuer. The card provider will send verification codes using a customer's preferred contact method and double-check that we're the ones making the request (i.e., we're not being coerced or told to by someone else).
NFC payments on mobile must be initiated by a user's authorisation method such as their fingerprint or face, meaning no one can steal the device and use it to buy goods through the NFC wallet.
There's more detail on mobile phone security in this guide or read more about the safety of mobile banking apps.
How many people use NFC payments?
NFC payments via mobile took a while to catch on in the UK, with handsets failing to support the technology and worries about security and fraud stopping people embracing NFC mobile payments.
However, these concerns weren't just connected to mobile payments. As recently as 2016, there was hand-wringing over the uptake of contactless payments and how cash was still the preferred payment method of many.
Since then, though, contactless card payments have taken off (partly due to the coronavirus pandemic) and NFC mobile payments have increased in popularity too.
UK Finance's UK Payment Markets Summary 2021 looked at Apple Pay, Google Pay and Samsung Pay, finding that:
32% of adults (17.3 million) had registered for mobile payments in 2020, an increase of 75% (7.4 million) compared to the previous year
84% of those registered recorded a payment with 50% recording a payment fortnightly or more frequently
There's a definite age disparity in the uptake of mobile payments as UK Finance's data demonstrates:
| Age range of customers | Percentage registered for mobile payments in 2020 |
| --- | --- |
| 16-24 | 56% |
| 25-34 | 46% |
| 35-44 | 39% |
| 45-54 | 33% |
| 55-64 | 20% |
| 65+ | 11% |
So, younger people are far more likely to be registered for mobile payments, with those over 65 the least likely.
---
NFC payment apps in the UK
The most popular NFC mobile payment apps in the UK are connected to major device manufacturers or operating systems:
Apple Pay
Google Pay
Samsung Pay
Others are available but these cover much of the market and are built into most smartphones.
We'll look at two other options below but let's look at the three giants first.
Apple Pay
Apple Pay is the standard NFC payment option available on Apple devices such as the iPhone and Apple Watch.
It launched in the UK in July 2015 and was initially available for payments up to £20. The service is now supported up the upgraded contactless limit of £100, with Apple warning customers may not be able to use Apple Pay for purchases of more than that.
Apple Pay is compatible with devices from the Apple iPhone 6 onwards and many UK banks and card providers support the service, including all the big names.
Google Pay
Google Pay is a combination of two previous services: Google Wallet and Android Pay.
Hundreds of banks and payment providers support Google Pay, with traditional banks sitting alongside digital challengers and e-money providers.
To be compatible with Google Pay, a device must be running Android Lollipop 5.0 or higher and be an NFC-capable handset.
Bear in mind that while older Huawei handsets can use Google Pay, newer models that only offer the Huawei App Gallery cannot support the service.
Samsung Pay
Samsung Pay is an NFC app that works with Samsung devices from the Samsung Galaxy Note 8 and Galaxy S6 onwards. It is also supported on the Samsung Galaxy Watch.
It's designed for Samsung Galaxy owners and comes with a rewards programme option called Samsung Pay+. This digital card allows users to collect points and earn cashback on major brands.
While Samsung Pay is a straightforward NFC app comparable to Apple Pay, Samsung Pay+ is a place to bring all cards together in one place and access the same type of spending insights and control we seen in other forms of Open Banking.
Barclays Contactless Mobile
Contactless Mobile is the NFC solution from Barclays first introduced in 2016.
As the name suggests, it's only available to Barclays customers and can be used to pay up to £300 contactless if a retailer accepts payments up to that amount (£100 if the usual contactless limits apply).
One drawback of Barclays Contactless Mobile is that it's only available on Android devices (5.0 and above) - there is no support for Apple handsets.
Fitbit Pay
Fitbit Pay is a newcomer to the NFC market in the UK and only supports a couple of UK banks and payment providers such as Santander, Starling Bank, Curve and Revolut. It's also available for use on the Transport for London (TfL) transit system.
Various Fitbit activity trackers and watches are compatible with Fitbit Play including the Fitbit Versa 2 and 3, the Fitbit Charge 4 and 5, plus the Fitbit Ionic and the Fitbit Sense.
Although Fitbit Pay has more limited coverage across banks and payment providers in the UK, it's useful for customers who have cards with those providers.
---
Mobile payment apps
Mobile payment apps are a way of sending money directly to another person that can be called peer-to-peer payments (P2P payments) or money transfer apps.
These are not NFC payments but the apps work through mobile devices to help users send and receive money more easily.
The landscape has changed slightly in P2P payments since Barclays closed their popular Pingit app in 2021, yet there are still some familiar names providing these services.
When choosing a mobile payment app, be sure to check their security credentials and see what kind of record they have in that area. It's also important to add PINs for authorisation and turn on transaction notifications if these are available to keep track of money.
Here are some of the most popular P2P apps available in the UK.
Cash App
Cash App is a tool offered by Block, Inc. (previously known as Square). It allows customers to make P2P payments using their Cash App wallet, make contactless payments with Square terminals and purchase online with the Cash App debit card.
To send money to another person, simply enter their mobile number or email address. However, it's worth noting that cash outs can take several days unless customers are willing to pay a 1.5% fee for an instant deposit back on to their debit card.
If a credit card is attached to Cash App, it charges a 3% fee. Plus, Cash App only works in the UK and US, so it isn't an option for sending money to friends in Europe, for example.
Paym
The Paym service is available to customers of more than 90% of UK current accounts and the provider says they have had more than 5.8 million registrations and have sent over £1.9 billion since the service launched in 2014.
Paym is a service that works between people who are signed up to it. So, we can't send money to a person who isn't yet registered with Paym but they will be sent a text message encouraging them to sign up to the service.
Customers are required to verify the name of the person they're sending money to as a way of combatting accidental payments.
There are drawbacks to Paym such as the fact that only one current account can be linked to the account, plus there are some notable names missing from the bank list such as Monzo, Starling and Metro Bank.
PayPal
Perhaps the biggest name in peer-to-peer payments is PayPal, although they are as well-known for other elements of their business such as their online payment platform and credit services.
Users can send money from PayPal using just a recipient's email address and the money can be kept as a PayPal balance or withdrawn to a customer's bank account.
However, as with all payment apps, customers should beware of fraud and phishing attempts. We've got more on that in our guide to staying safe with email.
Venmo
Although Venmo is owned by PayPal, it has different features such as the optional debit card that can be used at retailers and draws from a customer's Venmo balance.
Like other services, Venmo has some transaction fees to be aware of. Sending money via credit card will cost 3% of the transfer total and there's a 1% fee for instant transfers from Venmo to a bank account while it takes up to three business days for a free transfer.
One thing to be aware of with Venmo is that both parties need a Venmo account to send or receive money. However, given the app's popularity with younger age groups, this might not be too much of a problem.
---
Summary: Making mobile payment easier
NFC took time to make a mark on the UK payments market, but it is now growing to be a common way to pay in shops.
There are a few things to remember about NFC mobile payments:
Manufacturers like Apple and Samsung pre-install NFC apps on their devices
Most UK banks are partnered with NFC apps, but it's worth double-checking if this is a deal-breaker
NFC is a secure way to pay and information is encrypted
Premises will advertise they accept NFC alongside their other payment methods
Similarly, mobile payment apps that allow for simple peer-to-peer transfers have some important points to be aware of:
Money can be sent using mobile numbers and email addresses depending on the app chosen
Some come with fees for credit card transactions or withdrawing money quickly
Popular services like Paym and Venmo require both parties to be signed up
NFC mobile payments are a great alternative to contactless cards and allow customers to keep all their cards in one secure digital location. Meanwhile, mobile payment apps are the missing link when we're looking at sending money to other people.
Learn more about what happens if your cash goes astray or read more about staying safe shopping online and on social media.