FROM today, Royal Bank of Scotland (RBS) and Natwest customers can take money out of ATMS using just their smartphones, no bank card required.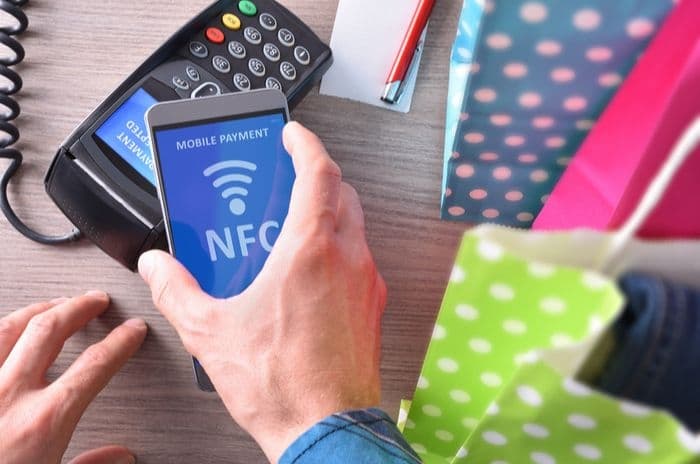 Credit: Davizro Photography/Shutterstock.com
Customers request a six digit code via the banks' smartphone app which they can then key in at any cashpoint.
It seems like a useful service but the sort of one you're surprised doesn't exist already.
Aren't we all supposed to have ditched our plastic in favour of tapping our smartphones at the till and the ATM already?
It's possible: Japan, for example, has gathered over 70 million smartphone payers over the past six years, according to Moneyfacts.
There's also some evidence of demand: according to research from Visa last year, the vast majority of contactless card users, 85%, would recommend the payment system to friends.
In the same study, 90% of contactless card users agreed that the 'wave and go' payment method made life simpler.
So, what's up UK? These five things.
1. Handsets are lagging behind
The lack of contactless payment technology installed in mobile handsets is one of the main factors holding up a real 'contactless revolution' in the UK.
To tap to pay smartphones must have a built-in wireless device called an Near Field Communication (NFC) chip.
Juniper Research predict that at least one in five smartphones in the UK will have NFC software by 2015 and ABI Research predicted that 35 million NFC phones will be shipped in this year.
In short, opportunities to pay by smartphone, if they were rolled out through the UK tomorrow, would make a lot of fancy phones feel inadequate.
Having said that, there is a shortcut. A couple of years ago The Guardian reported a highly successful embedded bank cards trial in Barcelona.
Residents were given Samsung phones fitted with special SIM cards and containing personal card information from the local La Caxia bank, and local businesses were given payment terminals.
2. Fraud concerns: wireless technology
However, smartphone payments face other barriers.
The technology has been greeted with scepticism, with many people wary about security.
In a recent survey on 'wave and go' conducted by Vouchercodes, 36% of respondents said security was their main concern.
We do depend on retailers upholding the same high standards of security when verifying payment details.
Barclays
The Channel 4 News recently showed how holding a smartphone fitted with simple software over a wallet was enough to obtain card details from Barclays' new contactless credit and debit cards.
Numerous other investigations have made similar claims.
Responding to the Channel 4 investigation Barclays said, "The details obtained should not be sufficient to undertake any fraudulent activity but we do depend on retailers upholding the same high standards of security when verifying payment details."
American Express research from March 2012 found that almost all consumers - 83% - agreed that security is the most important aspect of new payment methods, ranking it even above fees for use, user friendliness and convenience.
As you can see in the infographic below, AmEx categorise these consumers as "security buffs".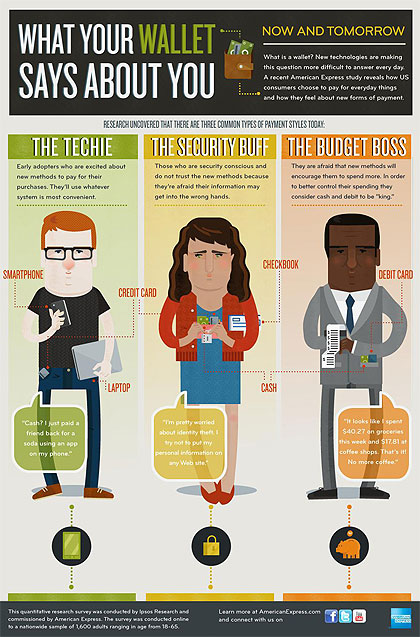 3. Fraud concerns: viruses
And if transmitting information wirelessly looks worrying many argue that there's an even greater threat: corrupting malware and viruses which could steal data straight off the phone.
Writing for Macworld, Khoi Nguyen, the group product manager for the Mobile Security Group at Symantec, said those using contactless payments would need to be careful about the applications they download and should install anti virus programs to protect their phone's data from corrupt applications.
However, officials claim that when the new technology becomes available, it could actually prove to be safer and more popular than the current credit card system.
According to the Mobile Data Association (MDA), financial providers will be able to encrypt the phone and disable payment operations remotely.
"We can also build in a form of proximity protection whereby if the phone is taken away from the person it's disabled," they said.
"If we put these security systems in place we may have a more secure system than the current card system."
4. Speed scepticism
The final harmony in this trio of mobile payments criticism comes from some who don't believe the system will ever fully take off.
According to them, it will be almost impossible for the phones to compete with the Visa and Mastercard networks.
The internet is notoriously insecure, they say, and cannot replace the reliability and speed of the credit cards' private networks.
This scepticism doesn't cover all forms of mobile payment, many of which do use the Visa and Mastercard networks, but it does reflect a widespread belief about paying by smartphone: that it'll always be second best.
5. Waiting for investment
Finally, though, phone payments are stalling simply because participants in the scheme are waiting on the technology.
Only the biggest retailers can actually take payments now, smaller retailers have been waiting for the wider adoption of contactless payment systems before rolling it out themselves.
The Post Office, for example, is to fit 11,000 of its UK branches with contactless terminals by HSBC Merchant Services suitable for Mastercard Paypass and Visa Paywave payments.
The investment, tellingly, will make them the largest adopter in Europe.
"Consumers benefiting from a quicker and more convenient payment process at UK Post Offices will expect the same service when they do their shopping, which will encourage more retailers to invest in the technology," said Planet Retail senior retail technology analyst Joachim Pinhammer, optimistically, in Retail Week.
With so many competing technologies available, Post Office endorsement doesn't hurt but it does show how far we still have to go.