The Broadband Connection Voucher scheme: up to £3k for businesses
£100 million in Government cash is now available to fund faster broadband for small and medium businesses.
The Broadband Connection Voucher scheme will give SMEs in ten major UK cities up to £3,000 each to pay for the cost of upgrading their premises.
A much faster or much higher quality line could mean a huge boost in productivity for your business but high upfront costs price most out of the market.
Connection Vouchers mean many more businesses will be able to afford better broadband.
But they can't solve the problem of finding the time to understand how the scheme works and what's on offer. That's why we've put together this quick guide.
We hope it helps to make Connection Vouchers clearer: don't forget to let us know in the comments.
What's on offer: in brief
The scheme is giving out grants - that's free money, not a loan - of between £250 and £3,000 to pay for any work necessary for a premises to upgrade their broadband.
As of the time of writing, the scheme is available to businesses in:
Belfast
Bristol
Cardiff
Derby
Edinburgh
London
(but not everywhere, see below)
Manchester
Newport
Portsmouth
Salford
London businesses will only be available if they're covered by one of the following boroughs: City of London, Croydon, Enfield, Redbridge, Sutton or Westminster.
Availability will be extended in early 2014, see below for more details.
The broadband connection upgrade has to be significant, what the scheme refers to as a 'step change in access', and must provide the business with either: a next generation access (NGA) service with speeds over 30Mb; an upgrade that would double current speeds (if you already have NGA) or business grade broadband.
Is it worth it?
If your business is currently slowed down by slow or poor quality broadband these grants could be the perfect opportunity to upgrade cheaply and get the jump on competitors.
However, it's not going to be completely free: you'll need to pay any VAT applicable to the work and commit for at least six months to the ongoing monthly cost of the service you choose.
You could also have to pay for other costs you'll incur as a result of upgrading: the grant can't pay for any software or hardware and, while the cost of everything you need to get connected will be included, you might have to pay beyond that, for a better router or to get internal wiring installed, for example.
That monthly cost could be more or less than you're currently paying.
If you go for a much higher quality service, and especially if you move from standard business broadband to a 'business grade' service (more below) chances are you'll end up paying more.
However, if you use the grant to, for example, get access to BT fibre to the cabinet (FTTC) services, sold to consumers as BT Infinity but available to businesses through BT and many other ISPs, then your speeds will improve but monthly you'll likely pay the same amount or just a little bit more.
It may also be possible to reduce extra costs by applying as a group. For example, with other businesses in your building.
Eligibility: four things you need to know
The scheme is presented to look pretty simple: just be a small or medium sized business and have a broadband connection in need of an upgrade.
However, there are quite a lot of rules which could make the scheme more or less valuable to your business.
1. Local area counts
The scheme is being administered by local councils so your premises will need to fall into one of the city council areas, or the five eligible boroughs for London, listed above to qualify.
By March 2014 it's also scheduled to be available in:
| | | |
| --- | --- | --- |
| Aberdeen | Birmingham | Bradford and Leeds |
| Brighton and Hove | Cambridge | Coventry |
| Derry-Londonderry | Newcastle | Oxford |
| Perth | York | |
The building being upgraded must be the registered office or trading address of the business.
2. Your business has to be an SME
The scheme is using the EU definition of an SME which is pretty simple if your business is small and independent.
You must have less than 250 employees and an annual turnover of less than 50 million Euros (just under £43 million), or an annual balance sheet of no more than 43 million euros (about £37 million).
However, the EU definition is complex.
For example, a business is held to be autonomous only if it holds less than 25% in capital or voting rights in another business and/or another business or enterprise has less than 25% of its capital or voting rights.
If the business is not independent that might be something that the scheme will take into account, when assessing eligibility.
See this guide [pdf] for the full definition.
Start ups and pre start up businesses are eligible, however, as long as they can show the scheme "credible evidence of business activity" within an application.
3. Your landlord has to agree
If you rent your premises, your landlord has to agree to have the work carried out: they will need to apply online as part of your application.
If you're applying as a group, the landlord will, most likely, take a much greater role in coordinating the application.
4. The broadband you can currently receive counts
As we said above, successful applicants for these grants will need to prove that the improvements they want will mean a 'step change' in their internet service.
That means that the broadband services you have access to right now make a real difference to your application.
No next generation service (NGA) service available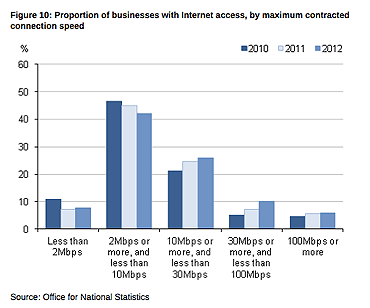 According to the Office of National Statistics (ONS) about 85.5% of businesses still use DSL broadband services.
If you're using copper line broadband (that's advertised speeds of up to 14-18Mb) because you can't access fibre broadband from the BT FTTC or Virgin Media cable networks the voucher scheme could pay for your upgrade as long as, once you were connected, you'd get speeds of at least 30Mb.
NGA service available
If a NGA service is already available at your premises, you can still apply for an upgrade as long as it can at least double the speeds you currently receive.
So, for example, you might be able to upgrade to a fibre to the premises (FTTP) service, which could offer speeds of up to 300Mb.
Upgrade to business grade broadband
As long as you don't have one already, you also have the option to apply for an upgrade to be able to receive a 'business grade' broadband line.
The broadband we've been talking about above is pretty much a business version of your home connection: it's asymmetric - that is, you'll probably get faster download speeds than upload speeds - and it's contended - that is, you'll share the line with a load of other users.
Business grade broadband, as defined by this scheme in any case, is always uncontended, you'll be the only one using it, and is often symmetric, offering the same upload and download speeds.
Leased line and dedicated Ethernet First Mile (EFM) deals are examples.
Since these deals offer a better overall experience for businesses the scheme is less hard on the minimum speeds: with a business grade deal the minimum for an application is 20Mb, as long as there's the possibility to upgrade to at least 30Mb in the future.
How it works
If you're eligible according to the criteria above you'll need to go to your local page on the connection vouchers site and register your interest.
The local scheme will then send you the resources you'll need to make an application.
One of the trickiest parts is likely to be choosing the best provider to carry out the work: you'll need to choose from the local registered supplier list, get a firm quote from them on how much the upgrade will cost and be assured that the work will be carried out well in advance of 30 September 2015, the cut off date for claims.
Note that any costs you have to incur to make the application cannot be refunded by the voucher scheme.
Once the application has been accepted by the local scheme you have 28 days to confirm your order with the broadband provider that will do the work: if you fail to order in that time frame the funding will be withdrawn and reallocated.
The next part is down to the supplier: they need to carry out the work and then get their payment directly from the local scheme.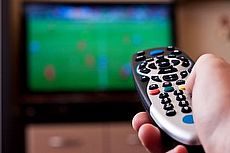 15 November 2017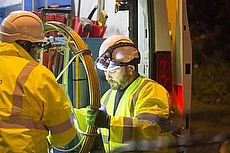 10 November 2017
9 November 2017
Follow us or subscribe for FREE updates and special offers