Rural broadband: what are the options?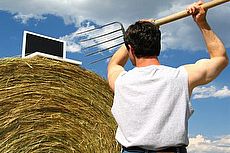 Around 166,000 people in the UK are stuck in rural broadband 'not spots' and a further two million in rural areas have inadequate broadband.
In this guide, we look at the options for those struggling to get things done online, or even get online at all, because they live away from a town or city.
Rural broadband: the options
The problem with rural broadband isn't always that there's a lack of ways but that so many are inadequate.
In rural communities, broadband deals through a phone line, 3G/4G or satellite are usually slower and more restrictive than their equivalents in towns and cities, and they're almost always more expensive.
It is possible to bypass the system and many communities are choosing to do just that, often ending up with some of the UK's fastest connections.
We'll take a look at some of those projects in the last section but they take time, money and serious dedication so first let's take a look at the options available for most homes.
Fixed-line broadband: ADSL and fibre
If you can get a BT telephone line, you can get ADSL broadband and, increasingly, rural areas are covered by BT's fibre network.
The best way to tell is by doing a postcode and phone number search, you can then read the section most relevant to you below.
Enter your phone number and / or postcode above to check availability in your area.
'Real rural' deals: non-LLU
If your search returned deals like Sky Connect, Plusnet 'high cost area' and , it's because you are part of the 11.7% of premises (business and households) in the UK served by a non-LLU exchange.
In LLU or unbundled exchanges, companies put their own money and technical gear into a BT exchange, releasing them from relying on BT to administer their broadband and phone lines. This boosts competition: increasing quality and, ultimately, decreases prices.
At non LLU exchanges, all the ISPs are offering BT wholesale. They all (except BT and John Lewis) charge more than they would for standard deals and, because the connections are poor (in broadband vs pigeon races in these areas, the pigeons win) often impose monthly data limits.
So although there are differences between the providers, the options are not great and many homes in this situation adopt some of the other options below.
'Standard' (but slow) broadband
Most rural users are served by an unbundled exchange, but will still face slow speeds.
Rural households are very likely to be physically far from the exchange and, since signal attenuates, this distance affects speeds drastically.
However, unlike with non-LLU, the provider does make a difference to speeds. Take a look at our speed guide to learn more, it is often worth shopping around.
Rural fibre
BT FTTC is increasingly available in the countryside, and not just in Race to Infinity villages, mostly because BT won a lot of local Government contracts.
Fibre is much better at covering long distances without signal attenuation so it does offer a good option for rural users, although since part of the signal is carried on a copper line speeds are slower.
Ofcom report that fibre connections in urban areas are, on average, 17.3Mb faster than rural areas, 46.3Mb compared to 29Mb.
Openreach have a map that includes 'coming soon' fibre areas here.
Mobile broadband: 3G and 4G
For those that can't get a BT phone line or find ADSL inadequate, mobile broadband is increasingly becoming a viable options.
4G speeds are better than the fixed line performance most rural users can expect and trials and expanded coverage means that the service is increasingly available outside of town and cities.
As you might expect, the big problem for rural areas is signal quality.
Checking coverage maps from individual providers before signing up is a must or take a look at a site like OpenSignal for a rough point of comparison between providers.
Femtocells, basically a modem that routes 3G through a home broadband line to boost signal, can help. Vodafone have Sure Signal and Three also have a booster option, though both require a 1Mb home broadband connection to work.
3G and 4G are more expensive per GB than home broadband, though the good news is that unlimited and high usage deals (EE now offer up to 50GB a month) are increasingly available.
For more in depth information on mobile broadband: check out our full guide here.
Satellite broadband
Satellite broadband has been floating around the edges of the UK broadband market for a few years now, held back from becoming more popular because of its high start-up costs and fairly low speeds and download allowances.
However, it is a potential shot in the arm for rural broadband since, unlike the options above, it provides coverage equally to rural and urban areas.
In addition, over the past few years prices have come down and speeds have improved.
For example, Tooway satellite broadband (reviewed here) starts at £15 a month with a 2GB usage allowance and goes up to £79.50 a month for 100GB of usage a month (with unlimited usage at night). Speeds go up to 22Mb downstream and 6Mb for uploads, which is much better than the speeds very rural households can expect from a fixed line.
Installation is up to £130 although it seems possible to split that across several months.
Some local areas offer grants to cover this upfront cost. For example, the Welsh Government offers a satellite subsidy called the Access Broadband Cymru.
Applicants must live in Wales and have only a basic (less than 2Mb) broadband connection currently. They can get up to £1,000 to cover their connection costs.
Community broadband projects
So far we've concentrated solely on the options for individual households in rural areas can improve their broadband.
But community broadband projects are working with small ISPs (altnets) to bypass the system rather than working within it or lobbying established providers for access in order to bring better internet access to whole villages.
Some projects - such as the village of Wray's fibre which is provided by researchers from the University of Lancashire - are easier to replicate than others but let's look at a few examples.
Demanding FTTC and FTTP
From the end of March 2013, it'll be possible to order Fibre to the Premises (FTTP), cables which can offer up to 300Mb speeds, on demand.
The local exchange will already need to be FTTC enabled and prices are based on the distance from the properties to the local fibre point, which in an rural area could be some way.
Current wholesale prices are about £1,500 for a property about 500m from the local fibre point but we'll have to wait for the real, consumer side prices.
Providers will be keen for fibre to 'catch on' and go to many households once it's at one in a local area, so demonstrating strong local community demand could help.
Similarly, in March 2010, residents of Iwade in Kent noticed that a local BT exchange was about to be upgraded to a FTTC (fibre-to-the-cabinet) service but their more rural exchange wasn't.
Village residents nabbed £13,000 from Kent council's broadband fund which persuaded BT to upgrade their exchange. To increase take up they even offered up to £75 for each household to cover the cost of installing a fibre service like BT Infinity.
Other villages have done a similar thing by using very local ISPs to, essentially, unbundle their local exchange and install new equipment.
In April 2010, for example, local investors raised £37,000 to bring fibre broadband to Lyddington, Rutland in this way.
Three's Rural Broadband Working Group also provided 11 communities with free 3G access in August 2011.
Using an altnet to get connected
Other villages have chosen to bypass BT altogether and ask a private company to install a local network.
That can take the form of a high-speed wi-fi network - so the company will lay a fibre line to a transmitter on a high point like a public building and then subscribers in the local area buy their own aerials to pick up the signal - or a fixed line fibre network.
In Ashby de la Launde, Lincolnshire, for example, wi-fi has provided up to 70Mb broadband speeds and the Broadband for Rural North (B4RN) fibre project has bought 1Gb speeds to several villages in rural Lancashire.
For a more detailed look at five of the UK's superfast villages and how they did it see this full guide.