TalkTalk upbeat despite drop in profits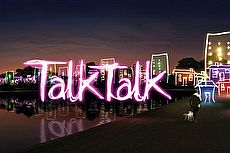 TALKTALK appear to have recovered somewhat from the impact of last year's cyber attack, despite seeing their profits fall to less than half those a year previously.
They've reported profits of £14 million for the year, compared to £32 million 12 months previously.
But despite losing more than 100,000 customers in the wake of October's attack - which cost them £42 million - TalkTalk say that in the past three months they've seen customer churn at its lowest ever rate.
Customer sentiment
Chief executive Dido Harding says that the stability of those customer numbers is "testimony to the speed with which customer sentiment towards TalkTalk has recovered", as well as their "greater focus on existing customers".
Frequent updates in the immediate aftermath of the attack, and the company's goodwill gesture of a free upgrade in the following months, may have gone some way to placating those customers - although let's not forget that the ISP refused to waive exit fees for people who wanted to leave as a result.
Ms Harding also says that the lessons they've learned and the experience they've gained "since the cyber attack have helped to focus our plans for the year ahead".
But while TalkTalk's security woes are - hopefully - behind them, the after effects of last year's breaches are still being felt, and may well be for some time to come.
Continued vigilance
It's now more than a year since they first had to tell customers to be vigilant, after investigating an increase in the number of complaints they were getting from customers about suspicious calls.
While the information stolen in that breach didn't contain any sensitive financial information, it did contain enough account details - and basics such as names, addresses, and phone numbers - for scammers to make a convincing case for being from the ISP.
As the Telegraph reported in October, however, it's not just people who were customers at the time of each of the breaches who have needed to be vigilant since.
TalkTalk, it seems, don't delete the details of their former customers from their systems - and they admitted that there was a risk "that some previous TalkTalk customers' details were stored on the website. At the moment we can't rule it out."
In the past month, we've heard from a couple of former customers who've received calls from someone claiming to be from TalkTalk, regarding their accounts.
It's not possible to know when their details were accessed in order for the scammers to be able to call them - but it's clear that anyone who has had an account with the ISP in the past couple of years still needs to be wary.
TalkTalk say they wouldn't call former customers like this anyway - and that when it comes to contacting their existing customers, they'll never ask them over the phone to reveal their full password, or give bank or card details.
Looking forward
Returning to the present, TalkTalk gained 72,000 more fibre customers during the last quarter - although how many of those are existing users upgrading isn't clear - and an impressive sounding 90,000 new mobile customers.
Then again, while the ISP seem proud of the fact that they have a 14.9% share of the new SIM market, that may have more than a little to do with the fact that in February they extended their free light use SIM offer to all customers, both new and existing.
They also reported that while just 7% of the homes capable of getting their ultrafast service in York have taken up the service since the trial phase finished at the end of March, "penetration... continues to accelerate".
Furthermore, 90% of those involved in the trial have chosen to continue taking the up to 940Mb service, and the ISP still seem to think it'll be possible to build an FTTP network passing 10 million homes.
Given that Virgin Media are aiming for one million FTTP connections by 2019, and that BT say they hope to be able to add two million (mostly business) FTTP connections to their network by 2020, that sounds increasingly ambitious - although there are few details about the when and how.
BT Sport
It's not all good news regarding customer numbers, though: they did lose around 14,000 TV subscribers in the last quarter.
It'll be interesting to see if BT Sport can reverse that trend in anything like the same way as it's boosted BT's fortunes - because from next month, it'll be a fixture (no pun intended) on TalkTalk's Youview TV service.
Those who fancy it will get all four standard BT Sport channels, plus six BT Sport Extra channels (available via the red button) through their set top box, as well as being able to watch via the app and online player wherever they are.
TalkTalk haven't yet revealed how much it'll cost, but they have said that customers must sign up for the service on a rolling monthly basis with BT themselves.
That sounds a little like the arrangement for Sky customers who want BT Sport, with the main difference being that there won't be a range of prices depending on whether would-be subscribers have BT Broadband or not.
As it's not possible to get TalkTalk TV without also having TalkTalk's broadband - and as TalkTalk say they'll only be offering customers the SD versions of the channels for now, it's safe to say there'll just be one option, at one price.
13 October 2017
11 October 2017
10 October 2017
Follow us or subscribe for FREE updates and special offers