Plusnet offer free fibre for six months
PLUSNET are offering their up to 38Mb fibre broadband free for the first six months to new customers who sign up before March 22nd.
Because it's a fibre deal, the contract is 18 months long; after the first six months the price will revert to the usual price - at least £14.99 per month.
And as, according to recent research from the ASA and Ofcom, many people think that "free" broadband mean the whole package is free, we should point out that customers will still need to pay line rental for each of the 18 months.
That'll cost £16.99 a month - although the total cost can be brought down slightly by paying upfront line rental of £185.88 for 12 months, equivalent to £15.49 per month.
Free versus cheap
Where can I get free broadband?
It's worth bearing in mind that even thought Plusnet are offering their fibre broadband free for the first six months of the contract, anyone looking for the cheapest deal from the ISP should still consider their standard broadband.
After also being offered free for a while, it's back to its more usual introductory price of £2.50 a month for 12 months, then £9.99 - and as the contract is only 12 months long, the broadband element of the whole first year of service will cost just £30.
Package
Broadband
Monthly price
Line rental
Unlimited + Line Only
Up to 17Mb
Unlimited
£18.99
for 18 mths,
then £27.98
£0
Unlimited Fibre + Line Only
Up to 38Mb
Unlimited
£24.99
for 12 mths,
then £32.98
£0
Of course, it's not just price that drives our choice of broadband package, but speed too - so it's worth noting that while Plusnet's up to 38Mb fibre offers faster downloads, the upload speed is the same as that available to ADSL broadband customers - up to just 1.9Mb.
Most 38Mb fibre packages offer upload speeds of up to 10Mb; until last year Plusnet actually offered uploads of up to 20Mb on both their 38MB and 76Mb deals.
But in something of a disappointing move - especially given their Ofcom-backed reputation for providing faster upload speeds than any of the other big providers - last summer they downgraded the upload profile of their 38Mb fibre deals, seemingly as a cost-cutting measure.
Unlimited, of a sort
At about the same time, Plusnet began to change how they referred to their unlimited broadband deals.
Gradually the references to "truly" and "totally" unlimited access began to disappear, following the start of an Advertising Standards Agency (ASA) investigation into whether the wording could be said to be misleading customers.
The complaint that prompted the investigation rested on the fact that because Plusnet use traffic management, they couldn't honestly say they offered a service without any kind of restrictions.
It's true that compared to other unlimited ISPs, Plusnet have quite a detailed traffic management policy - we look into it in our full review of the ISP here and in comparison with that of other providers here.
But while Plusnet started to remove the "totally unlimited" claim from their website and adverts last June, it's taken until now for the ASA to issue a ruling on the complaint.
From this: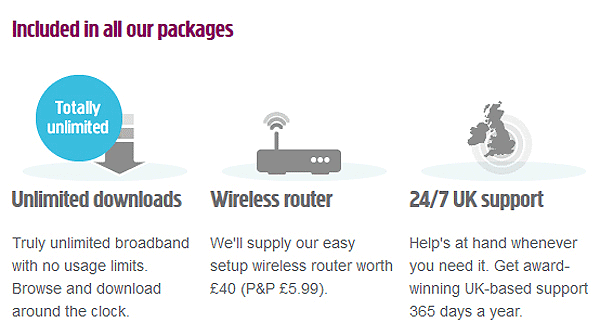 SOURCE: Plus.net
To this: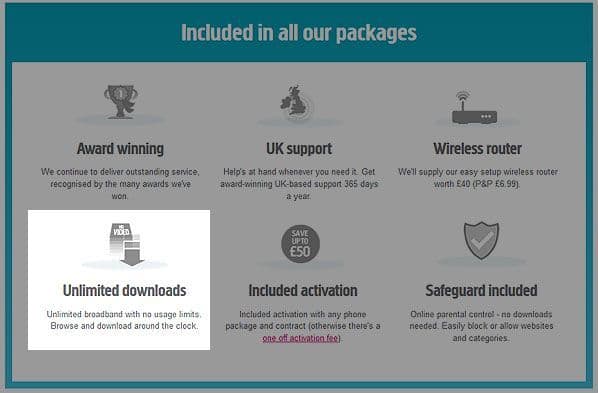 SOURCE: Plus.net
They say that under CAP guidelines ISPs can claim to offer "unlimited" services if any limitations imposed by the provider are "moderate only" and clearly communicated in any marketing and adverts.
While the kind of traffic management Plusnet use doesn't go so far as throttling heavy users, it certainly can't be explained in the kind of space available in an advert - and it's on this basis that the ASA have upheld the complaint.
Furthermore, while Plusnet explain what they call "traffic prioritisation" on their website, they don't make it wholly clear that it's traffic within each individual household that will be prioritised, rather than traffic across sections of the network.
The ISP have been told they mustn't run the advert or use similar "totally unlimited" claims again, unless there remove any "provider-imposed limitations to the service" - and that they must explain clearly the limitations that are placed on their unlimited deals.
13 October 2017
11 October 2017
10 October 2017
Follow us or subscribe for FREE updates and special offers