Government make £2 online credit reports mandatory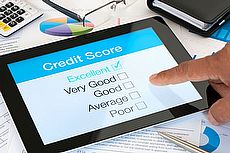 ©iStock.com/courtneyk
A DEAL between three major credit reference agencies - Experian, Equifax, and Callcredit - and Government means that credit records will be easier to access.
From tomorrow, consumers will be able to pay £2 to view the information on missed payments and past and current financial commitments held on them by reference agencies instantly online.
Previously those that needed to check a credit report could either send a cheque for £2 to receive their report by post or sign up online for a higher monthly fee.
Edward Davey - the Consumer Minister - commented, "These are highly beneficial changes. All consumers now have easier access to their £2 statutory credit reports [and]... these significant improvements will help consumers take better control of their finances."
Scoring maze
Consumer groups have long argued that the maze of credit scoring, especially in the past year or so as banks and other lenders have tightened the rules on who they're prepared to lend to, is confusing for consumers trying to work out their credit worthiness.
It doesn't help that the amount of information card providers give out on the history required to apply for particular cards is often limited to just a few words: "average credit score required" or "applicants will need an excellent credit history".
Furthermore, the example of some credit card providers shows that it's not impossible for companies to give more exacting information about the type of applicants they will accept.
Barclaycard are particularly forthcoming in their expectations, for example, listing up to thirteen attributes of successful applicants for their credit cards.
Making credit reports easier to access won't solve that problem, although it may help consumers who would otherwise have put off viewing their credit histories altogether.
Free report access
Victims of ID fraud and the financially vulnerable will continue to receive free access to their reports after the introduction of online credit reports.
Information held by the UK's fraud prevention service CIFAS is included on credit reports as a record of known fraud so that doesn't usually give consumers any new information - serious fraud is listed so generally they'd know about it before it appears.
However, CIFAS is the organisation to speak to for those who've been a victim of ID fraud.
Fraud risk
The new change is also likely to benefit those checking for irregularities that are stopping institutions from lending to them, and make it easier to spot fraud.
Application fraud - someone else applying for credit in your name - and account takeover fraud - fraudsters posing as the account holder to extract funds - could potentially be easier to spot as credit reports become easier to access.
Which? chief executive Peter Vicary Smith commented, "This should provide a quicker and more convenient access for consumers to their credit file, and could encourage more people to check their file more regularly. This is a welcome initiative in the battle against fraud and the elimination of faulty data."
12 October 2017
10 October 2017
9 October 2017
Follow us or subscribe for FREE updates and special offers