Energy switches increase by nearly 30% in 2016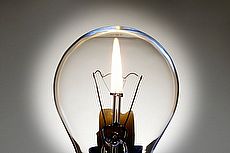 ©iStock.com/shulz
OFGEM have announced that the numbers of energy customers switching provider has reached a six-year high, with 7.7 million individual switches taking place in 2016.
This represents an increase of 1.7 million - or 28% - over 2015, a rise caused partly by the number of major suppliers who pushed up their standard variable tariffs (SVTs) in the previous year.
And given that many of the big providers have started 2017 by raising their SVTs, it's likely that the number of switches may remain similarly high in this year as well.
However, even with the 1.7 million increase, most customers still remain on SVTs, which put them out of pocket by as much as £230 a year.
Easier switching = more switching
Nonetheless, this increase is still good news, if only because it shows the retail energy market becoming more competitive.
According to Ofgem, it also shows how the switching process itself has becoming simpler and faster, with the average waiting time from start to finish being 21 days.
This compares to the five weeks minimum it took to complete a switch in 2014, when the annual dual fuel switching rate was at the lowest it has been since at least 2010.
It was this factor that drew particular comment from Energy UK's CEO, Lawrence Slade, who said, "The Energy Switch Guarantee means it is simple, speedy and safe to switch so, with 50 suppliers active in the market, there has never been a better time to shop around".
Of course, it's not only the relative ease of switching that's encouraging people to change supplier, but also the fact that many providers raised the price of their tariffs in 2016, eliminating many of their best offers.
Five of the Big Six, for example, raised their cheapest fixed tariffs by an average of 16% between September and November, while fifteen of the cheapest deals being offered by smaller suppliers were removed between June and July.
By contrast, 2015 saw price reductions from the likes of British Gas and Scottish Power, something which removed much of the incentive for customers to migrate elsewhere.

Number of customers switching supplier between 2002 and 2016. Source: Ofgem
On top of this, 2016 also witnessed the arguable influence of the Competition and Markets Authority's report into the energy retail market.
Its proposals may not have actually reached the stage of being implemented, but its criticisms of the competitiveness of the energy market - as well as its calls for more to be done to encourage customers to switch - may have actually encouraged at least a small percentage of customers to be more vigilant in looking for better deals.
7.7 million switches = less than 7.7 customers
And yet, just because there were 28% more switches in 2016 than in 2015 doesn't mean that most people are getting a better deal.
For one, Ofgem state that the 7.7 million figure doesn't equal the same number of households. This is because it includes individual switches for gas and electricity, both of which can be changed separately, with customers potentially receiving gas from Supplier X and electricity from Provider Y.
Added to this, the regulator also note that it includes customers who make such switches more than once in a year. However, without any precise figures, it remains doubtful that the number of people falling within this category is especially high.
Even so, the 7.7 million figure is likely to equal significantly less than 7.7 million customers, with most of the UK's 26.7 million households therefore failing to take advantage of the savings available to switchers.
According to Ofgem, those on SVTs could save as much £230 a year by moving to a cheaper fixed-term tariff.
This is no negligible sum, and the fact that almost 70% of the Big Six's customers are signed up to SVTs reveals that the energy industry is still making much more money than it necessarily deserves to make.
It's for this reason that, despite a degree of optimism, Ofgem's CEO, Dermot Nolan remained cautious in response to the latest switching data.
He said, "While today's figures show good progress, the market is not as competitive as we would like."
Future switching
However, with Ofgem's introduction of a cap for prepayment tariffs, this market may become a little fairer for customers.
This would be especially true if, as rumoured, the Government's impending green paper on competition introduces price controls regarding SVTs.
That said, strong controls wouldn't necessarily make the energy industry more competitive, since in being protected by caps, customers would have less of a need to engage and take action for themselves.
Still, there's no certainty that any additional cap will be introduced. Also, the CMA's proposal that a database be created of "disengaged" customers would suggest that switching is likely to be increased in the future, since more people would be contacted with more offers to save money by moving to a new supplier.
As such, it's very possible that the number of switches in coming years will surpass the tally for 2016, which already shows that energy companies are having to work increasingly hard to keep their customers.
21 August 2017
Follow us or subscribe for FREE updates and special offers