Energy customers do pay too much, CMA say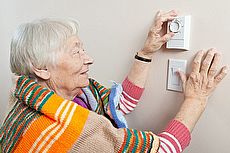 ©iStock.com/ImageegamI
CUSTOMERS of the Big Six energy suppliers are paying too much for their energy, a year-long investigation by the Competition and Markets Authority (CMA) has found.
They say that between 2009 and 2013 customers of British Gas, E.On, EDF, Npower, Scottish Power and SSE paid £1.2 billion more per year than they should have if there was truly effective competition in the market.
There's criticism for Ofgem too, saying regulation to limit the number of tariffs each company can offer hasn't had the "desired effect of increasing engagement", and has actually reduced competition.
The CMA are now considering several possible solutions, including a transitional price cap to protect customers while the market is reformed.
Same product...
Despite the fact that the gas and electricity coming into our homes is exactly the same no matter who we pay for it, the CMA found there was a wide variation in the prices companies charged.
As a result, they say, dual fuel customers could have saved an average of £160 a year by switching tariff, supplier or payment method - equivalent to an almost 15% reduction in the average annual bill.
One of the reasons people pay more than they could is that a large proportion of the Big Six's customers - about 70% - are signed up to a standard variable tariff (SVT).
The suppliers earned about 10% more from SVT electricity customers, and about 13% more from SVT gas customers, than they did from people on other tariffs.
Some providers told the CMA they could only afford to offer lower prices on their fixed term and other non-standard tariffs in the expectation that a proportion of customers signed up to them would move back to the higher tariff when they're done.
But the CMA say their evidence suggests that suppliers have been pricing their SVTs "materially above a level that can be justified by cost differences from their non-standard tariffs".
In other words, the energy companies have been taking advantage of the fact that many customers seem reluctant to shop around to keep their standard rates higher.
Why not switch?
During the investigation, the CMA commissioned a survey of 7,000 domestic energy customers.
Somehow 36% didn't know it was possible to change their tariff, supplier or payment method, and 34% said they'd never considered switching.
That's despite the campaigns like Ofgem's Be An Energy Shopper and the inclusion of information on energy bills about cheaper tariffs from the same company.
Between 20% and 30% of the Big Six's electricity customers have stayed with them for more than 10 years; there's more of a range among gas customers with between 10% and 40% having stayed for the very long term.
In areas where a particular supplier was the only option before privatisation, the number of sticky customers goes up again: between 35% and 45% of customers have been with their "local" supplier for more than 10 years.
The CMA say there's a low level of engagement with the switching process among those who would benefit most - people aged over 65, those who rent, who have incomes below £18,000, and those eligible for the Warm Homes Discount.
By contrast, homes with higher incomes, where the cost of energy might be thought not to matter so much, are more likely to shop around and move to a better deal.
The 'disengaged'
So among the richest 10% of households energy bills make up around just 3% of their total household costs - but among the poorest 10%, energy bills account for about 10% of their total expenditure.
Before it was redefined, this kind of expenditure would have placed these households close to fuel poverty.
And it's one of the reasons that the CMA have recommended that houses with prepayment meters are the first to receive smart meters in the national roll out.
This could have a huge impact: the number of households with prepay meters has more than doubled since 1994, from 7% then to 15% in 2014.
Prepay customers are generally on much less competitive tariffs: figures from Citizens Advice show they pay an average of £226 a year more than those with standard meters.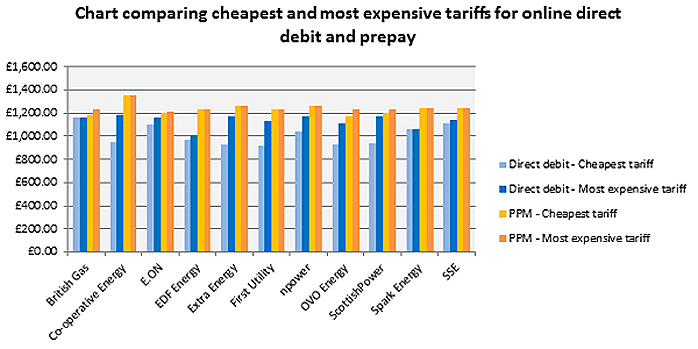 SOURCE: Citizens Advice. Available here
And there's a strong overlap between being on a prepay meter and having a low income or being in financial difficulty.
So there was some praise for E.On earlier this year when they announced that prepay customers willing to have smart meters fitted would have access to the same tariffs, discounts and online services as those with standard meters.
Not that the general choice of tariffs is anything to shout about.
A couple of years ago Ofgem sought to simplify energy prices by limiting the number of tariffs and the range of discounts each supplier could offer.
Since January 2014, suppliers have only been able to offer four core tariffs for each fuel, and they've only been allowed to offer discounts as incentive to take both fuels and to manage the account online.
But the CMA say this hasn't worked as intended - and in many ways has actually helped reduce competition.
They've suggested suppliers should be allowed to operate as many tariffs as they wish, the idea being that they can tailor products to suit different types of user.
Transitional period, transitional price
But introducing new tariffs, rolling out smart meters and reforming the industry will take time.
Gillian Guy of Citizens Advice has called on the energy companies, "who are benefiting from massive reductions in wholesale prices, to help customers and reduce bills."
The CMA have another idea - a transitional price cap.
Anyone on a default tariff - such as those on existing prepay tariffs, or who have been signed up to a supplier on moving into a new home - would be prompted to switch to a more competitive plan as soon as possible.
Those who don't respond to the prompts, and people coming to the end of a fixed tariff, would then be moved onto a "safeguard" tariff where the maximum price is set by either the CMA or Ofgem.
This, the CMA say, would help protect people from ending up on a supplier's higher priced standard variable tariff for long periods of time - and would help those who would most benefit from lower energy bills.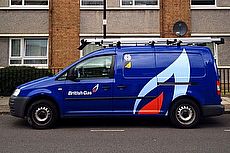 21 November 2017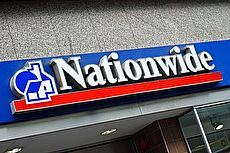 16 November 2017
13 November 2017
Follow us or subscribe for FREE updates and special offers