EE launch new customer friendly 'immersive' stores
© EE
EE have launched the first in a new series of "Showcase" stores, which are intended to provide customers with a more "personal and immersive experience on the high street".
Opening on London's Tottenham Court Road, the shop will grant customers face-to-face and video-linked access to specialist advisers, and will enable them to try all of the latest mobile-related technology for themselves.
It will then be followed by sibling Showcase stores in the Westfield London and Westfield Stratford (also in London) shopping centres, and later in the Nottingham Victoria centre.
And aside from demonstrating EE's newfound commitment to providing the best possible customer service, it may very well spark similar moves from their rivals, who might want to tap into the improved public image and sale possibilities it will provide.
Increased promotion
Most shops run by the UK's mobile providers were already beginning to look a bit like Apple stores, what with their open layouts and display cabinets, yet it would seem that EE want to go one step further.
To begin with, customers who will delve into one of the four upcoming stores will be confronted with what EE are describing as their new "showcase and highlight stages".
These will allow customers to get to grips with the latest smartphones and handsets, and will even let them try tech that isn't strictly mobile-related (although EE sell home as well as mobile broadband), such as Samsung VR headsets, Google Home devices, and Apple Watches.
In this respect, it's tempting to conclude that the new stores are simply part of an attempt to sell more products, seeing as how visitors will be encouraged to sample and enjoy the virtues of these products more up close and personally.
Yet this suspicion is undermined by how the shop's enhanced promotional element is coupled with an equally enhanced customer service element.
Your local EE branch
This comes from the "Help Hub" installed in Showcase stores, areas which enable customers to speak with advisors, so as to solve any problems or answer any question they have regarding their (existing or imminent) EE services.
Added to this, customers can also use a video link to connect with trained service experts, who will help them "diagnose and fix complex issues live".
With such a customer service-oriented aspect, the new stores therefore come to seem less like a traditional mobile provider shop, and more like a bank branch, where customers can traditionally obtain financial advice as well as open an account or withdraw money.
In fact, EE themselves aren't comparing the new Showcase outlets to bank branches so much as to a website, since they worked with BT's Wholesale and Ventures division to install a variety of interactive displays and "digital signage".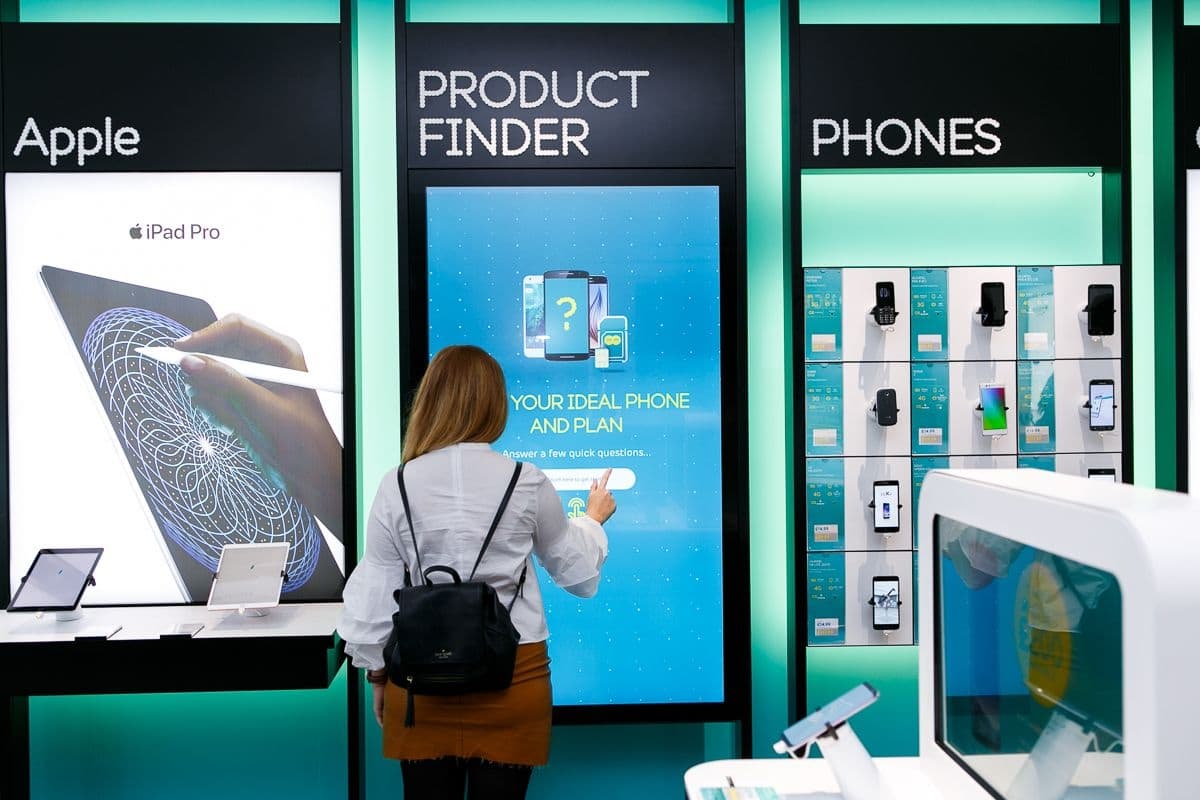 Source: EE
They say that customers will enjoy visits that are "much more akin to what they might experience online".
That said, their managing director of channels and trading, Ettienne Brandt, emphasis the customer-service aspect, adding, "Our new Showcase stores are about creating a destination where customers can speak to a real expert face-to-face to solve any problems, charge their device, or just have some fun while immersing themselves in the latest gadgets".
Losing a bad reputation
Given that none of their rivals have gone quite as far as them in offering such a comprehensive shop experience, the new Showcase range of stores advertises EE's growing determination to provide a level of customer service that's as good as their network performance.
In the past, they've struggled a bit with customer service, having been fined £2.7 million in January for overcharging customers for roaming, and having been fined £1 million in 2015 for complaints mishandling, to take the most prominent examples.
Yet with the new Showcase outlets it would appear that they're looking to make complaints less likely, an effort also bolstered by their aim this year to recruit 800 new "contact centre advisors".
And given that their complaints figures have improved slightly in recent months, such efforts may cause their main rivals - Vodafone, O2, and Three - to improve their customer service in parallel, something which is already in particular evidence with Vodafone, who are in the process of creating 2,000 UK customer support jobs.
And this can only be a good thing for the UK's mobile customers, even if for the time being EE have no immediate plans to bring their Showcase stores to more than four locations.
15 November 2017
10 November 2017
9 November 2017
Follow us or subscribe for FREE updates and special offers