British Gas launch 'free' energy app... but only with highest tariff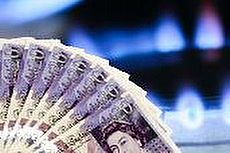 BRITISH Gas customers can now get the Hive energy app for free, the energy company announced this week.
On closer inspection, however, the 'free' deal will only be available to those signing up for their highest tariff - otherwise the app comes in at an altogether cooler £199.
The Hive app promises to save homeowners money on their bills by allowing them to control their heating and hot water when they are away from home.
Essentially, it means that a homeowner who wants to have warm rooms or hot water when they arrive home, or who makes last minute plans not to be at home, can start up, or shut down, their heating systems from anywhere in the world.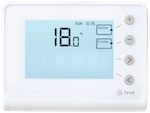 Users are issued with a new thermostat, shown right, which is linked to their broadband system or otherwise online and the app can then be downloaded to a smartphone, enabling on/off and temperature control.
'Free' £199 app not so free
But how free is this app?
The Hive app currently retails at £199 and homeowners don't need to be a British Gas customer to have it installed.
Now, though, British Gas customers who are interested in getting it for 'free' can do so by signing up to a fixed tariff, the Fix & Control August 2015 tariff, which is currently the most expensive British Gas deal.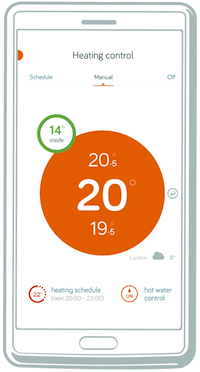 The average annual gas and electricity bill for homeowners in the UK is currently around £1,000.
With the Fix & Control tariff, customers would be paying on average £1,274 each year, meaning that the 'free' Hive app will potentially cost them £274 annually.
Considering a straight purchase of the Hive system is £199, it's easy to see why this deal is unlikely to be taken up in droves, despite obvious demand for smarter energy monitoring.
50,000 households already use Hive.
Does the Hive app cut bills?
Although the British Gas deal is poor value from the point of view of energy prices, however, it's worth bearing in mind that it's only fixed for 12 months and that customers can move to a cheaper deal after that.
Assuming that the Hive app can really cut energy bills, then, it might be worthwhile as a way to spread the cost of the app over time, rather than having to stump up the upfront cost.
There is real potential for the Hive system to help cut heating bills although it seems that those advantages are more likely to arise from use of the app in the home, rather than outside of it.
People aren't used to interacting with their thermostats and many don't know where they are or how to use them.
But given a fancy new app in the palm of their hands or using the intuitive dashboard, shown below, suddenly tweaking temperature settings without having to get up from a chair or out of a bed, is something they are enjoying doing.
Nina Bhatia, Managing Director of British Gas connected homes, echoed many consumers when she admitted recently that she "never engaged with my thermostat before [and] didn't even know where it was".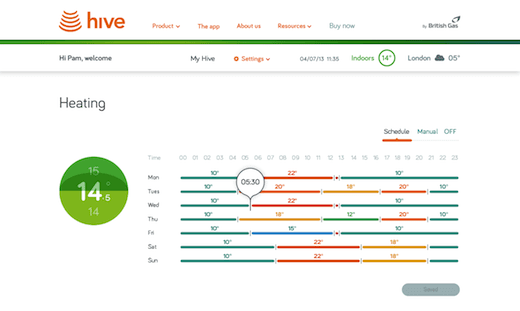 Whether or not more interaction with thermostats will lead to lower bills is yet to be determined, however.
It's worth remembering that heating can be turned up as well as down and that efficiency measures can sometimes have counter-intuitive effects, recent research found that installing insulation actually led some households to use more energy, for example.
It's also worth noting that under new EU rules all homes are set to have smart meters installed in their homes over the next six years, at no charge.
Presently, these free smart meters do not offer the same functionality as the Hive app, but they do allow customers to keep track of their usage in a much simpler way and will be linked directly to energy suppliers, meaning that meters will no longer need to be read.
The likelihood is that these smart meters will quickly catch up with the features the Hive app currently has to offer and customers who wait around for the free meters may well be the ones to make the biggest savings of all.
In addition, while the app undoubtedly brings home heating control into the digital age, there are questions about how useful it really is at the present time.
Programming hot water and heating to come on and off at chosen times and temperatures has been around for decades and while remote control may be useful when it comes to recording TV shows or watering flowers, it's likely that for the time being at least, this app will be only of real interest to technology lovers.
Government calls for more clarity
The launch of the new Hive app comes as the Government calls for more clarity around gas and electricity bills.
This week, energy minister Edward Davey unveiled plans to put QR codes on all energy bills, as shown right, allowing consumers to compare between providers quickly and easily with their smartphones.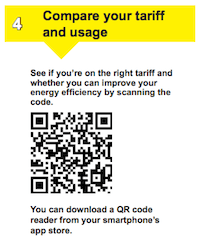 "We're determined to make energy markets work better for consumers and despite all the evidence showing that QR codes on bills would make a real difference to people, energy companies still haven't done anything about it," Mr Davey said.
The Government is also pushing funding for the machine to machine technologies which power smart meters.
The opposition meanwhile is pushing for a different approach to lowering energy bills, driven not by consumers changing their behaviour but by direct intervention in energy companies.
Ed Miliband recently pledged that heating bills would be frozen for 20 months should Labour get into power.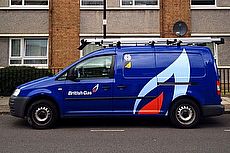 21 November 2017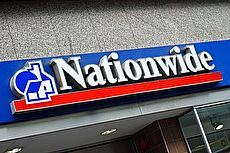 16 November 2017
13 November 2017
Follow us or subscribe for FREE updates and special offers