Pay TV provider brings Netflix into their bundles for the first time as they replace one bundle and upgrade another.
The Biggest TV Bundle adds Netflix Standard to a package that includes M100 broadband, Sky Sports, Sky Cinema HD and more than 200 other channels.
Meanwhile, Netflix Standard is now included with the Ultimate Volt bundle which allows customers to combine Virgin Media TV, 1GB broadband and home phone with an O2 SIM.
Netflix has been available as a separate subscription through the Virgin TV platform since 2013 and customers have been able to pay for Netflix via their Virgin bill since 2018.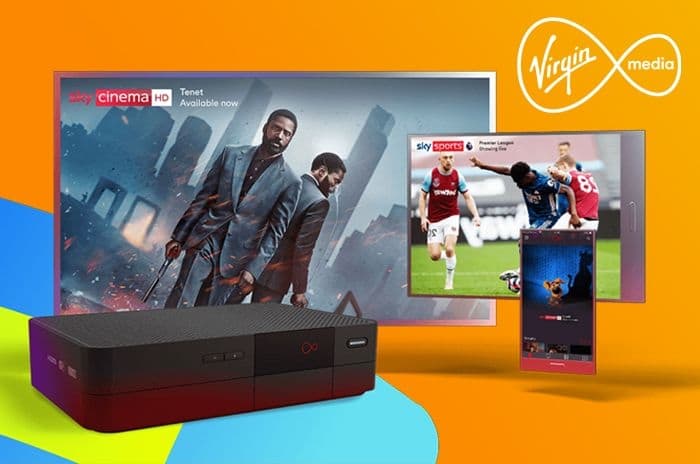 Biggest Bundle
The new Biggest TV Bundle from Virgin Media replaces the old Bigger Bundle and includes the following features for £87 per month:
M100 broadband
210+ TV channels
Sky Sports
Sky Cinema HD
Talk Weekends
Netflix Standard
The Netflix Standard plan allows viewing on up to two screens at once in HD. Virgin TV customers can upgrade to Netflix Premium which allows viewing on up to four screens in UHD for an extra £5 per month.
In addition, customers can choose to upgrade their broadband speed at the check-out stage. These are the current prices for taking the bundle alongside the different broadband plans available from Virgin:
Biggest TV Bundle + M200 = £93
Biggest TV Bundle + M350 = £99
Biggest TV Bundle + M500 = £105
Biggest TV Bundle + Gig1 = £109
However, it's important to note upgrading to these speed packages may not be as economical as taking Virgin's biggest bundle - Ultimate Volt.
Ultimate Volt
Netflix Standard has also been added to the Ultimate Volt bundle, again with the option to upgrade to the Premium version of Netflix for an extra £5 per month.
For £85 per month, customers get:
Gig1 broadband
Unlimited O2 5G SIM
230+ channels with Entertainment
Sky Sports
Sky Cinema HD
Anytime calls
Netflix Standard
So, the Ultimate Volt bundle is a better deal, coming with enhanced broadband, TV and home phone services for a cheaper monthly price.
Since all homes on the Virgin Media network can now access Gig1 broadband (and, therefore, the Ultimate Volt package), it's cheaper to take the comprehensive option.
Bear in mind that Virgin Media can increase the prices of bundles during the minimum term contract if they want to, although they will usually give customers the opportunity to leave as they did in 2022.
Netflix and pay TV
Netflix and Virgin have a longstanding relationship going back to 2013 when the service was brought into the Virgin TV ecosystem for the first time. This was followed in 2018 by the ability to pay for both Virgin Media services and Netflix on the same bill.
Netflix is also available through other set-top boxes and has a partnership with Sky TV that formed part of their Ultimate on Demand package when it was launched in 2018.
However, Netflix doesn't need to be viewed via a provider's set-top box and can be watched online through smart TVs, dongles, laptops and other devices, although some customers prefer the ease of paying for the service via their Virgin Media or Sky TV bill.
The streaming service remains our top pick thanks to their extensive catalogue and investment into original content that can't be seen anywhere else.