BrightHouse currently has around 200,000 customers making repayments and a total of 240 shops across the UK.
The firm has been struggling with high levels of complaints in recent years, including paying £14.8m in redress back in 2017.
It has also been affected by the introduction of rent-to-own (RTO) caps in 2019 which limited how much interest and charges firms could pass on to customers.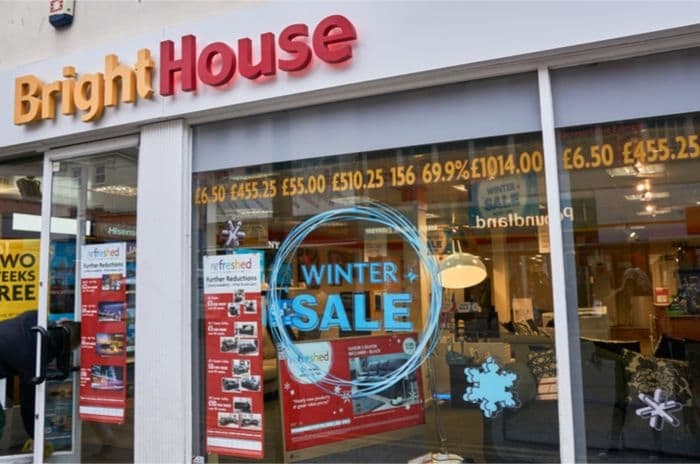 Collapse expected
The prospect of BrightHouse collapsing has increased in recent weeks as the coronavirus trading restrictions began to bite on a retailer heavily invested in physical stores.
After their 240 shops were forced to temporarily close due to Covid-19, BrightHouse warned on their website that customers could not purchase from their website as stores were vital for verification and delivery. Without the stores, BrightHouse wasn't able to serve new customers, making collapse inevitable.
The company's 200,000 customers are advised to continue making their monthly payments until the debts have been settled in full.
While BrightHouse's official advice before the collapse was that late fees, interest and late repayments wouldn't be incurred during the coronavirus outbreak, this guidance is unlikely to be honoured by the administrators or any purchaser of the business. Customers should continue to repay this debt as best they can, despite Covid-19.
What went wrong?
While coronavirus has been the final blow for BrightHouse, the RTO retailer has been struggling for several years now.
They were ordered in 2017 to pay £14.8m in redress by the Financial Conduct Authority (FCA) following an investigation into their practices and warned they had not been acting as a responsible lender to 249,000 customers.
It was found some customers had cancelled agreements after sign-up but had not been refund, while others were able to sign up to agreements that were unaffordable for them.
It's this second issue that's been a major ongoing problem for BrightHouse and numerous other short term and instalment lenders - complaints have been mounting up and they admitted in January that they were struggling to deal with the claims.
In addition, a review undertaken by the FCA in 2015 concluded RTO caps were necessary and these came into force in April 2019.
This increased the financial pressure on RTO companies with a total credit cap of 100%, the benchmarking of prices against mainstream retailers and directives about extras such as warranties hitting BrightHouse hard.
Struggling sector
Even if BrightHouse finds a buyer, the 200,000 customers currently repaying their debts and the unspecified number with outstanding complaints may find little to be happy about.
It's unclear whether warranties and insurance policies sold alongside household goods are still valid. More detail should emerge on this, but if an item breaks in the next few weeks, customers may struggle to resolve the issue.
Plus, customers with outstanding claims and complaints about BrightHouse's selling practices are unlikely to receive anywhere near the amount of compensation they're due, and it may take a long time for any money at all to appear.
When Wonga collapsed in August 2018, administrators took hold of the payday lender's finances and took eighteen months to announce low compensation pay outs.
They confirmed in January 2020 that more than 358,000 customers owed compensation would only receive 4.3% of their settlement total, with only £23m left to repay customers when the original debt to them was £460m.
So, existing or former BrightHouse customers with a claim for compensation in motion may find the amount they finally receive could be a fraction of what they expected.
Struggling with debt? We've listed some groups that may be able to help in this guide.