They have teamed up with Npower to offer electricity and gas to new customers just weeks after previous customers were moved to British Gas tariffs.
Anyone signing up to the only tariff Sainsbury's Energy are currently offering will receive 100% renewable electricity.
Nectar card holders will receive extra points for switching, along with additional points when shopping in store throughout the year.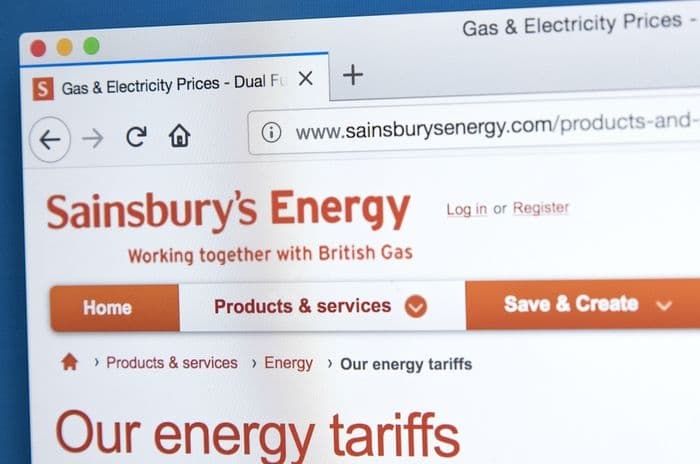 Credit: chrisdorney/Shutterstock.com
New deal goes green
The link between Sainsbury's Energy and Npower offers 100% renewable electricity to all customers via its Fix & Reward tariff.
While Npower's own fuel mix in 2018 only consisted of 18.7% renewable fuel, Sainsbury's Energy is committed to sourcing certified renewable electricity for every unit they buy.
So, each unit of electricity used by a Sainsbury's Energy customer isn't renewable at source, but a unit of renewable electricity is purchased and fed back into the grid.
For customers looking to support a renewable energy tariff, then, this partnership offers a tariff that's both renewable and secure, given that it's backed up by one of the Big Six energy providers.
With renewable energy suppliers like Solarplicity under scrutiny for customer service issues and others like Brilliant Energy folding altogether, the safety net of a big name like Npower backing Sainsbury's Energy may be attractive to customers.
That said, green energy specialists Bulb are a challenger supplier going from strength to strength over recent years without the backing of a big name.
What happened with British Gas?
It was announced in February that the white label deal between Sainsbury's Energy and British Gas was coming to an end.
All customers were transferred to British Gas tariffs in a process that apparently ended a few weeks ago, and there were no indications that Sainsbury's would remain within the energy market.
However, the deal with Npower and its focus on renewable energy allows Sainsbury's Energy to offer something different while still offering another company's products.
Due to a rule change in 2015, Sainsbury's were forced to standardise their tariffs with their white label supplier, meaning they could no longer attract customers by offering cheaper prices than British Gas.
This led to a reduced offering from Sainsbury's Energy and may have contributed to the end of the partnership earlier this year.
Customers who joined Sainsbury's Energy before February have all been transferred, so it seems that the new partnership is starting from zero and trying to attract its first batch of customers with the promise of its renewable commitment.
Other incentives
The initial promotional material for Sainsbury's Energy highlights the link between the supplier and the popular Sainsbury's Nectar card.
Signing up to either electricity or gas will offer 2,000 bonus Nectar points, while dual fuel customers will receive 4,000 points.
Customers taking dual fuel will also receive extra points for shopping in Sainsbury's stores, with three points being gained per £1 spent rather than one point per £1.
It's worth noting that this is limited to a maximum of 7,000 extra points a year, so while it's a nice extra, it's probably not worth switching for.
Anyone interested in joining Sainsbury's Energy, even if they were previously a customer, will have to go through the switching process.
Learn more about how to switch here and find out how to check who your current energy supplier is if you're unsure by using this guide.
You can also browse energy deals from all leading suppliers using our dedicated comparison tool.