In the past, travelling and using the internet weren't compatible, but we examine how that's changed and why.
This guide looks at the main options for accessing the internet when travelling, including the different kinds of data roaming and SIM cards.
We'll also look at the areas where free wi-fi might be an option, as well as advising on how to keep yourself safe when using them.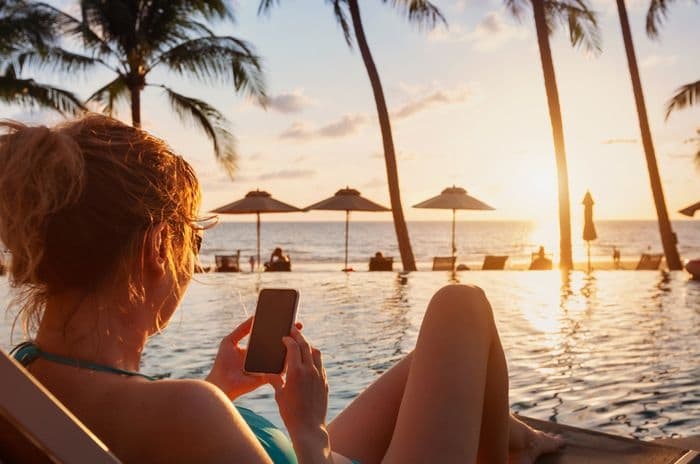 ---
---
Accessing the internet abroad
For many of us, getting online when we're abroad is important.
Even if we're enjoying a holiday, it's likely we'll want to share updates about our experiences with family and friends. People travelling for business might have to keep in touch for work purposes or check in with family.
Whatever our reasons for wanting to get online while abroad, it's safe to say that it can be a confusing experience.
It isn't as straightforward as taking your mobile with you and using it while travelling in many cases. Although the risks of big bill shocks have declined thanks to legislation brought in by the UK and Europe, there are still charges to be aware of.
There are also alternatives to data roaming which may save money. The most important of these is the use of local wi-fi.
---
Local wi-fi
Wi-fi is available in far more locations than it used to be, ranging from the places we stay to the places we eat and relax.
Across the world, wi-fi access and public hotspots can be a real gift to holidaymakers and travellers, but there are a few caveats to be aware of before signing on to any new network.
Security is obviously the main concern, and it's important that you don't blindly trust a foreign wi-fi network in the same way that you wouldn't sign on to a random hotspot in the middle of a British town centre.
Locations offering free or paid wi-fi will usually have notices dotted around, such as stickers pointing out you're in a wi-fi zone or posters in hotel lounges giving log-in instructions.
Unless you're certain the wi-fi you're attempting to log on to is a genuine secure network, don't take the risk.
Similarly, paying for wi-fi access is a legitimate way to get online but only if your money's going to a legitimate provider and not a scammer hoping to steal your details.
Displaying the same amount of caution getting online abroad as you would when handing your payment details over to an unknown entity in the UK is a good rule of thumb.
Some people like to travel with prepaid cards topped up with a certain amount of money. These can provide a buffer between holiday money and main bank accounts - read our guide about using prepaid cards abroad here.
So, now we've covered the security elements, what are the most common ways of getting online abroad using wi-fi?
Hotel wi-fi
It's increasingly common to find wi-fi at hotels, hostels, bed and breakfasts and rental properties in a way it perhaps wasn't ten years ago.
Owners have recognised the importance of offering internet access at their properties, whether it's within the whole hotel or just in a lounge or bar area.
When booking a holiday, check to see if the destination includes any free wi-fi as part of the price or whether there are paid options for logging on. It could be that free internet access is restricted to one smartphone per guest or have limits in other ways, so it's worth searching for details on their website or asking the question directly if there's no clear and definitive answer.
Paid wi-fi in a hotel or rental property isn't inherently a bad thing - it may be an economical way of getting online while abroad. However, following security advice and checking the wi-fi network is authentic is important.
Watch out for rising charges per Mb of data and see how many devices can be hooked up to a wi-fi connection before extra charges are incurred.
Payment at the end of a holiday stay can be useful but it can result in a bill shock on check-out if you're not fully aware of the charges you're racking up during your break.
Other wi-fi
Wi-fi is often available outside hotels and rental properties. Cities and towns across the world have public hotspots which travellers can connect to, either for free or for a fee, and these can be a great way of checking email and catching up on social media while out and about.
Again, security precautions are paramount, and they're even more important if you log on to an unsecured public network. Don't share personal information like passwords or bank details across those networks and be mindful that your communications could be maliciously intercepted, wherever you are in the world.
Examples of wi-fi hotspot locations:
Public squares or city centres
Museums or galleries
Libraries
Shopping centres
Transport hubs
To get the most out of wi-fi, whether free or paid, turn off automatic downloads for apps and that should speed up any download issues and limit potential charges.
---
Data roaming
Data roaming has evolved dramatically in recent years, primarily thanks to the European Union's efforts to eliminate roaming charges.
With the UK still in a transition period of leaving the EU, we don't know how data roaming might be affected within EU areas, but major networks have committed to keeping roaming - at least for the time being.
To keep up to date about the changes to data roaming in the EU and elsewhere, visit Ofcom's dedicated page.
Travelling within the EU
Since June 2017, the costs of using mobile phones in an EU country have not been permitted to be more than the costs of using them at home. As we mentioned above, this may well change, but that's how things stand at the time of writing.
However, fair use policies set by mobile operators can still apply, limiting the amount of data a customer may use while abroad.
These often include stipulations on how much time a customer can spend outside of the UK, so if they spend more time roaming than using data at home in a three month period, the network may deem them to be living outside of the UK for their purposes.
It's always worth checking the fair use data roaming policies of your mobile network before travelling and be aware that (as things stand) networks must warn customers when they're about to exceed data allowances in EU countries.
Roaming elsewhere
Data roaming charges for the rest of the world are currently a hodgepodge of network charges, regulations and fair use policies which can catch out travellers if they're not careful.
The UK's major networks currently have the following roaming schemes:
Three - Go Roam (covered in more detail below)
O2 - O2 Travel Inclusive Zone bolt-on covering 27 countries including the United States, Canada and Australia, O2 Travel bolt-on costing £4.99 for unlimited data in selected locations
EE - Travel Data Pass (Swappable Benefit) for a fixed daily price for certain destinations
Vodafone - Roam Further with 104 destinations at £6 per day or Global Roaming Plus with 81 destinations
Mobile virtual network operators (MVNOs) don't tend to have the same generous roaming packages we find with the four network operators.
So, for example, Sky Mobile currently offer their Roaming Passport Plus for £6 per day, but it's only available in 12 countries and the tariffs for roaming in different countries can vary dramatically.
Accessing the internet while abroad using data roaming is certainly an option, but it's important to know how much the charges are going to be, whether you can get an inclusive package, and whether you'll be notified if you're about to breach any limits so you can afford excess charges and inflated bills.
Check too whether there are differences for pay monthly and pay as you go customers and whether tethering devices to your mobile is permitted as part of the roaming deal - it often isn't, so you'll only be able to access the internet on your handset.
Three's Go Roam
Three Mobile's Go Roam is the best-known of all UK roaming schemes, launching in 2013 as Feel at Home with seven destinations covered and expanding to 71 at the last count.
It allows Three customers to use their data plan allowance and any add-on allowances in 71 destinations across their Go Roam Around the World locations.
There are fair usage policies to be aware of though, and we explain all about those in our dedicated guide to Go Roam. Click here to read it.
---
Other options
If location-specific wi-fi and data roaming don't appeal, there are a couple of other options to help UK travellers get online while abroad.
As we've mentioned several times already, consider the security of whatever option you choose and be certain that you know how much the service is going to cost by the end of the holiday.
Local SIM cards
Buying a local SIM card on arrival into another country could be a cheap way of getting online abroad, although it's worth remembering it's not a brilliant option if you're travelling around from one country to another.
Compare a couple of local providers before travelling and be crystal clear about the data limitations and extra charges operators may include for data usage.
There's a major caveat here - if your mobile phone is locked to a UK network, you won't be able to insert a SIM card from a foreign network.
International SIMs
Some SIMs work in multiple countries and so they're a better option for people travelling across continents who don't want the hassle of frequently buying new local SIMs.
International SIMs are available from companies like OneSim and WorldSIM but checking the data allowances and roaming provisions before buying is important.
These SIMs are useful for regular international travellers such as business flyers or backpackers, although again they will require unlocked mobile phones to work.
Global hotspots
Regular international travellers who want to get online with several different devices might find that a global hotspot is an economical option.
Devices like the Skyroam Solis are mi-fi devices for the global stage with an upfront fee and then a daily fee for accessing the internet while abroad. The Solis works in over 130 countries and attaches to local 4G networks.
There are other options similar to the Solis, although they may be geographically limited and so might not be a good upfront investment.
---
Conclusion
Getting online abroad has become easier since the EU acted on roaming charges, though this has been complemented by network operators working with global partners to lower data allowances when travelling.
Ultimately, making it cheaper to use the internet while abroad has become good business, so we've seen hotels making their free wi-fi a selling point and cities investing in public hotspots to attract tourists.
It's true there are still plenty of reasons to be cautious when using the internet abroad, but researching your options in the same way you research holiday insurance or luggage restrictions can help you get online abroad without any hidden charges or unexpected bills.