Using the Internet abroad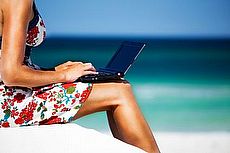 Does the thought of taking a Facebook holiday give you the shakes?
Whether you travel overseas regularly or are planning a one-off trip, broadband is a great way of keeping in contact with those at home or of finding local information while you're away.
But, as many have discovered, it can be an expensive business.
This guide asks 'how expensive?' and looks at ways to cut those costs.
Using UK mobile broadband abroad
Just continuing to use your ordinary 3G or 4G mobile phone, microSIM or mobile broadband dongle abroad is the easiest way to get online. If only it was the cheapest...
Avoiding bill shock
You've probably heard some extortionate billing horror stories from holidaymakers before.
If not, take a look at the case of this £8,000 broadband bill which, along with other shock stories, have prompted the EU to take measures for making data roaming cheaper.
It's an extreme example but thousands of UK travellers do get big bills and, just as in the case above, providers shrug their shoulders and say: 'we told you so'.
With that in mind:
Always double check data charges before you go and use an add-on where available (see below), you may also need to turn on roaming.
Consider turning data off completely when abroad, especially outside of the EU. In numerous bill shock cases people haven't even realised they were downloading data but apps were still running
Pay attention to provider warnings. Operators should always warn you that you're outside a normal billing charge area. Don't ignore provider texts and emails when abroad.
Cap your spending charges. Since March 2012, the EU has been working to introduce capping thresholds for data roaming abroad. In our section below we explain how they work.
Now on to the charges.
EU data charges
Under EU rules first announced in May 2012 and updated in July 2014, providers can charge up to 70 Euro cents for every megabyte (MB) of data, unless customers specifically chose a higher or lower limit.
As a result of EU intervention, providers mainly charge for data used in Europe in prepaid blocks and many only allow customers to choose this cheapest option.
These rules should apply to all of mainland Europe as well as the Azores, Cyprus, Malta and the Canary Islands.
Bizarrely, EE even count French Guyana, Guadeloupe, Martinique and Reunion as Europe so it's well worth checking whether your destination is included in these cheaper rates.
Add-on cost
Cost/MB
Spend cap
How to use it
EE
3MB: £1
20MB: £5
50MB: £10
200MB: £35
N/a
N/a
You can't use the Internet without an add-on. Turn data on to buy abroad.
O2
£1.99 per day
19.6p/MB
£48
Call to opt out of the add-on. You can't opt out of the data cap.
Vodafone
£2 a day for your normal data allowance.
19.8p
£42.50 ex. VAT
Call for add-on, text UNCAP to 40209 or call to opt out of the data cap.
Three
Unlimited: £5 per day
free (use normal allowance) in Austria, Denmark, France, Italy, Ireland, Sweden and others more
19.8p
£49
Call for add-on, or to opt-out of the data cap.
Orange
30MB: £3 per day or £15 per month
69.6p
£49
Text for add-on, or to opt-out of the data cap. Note: opting-out remains on your account for all trips until you opt-in again.
Virgin Mobile
10MB: £1.50
50MB: £6
250MB: £20
n/a
50 Euros
Text BUY XMB to 23456 for add-on, or to opt-out of the data cap.
As you can see, even with EU intervention, roaming in Europe rules out any high bandwidth activities such as streaming music or video.
But if you think these prices are bad wait until you see the charges for roaming outside of the EU.
Data roaming in Rest of World
Add-on
Cost/MB
Spend cap
Opt-in/out
EE
10MB: £5 to £50
50MB: £15 to £195
100MB: £27 to £140
(Dependent on location)
N/a
N/a
You can't use the Internet without an add-on. Turn data on to buy abroad.
T-mobile
3MB: £5 to £25
20MB: £20 to £140
50MB: £30 to £280
(Dependent on location)
N/a
N/a
You can't use the Internet without an add-on. Turn data on to buy abroad.
O2
200MB: £120
£6
£40
Call for add-on, which will increase the data cap.
Vodafone
25MB: £5 a day (then £3 per MB up to 5MB, then £15 per 5MB)
(Pay monthly only)
£25 per day for 100MB
£41.47 ex. VAT
Call for add-on, text or call to opt-out of the data cap.
Three
N/a
free (use normal allowance) in Hong Kong, Indonesia, Australia and elsewhere more
£3 - £10
£49
Text or call to opt-out of the data cap.
Orange
Dependent on location, e.g. 30MB for £20 per month, or 10MB for £15.32 per month
£8
£49
Text for add-on, or call to opt-out of the data cap. Note: opting-out remains on your account for all trips until you opt in again.
Virgin Mobile
N/a
£5
None
Text to opt out of the data cap.
In this case, even looking at pages and checking emails online will eat into the allowances pretty fast.
Spending caps
Under EU regulations, mobile broadband providers must cap their customers' usage to the equivalent of 50 Euros.
According to the latest Ofcom report on unexpectedly high bills (UHB's), most networks have introduced these 'opt out' financial caps across all of their packages.
As you can see in the tables above, they've also applied these same caps to roaming outside of the EU as well.
Both EE and T-mobile will restrict any data use unless you buy an 'Add-on', so a default data cap doesn't apply.
In addition to this, most providers will text you when you've reached 80% and 95% of the data cap limit.
Most providers apply the caps by default, but it is possible to opt-out simply by texting or phoning customer services: so be careful when replying to network texts as you could be opening the doors to an unexpectedly high bill.
It's also worth being aware, that once you opt out of a data cap - that may stay on your account until you opt in again, so your next trip abroad could still have a previous trip's 'opt out' settings applied to it.
Similarly, while they can be cheaper per MB, taking a data add-on will often automatically 'opt you out' of the data cap too, so spending limits may no longer apply when using data add-ons.
Some alternatives
Caps or no caps, with data rates like that, some alternatives seem in order. Here are our favourites.
Prepaid SIM cards
Keeping your phone or dongle is a definite plus to this cheaper way to use data, although the phone will need to be GSM enabled (80% are) and unlocked for it to work.
Blackberries often won't work though because of their secure server system.
However, don't assume that a local or international phone card provider is necessarily cheaper. Many express prices in Euros or Dollars which can disguise the fact that they're still pretty pricey.
TravelSIM and WorldSIM are two well known international brands. Try Prepaid GSM for local options, arranged by country.
BT FON network
BT broadband customers can already opt-in for free wi-fi at Openzone hotspots in the UK, the FON network just extends that access to BT wi-fi partners around the world.
However, BT customer or not, you do have to pay for your time online.
Access is just under 5.6p a minute with a prepay International Voucher or short-term access (500 minutes within 14 days from first log on) is £28.
Hotel, airport and other wi-fi hotspots
In a similar vein, just like in the UK, finding a hotspot could be as easy as grabbing a cappuccino at the nearest coffee shop or in your hotel.
Hotel Chatter's 2011 report into hotel wi-fi shows which big brands offer free internet services and we notice you can also narrow down the Hotel.com search by internet access (though it doesn't specify that it's free which is obviously the ideal).
To give your computer a helping hand with finding wi-fi networks out and about, try downloading Netstumbler (for Windows) or iStumbler (for Macs). As well as the networks available, these applications will tell you the security mechanisms in place, the channels they're transmitting on, signal strength and noise percentages.
Over to you
What did we miss? Let us know in the comments.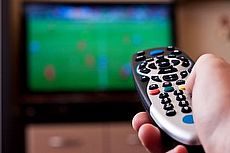 15 November 2017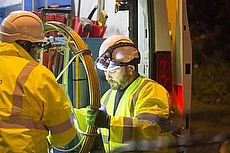 10 November 2017
9 November 2017
Follow us or subscribe for FREE updates and special offers