How to convert Tesco Clubcard points to air miles
©iStock.com/photoncatcher
IF THE most exciting thing that happens to us most weeks is doing the grocery shopping, it could be worth seeing what more we could get out of our trolley run.
By converting supermarket loyalty points to air miles, it's possible to start saving towards a weekend in Paris, a holiday in Florida - or even just a posh afternoon tea or day at a spa for two.
In this guide we focus on the two big air miles schemes available to Tesco Clubcard holders, BA's Avios and Virgin Atlantic's Flying Club.
We'll start off by looking at how to convert Clubcard points into air miles with each, before seeing how each measures up in terms of taking us places, the other rewards on offer, and which scheme is better.
Making the switch: Converting Clubcard points
Whether we're fans of Avios or we prefer flying with Virgin Atlantic, there are two options for converting Clubcard points into air miles.
One is to convert points as and when we want; the other is to have all our Clubcard points automatically converted for us.
We'll start with converting Clubcard points as and when.
This is a good option for people who want to boost their air miles, but also want to be able to use their Clubcard vouchers on other things as well.
Do note that while the minimum number of points required to get Clubcard vouchers is 150, swapping them for air miles requires at least 250.
Once logged in to the Clubcard website, go to Clubcard Boost, then select "Airlines", tucked under the Travel heading.
Note the difference in the conversion rates: 250 Clubcard points can be exchanged for 600 Avios, or for 625 Virgin Atlantic Flying Club miles.
We look into how much difference this makes when it comes to redeeming our air miles later.
People who aren't already members of either of the schemes should note that while Tesco will set up an Avios account for them, anyone interested in the Virgin Atlantic Flying Club will need to sign up (which they can do here) before they can swap their points for miles.
Having clicked on the button for our chosen air miles scheme, we decide how much in Clubcard vouchers we'd like to convert.
Anyone wanting to exchange vouchers for Virgin Atlantic Flying Club miles must swap them in multiples of £2.50.
Exchanging vouchers for Avios is a little more flexible; the minimum we can swap is £2.50 in vouchers, but then we can add more in 50p increments:
At checkout we're asked for the details of the Clubcard vouchers we're exchanging - and that's it. Within a couple of hours, we should receive an email confirming that our account has been credited with the air miles we've just bought.
Automatic conversion
Serious miles collectors may prefer automatic conversion, which is really simple to set up.
After logging in to the Clubcard website, it's a case of heading for the My Account section and clicking on the Flying Schemes option, which'll bring up the following choices:
Those who want to convert all their points to Virgin Atlantic Flying Club miles will be asked to enter their Flying Club membership number - as mentioned above, we need to have set up an account with them first.

People choosing to convert their points to Avios will be asked if they're sure - and that's it. If they don't already have an Avios account, one will be set up for them and the details sent to them.
That's it.
Depending on when in the year we opt in, it might take a while before we receive our first batch of miles.
Just as Clubcard points are only converted into vouchers quarterly, so they're only converted into air miles every three months - so we'll have to wait to get our rewards just like everyone else.
But the advantage is that regardless of the scheme we're signed up to we'll get as many full air miles as the conversion rate will allow. Say we've 1,175 points: if we were converting those voucher by voucher, we'd be left with 175 points, or a £1.50 voucher and 25 points.
With automatic conversion, however, they'll be converted into more air miles - a further 375 for Virgin Atlantic Flying Club members, or another 360 Avios.
More Clubcard points: Clubcard credit card
Regular Tesco shoppers will have heard of the Tesco Clubcard credit cards, and may be thinking that using one seems like an obvious way to get more Clubcard points - and thus more air miles - wherever they shop.
There are various Tesco credit cards that earn users Clubcard points, but as we're looking at earning by spending, we'll focus on Tesco's Purchases credit card, detailed below:
Purchases credit card (Go to provider

»

)

0% on purchases for up to 30 months
0% balance transfers for the first 3 months (2.9% fee applies for the first 3 months, 3% thereafter)
Earn Clubcard points on all purchases

Representative example: When you spend £1,200 at a purchase rate of 18.94% p.a. (variable), your representative APR will be 18.9% APR (variable).

The conversion rate is as follows:
Shopping in Tesco: £4 earns five points
At Tesco fuel stations: £4 earns five points
Shopping anywhere else: £8 earns one point
So how many points can using the Clubcard credit card earn us?
| | Clubcard points earned on £500 spend | Converted into Avios | Converted into Virgin Flying Club miles |
| --- | --- | --- | --- |
| Tesco Clubcard | 500 Clubcard points | 1,200 | 1,250 |
| Tesco Clubcard credit card (in Tesco) | 625 Clubcard points | 1,500 | 1,562 |
| Tesco Clubcard credit card (used elsewhere) | 62.5 Clubcard points | 148 | 155 |
Casual collectors might well be happy with this rate of return, but people determined to earn as many miles as possible may want to look into combining their Clubcard with a specialist air miles card instead.
There's more on how using an Avios credit card can boost earnings in our guide here; while there's less choice, there are similar cards for those signed up to Virgin's air miles scheme.
Where can I fly to?
When opting for a Reward Flight with Virgin Atlantic themselves, Flying Club members have only 26 destinations to choose from, just under half of which are in the US; the cheapest reward flight will cost 35,000 miles, plus taxes and fees.
When flying with one of Virgin Atlantic's partner airlines, however, there's more choice - although with the exception of Air New Zealand and All Nippon Airlines, flights tend to be to other places in an area Virgin Atlantic already serve.
Delta Airlines, for example, give Virgin Atlantic customers more choice of destinations in the US; Jet Airlines are useful for the connecting flights they offer from Delhi across India.
Air New Zealand make New Zealand, Australia, and the Pacific Islands available; the only European destinations it's possible to fly to are in France and Germany - if we're flying with the Japanese carrier All Nippon Airlines.
By contrast, Avios members can fly pretty much anywhere other than Greenland, South America (although they can fly to Brazil), or any of the Pacific Islands.
As we've covered elsewhere, a Reward Flight Saver return fare to one of British Airways' European destinations starts from just 9,000 Avios and £35 to cover all the other taxes and charges.
The lower cost in air miles reflects the much shorter distance travelled; Virgin Atlantic Flying Club members can make local, cheaper, trips with one of the scheme's partner airlines, but even so there are only a few to be found for less than 15,000 Flying Club miles.
Avios wins.
But let's make this a fair fight by comparing like with like; we'll start with using our air miles for the logical reward - a flight.
A trip to New York
Let's say that we want to use our air miles to fly to New York.
To make it as fair as possible, we looked at flights between the same airports, leaving and returning at almost exactly the same times (within 20 minutes of each other), on the same cold January days.
Paying outright for our British Airways return flight between Heathrow and JFK would cost £743.35, including all taxes, fees and surcharges. Using Avios, we could get the same flight for 26,000 Avios, plus £320 in taxes and fees:
SOURCE: Avios.com
Flying with Virgin Atlantic at about the same time on the same days would cost £621.35. Alternatively we could cash in 35,000 air miles, then pay £248.15 in fees and surcharges: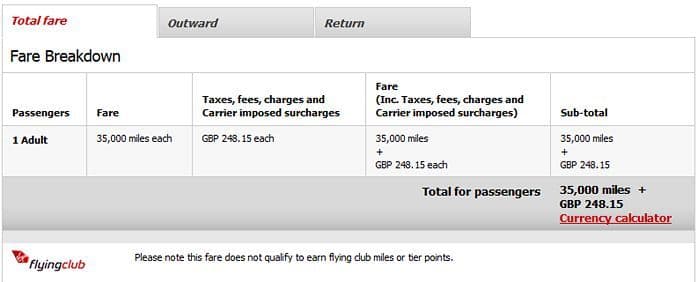 SOURCE: Virgin-atlantic.com
In summary:
| | Return flight | Air miles required | Additional taxes and fees |
| --- | --- | --- | --- |
| Avios | London Heathrow - JFK | 26,000 | £319.35 |
| Virgin Atlantic Flying Club | London Heathrow - JFK | 35,000 | £248.15 |
Of the costs outlined above, only one remains constant regardless of the time of day or year, and that's the number of air miles Virgin Atlantic Flying Club members redeem for their flight.
Avios members will find that booking flights during peak times will cost them 20,000 Avios each way; British Airways advise that taxes and surcharges for the above trip will range from £319 up to almost £500 per person depending on when we fly.
Virgin Atlantic reward flights may costs the same number of miles whenever we travel, but the variable taxes and fees remain: despite coming to less than £250 for the flight we chose, their flight calculator suggests that we should expect to pay between £330 and £400.
How much do I have to spend in Tesco?
Looking at the table above, it's easy to think that although we might need to redeem more points, the Virgin Atlantic Flying Club flight is the better deal, because we pay less in extra costs.
But there's another way to look at how much our reward flight will cost us, and that's to look at how much we have to spend in Tesco to earn those reward points in the first place.
| | Return flight | Air miles required | Spend required in Tesco |
| --- | --- | --- | --- |
| Avios | London Heathrow - JFK | 26,000 - 40,000 | £10,850 - £16,700 |
| Virgin Atlantic Flying Club | London Heathrow - JFK | 35,000 | £14,000 |
Unless we're planning well in advance and know exactly when we want to fly, it's difficult to say which air miles scheme is better in this instance.
People who know they'll be travelling on what's considered on off peak service should convert their points to Avios as it'll cost them less to collect the points necessary - as long as they don't mind paying higher airport taxes.
Those planning to travel when flights are more expensive, or who simply fancy cashing in their air miles, may do better collecting Virgin Flying Club miles, as they'll use the same number of miles whenever they fly, and the airport taxes tend to be a little cheaper.
It's a draw.
A trip to Paris
Just because they're called air miles, we don't have to use them to fly somewhere: both schemes offer free trips on Eurostar - and as there are no airports involved, there aren't any pesky taxes or surcharges to worry about.
Again, the Virgin Atlantic Flying Club wins points for keeping things simple: they have just two "fares", depending on whether we want to travel in standard class (18,000 miles) or standard premier (30,000 miles).
But again, travellers are more limited in where they can go: in this case miles can be exchanged for tickets to just four destinations: Paris, Lille, Brussels, and Disneyland Paris.
The number of Avios we require depends on where we're travelling and when we travel, as well as the class ticket we want. Prices to Paris, Brussels, and Lille start from 9,000 Avios, although these tickets tend to be limited.
Customers also have a much wider range of destinations - Avios can arrange travel via connecting services to various locations.
Let's assume, however, that we want to travel to one of the destinations covered by both schemes, and that we're happy to travel in standard class. Here's how the two schemes compare:
| | Destination | Average fare in air miles* | Spend required in Tesco |
| --- | --- | --- | --- |
| Avios | Paris | 14,500* | £6,100 |
| Virgin Atlantic Flying Club | Paris | 18,000 | £7,200 |
| Avios | Lille | 13,000* | £5,500 |
| Virgin Atlantic Flying Club | Lille | 18,000 | £7,200 |
| Avios | Brussels | 12,300* | £5,200 |
| Virgin Atlantic Flying Club | Brussels | 18,000 | £7,200 |
| Avios | Disneyland Paris | 23,300* | £9,800 |
| Virgin Atlantic Flying Club | Disneyland Paris | 18,000 | £7,200 |
*as calculated by Avios, based on past bookings.
Please note that to calculate the spend required at Tesco, we've used the average fares as paid by people booking through Avios.
As mentioned above it's possible to get tickets for Paris, Lille and Brussels for just 9,000 Avios - which is equivalent to collecting £37.50 in Clubcard vouchers - earned by spending £3,750 in Tesco.
Trips to Disneyland Paris start at 13,300 Avios, which would be covered by £55.50 worth of Clubcard vouchers - or £5,550 of in store spending.
In fact, even using the average fares quoted by Avios, there's only one time when an Avios collector needs to spend more than a Virgin Atlantic Flying Club member to have enough miles for their return trip - and that's when we want to travel to Disneyland Paris.
Otherwise Flying Club members could find themselves having to buy up to £2,000 worth of extra shopping to get their free trip than someone collecting Avios.
Avios wins.
What else can I use my air miles for?
Collecting air miles isn't like collecting supermarket loyalty points, even if that's where we're earning the bulk of them. The rewards on offer tend to be a little... grander. Expect to be able to use air miles for hotel stays and big ticket experiences.
Out of this world - or not
The Virgin Atlantic Flying Club, for example, offer members the chance to redeem air miles on a balloon flight - although it'll cost us a cool 30,000 miles per person per flight.
If that's not big enough, Virgin Galactic are among the Flying Club's spending partners - but sadly it's highly unlikely that the weekly shopping is going to get us a ticket.
Entry to a prize draw for a trip on the private space taxi requires 2,000,000 miles - which must have been earned by flying with Virgin Atlantic.
Other than that? The most down to earth options for most of us are exchanging our miles for train travel on Virgin East Coast (but not Virgin West Coast routes) or for a Virgin voucher or two.
For 12,500 miles we'll get a £50 voucher that can be used for days out, theatre tickets, at Virgin Active gyms, or at various Pride of Britain hotels - there are more details here.
Air miles for afternoon tea
Just as there are more choices of destination when using Avios to travel, there's a much broader range of rewards in general from this scheme.
As well as flights and Eurostar travel, members can use their Avios for car hire, ferry and Eurotunnel bookings, and for travel insurance.
Then there are a variety of other treats and experiences. This is just a selection:
Avios
Reward
2,800
One adult ticket for the London Eye
3,000
Health club day pass for two
4,500
Paintball or Traditional afternoon tea for two
Vineyard tour / health club day pass for two
5,000
Elite stadium tour for one adult and one child
7,000
West End theatre ticket (silver)
7,500
Gastropub dining for two
19,000
Seasonal dozen case of wine
Finally, there are also various annual memberships available, for organisations like the Royal Horticultural Society, English Heritage, and National Trust Scotland.
Which scheme is better?
Avios is the bigger scheme, and it shows.
Members have more choice regarding what they redeem their points for, and when it comes to travelling, more destinations to choose from.
What's more, despite the higher conversion rate, people collecting Virgin Atlantic Flying Club miles tend to have to collect far more before they can redeem them for rewards.
But when it comes to using Avios to travel, it's worth bearing in mind that there's no set value in Avios for any one reward trip. Eurostar tickets and flights start from 9,000 Avios - but they can also cost far more, and availability tends to be limited.
This is where the Virgin Atlantic Flying Club scores points; members know exactly how many miles they'll need to redeem for that trip on Eurostar, or for a flight to New York, and so on, whenever they want to travel.
There's clearly an element of customer loyalty involved - frequent flyers with Virgin Atlantic or their partner airlines are going to see more benefit by converting Tesco points to Flying Club miles; likewise for existing Avios collectors.
But for more flexible rewards, in terms of collecting, exchanging, and spending points, Avios is probably the better bet for most of us.
16 November 2017
13 November 2017
8 November 2017
Follow us or subscribe for FREE updates and special offers