The best way to monitor your broadband usage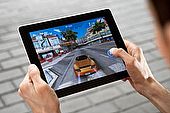 MANY of the UK's cheapest broadband deals are subject to usage limits.
For the low price to be worthwhile, though, customers need to know they won't go over the limit.
Even those with a broadband package that includes unlimited downloads you could still fall foul of peak time restrictions as part of a fair use policy (more here).
This is our guide to staying on the right side of a provider's billing department by monitoring broadband usage with free software online or from the ISPs.
Free DIY usage monitoring
There are two big usage monitors available for free, BitMeter and tbbMeter. Skip ahead here to find out more about monitoring through the broadband providers.
BitMeter
BitMeter OS is a handy, open source utility which works with Windows, Linux and Mac OSX.
It is small utility which monitors the amount of broadband traffic being sent and received by your computer in the background, causing no disruption to normal usage.
BitMeter displays real time and historical information about your usage on a page which opens in your normal web browser, although we must stress that none of this information is shared online, the browser is just a handy means with which to view it.

BitMeter is very easy to use and understand. Once installed, all you need to do is open the shortcut to the web interface and everything is in front of you.
There are options to monitor real time usage, historical usage, a summary table which displays the total amount of broadband data consumed in the past day, month and year and a very nifty query tab which allows you to see exactly how much data has been used by your computer between certain dates.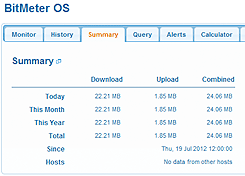 Another great feature is the ability to set highly customisable alerts, which you can set to notify you if you are approaching the limits imposed by your package.
Again, these can be set to run in tune with the billing cycle of your broadband provider.
TbbMeter
The tbbMeter from thinkbroadband is a highly customisable Windows utility giving a detailed look at your broadband usage.
Like BitMeter with tbbMeter you are able to view usage in real time, view a range of historical statistics and set broadband usage alerts.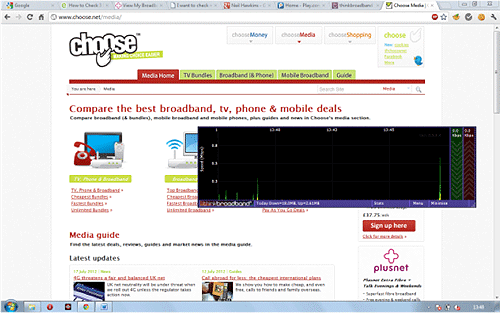 Unlike BitMeter tbbMeter sits in the system tray with a default display screen open on the desktop. Like everything else about this usage utility this display is highly customisable and can be made big, small or totally hidden.
The ability to have the broadband usage meter on top of programs like Spotify, can be a real eye opener as to just how much data they can chomp through.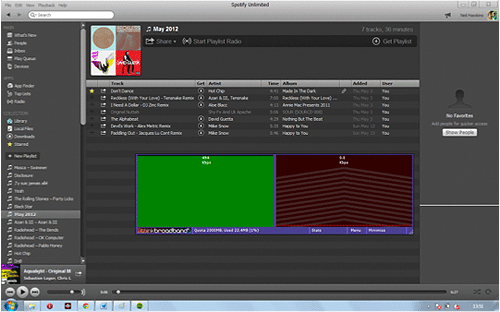 Spotify, like many streaming services, uses p2p to distributed files which means a lot of your download and upload allowances can be used even when you are not streaming music.
BitMeter or TbbMeter? Quick conclusion
If you are looking to completely geek out over in depth data usage stats (and you are a Windows user) then you can't go far wrong with tbbMeter in our opinion.
Users looking for a slightly less in depth solution to staying within monthly limits or those using Mac OSX or Linux will find that BitMeter is a nice little utility to help do just that.
Usage monitors from ISPs
Some broadband providers offer free access to usage monitoring tools in their respective online customer portals.
The tools vary in their usefulness but nonetheless mean you do not have to install any extra software to monitor usage.
They also have the added bonus that you can see statistics relating to your past usage, usually the 3 previous months.
Three
Customers can track their broadband usage via the company's My3 account login. It shows you how much data there is left each month.
Three will text you when you are close to using up your monthly allowance.
BT
The broadband usage monitor from BT, called the BT Connection Manager, is a more straightforward affair, simply telling customers how much data they've used in the current month, how much is remaining and whether or not they've exceeded their data allowance.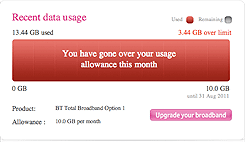 There is also a handy button (labelled 'upgrade your broadband' subtly) which will display green if BT thinks the account is not at risk from going over its data allowance this month, yellow if BT thinks there is a danger that the allowance could be exceeded and red if it's too late and has already gone over its limit.
BT's broadband usage monitor is accessible via the My BT account login page although many customers complain on the BT Community forums about the tool constantly being 'under maintenance'.
Sky
The broadband provider offers a monitoring tool which is something of a halfway house between Plusnet and BT.
It allows Sky Broadband customers to see the number of days to the start of the next allowance period, the total allowance for the month and the total allowance used in GB and as a percentage.
Note that this tool is not available for Sky Unlimited broadband customers.
Plusnet
The provider of so-called 'no nonsense broadband' from Yorkshire have a very handy usage monitor called View My Broadband Usage.
Plusnet users can check their usage over up to three previous billing months previously, view the breakdown of traffic type, times of the day that traffic has been sent as well as set a limit on the amount of money that can be spent on extra data allowances if the usage limit is exceeded in any particular month.
Our favourite feature is the table showing the breakdown of usage type. It separates traffic into the various types of common activity, web, email, VOIP phone calls, gaming, streaming and peer to peer downloading.
This means that if your kids are going mad and downloading loads of stuff via bit torrent or other p2p methods, it will show up here in the peer to peer section.
Likewise, the amount of video or music content that is being streamed, YouTube and BBC iPlayer for example, will be indicated in a separate category. Neat.
Your ISP not listed here?
It would of course be incredibly cynical of us to suggest that some broadband providers don't provide monitoring tools for their users precisely because it is in their commercial interests to charge users for every extra gigabyte of data used over and above inclusive monthly allowances.
So we won't suggest that at all.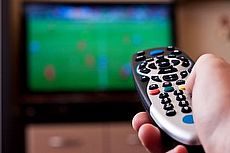 15 November 2017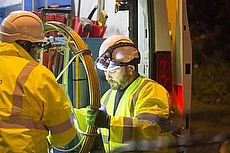 10 November 2017
9 November 2017
Follow us or subscribe for FREE updates and special offers