Ecotricity, Good Energy and GEUK are the top choices for genuinely green energy in the UK.
E.ON Next, Octopus Energy and Scottish Power, all big names who invest heavily in renewable energy, rank as Good providers.
The providers recognised in the Choose Green Energy Awards are the greenest suppliers available to customers today.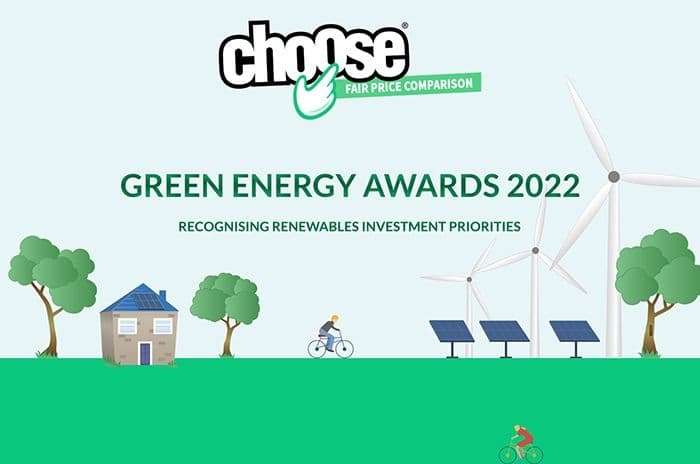 ---
Overview
| Excellent green suppliers | Good green suppliers |
| --- | --- |
| Ecotricity | E.ON Next |
| Good Energy | Octopus Energy |
| GEUK | Scottish Power |
---
Choose Green Energy Awards 2022
The Choose Green Energy Awards 2022 recognises six suppliers for their green energy policies.
With more of a focus on renewable energy than ever before, we highlight the greenest energy tariffs and providers, including household names who invest directly in renewables.
The greenest options for customers looking to make an informed choice about their energy suppliers are all smaller names, yet their efforts to be the greenest providers in the UK put them head and shoulders above the rest.
---
Excellent green suppliers
Three energy providers are recognised as Excellent for their overall approach to green energy as well as the amount of renewable energy they provide to their customers:
Ecotricity
Good Energy
GEUK
Let's look at why they are the greenest energy suppliers customers can choose.
Ecotricity
Small supplier Ecotricity is one of the greenest energy providers in the UK.
They offer 100% renewable electricity to their customers, with 20% of it sourced from their own wind farms and sun parks while the rest is purchased directly from generators or the wholesale energy market.
In addition, they source 1% of their green gas from green gas generators and are in the process of building their own green gas mill in Berkshire. They offset the rest of their carbon emissions, although they aim to increase the amount of green gas they use.
Ecotricity has an overall green ethos that sees them put their profits straight back into creating more renewable energy, plus they are the only energy company in the world to be certified as by the Vegan Society and vegan charity Viva! for their determination not to use animal waste in their energy.
Good Energy
Good Energy is another of the greenest energy providers around, also obtaining an Excellent rating in these awards.
The supplier provides 100% renewable electricity and 10% green gas to customers, offsetting the rest of their gas carbon footprint in partnership with ClimateCare.
As well as dealing directly with 1,900 independent renewable generators across the UK, Good Energy also own six solar farms and two wind farms to generate their own electricity.
The Power Purchase Agreements (PPAs) used by Good Energy encourage renewable electricity projects to be built across the country.
GEUK
GEUK, previously Green Energy UK, is our final Excellent provider, judged as a top ranking supplier thanks to their green energy ethos.
The supplier's tariffs include electricity and gas certified as 100% green, while their greenest tariff EKO Energy also ensures marine and bird habitats are protected and helps to fund renewable projects globally.
GEUK work with commercial generators directly to source their renewable energy, and their EKO Energy tariff is independently certified as sustainable.
---
Good green suppliers
The three Good suppliers listed in the Choose Green Energy Awards 2022 are bigger energy providers who all operate some of their own energy generation infrastructure:
E.On Next
Octopus Energy
Scottish Power
Let's take a closer look at these Good suppliers.
E.ON Next
E.ON Next are one of our Good green energy providers.
They own many wind farms and several biomass power plants, allowing them to generate a good proportion of their own electricity. Along with this, they have partnerships with other certified renewable generators.
E.ON Next provide 100% renewable electricity to customers on all their tariffs.
Octopus Energy
Octopus Energy are another Good provider recognised for their green energy efforts.
Along with operating over 300 green energy projects of their own (enough to provide 1.2 million homes with electricity), Octopus also buy renewable electricity from over 190 UK generators.
Octopus offers a range of tariffs to customers including the option to upgrade to add carbon neutral gas to their tariff through a partnership with Renewable World.
The supplier recently set their variable tariff £50 below the default price cap in a move they say will cost them £50m over six months.
Scottish Power
Scottish Power is another major energy supplier with a 100% renewable electricity promise.
The provider operates their own wind farms, allowing them to generate enough renewable electricity to supply their customers.
Scottish Power is a vocal opponent of greenwashing and are committed to investing in renewables directly.
---
Green energy
The Choose Green Energy Awards 2022 are designed to highlight the exceptional work being done by energy providers to deliver renewable energy to their customers and to promote green energy policies both inside and outside their companies.
We've chosen to focus on providers rather than tariffs because, while there are some good green tariffs available from other suppliers, our winners have a holistic approach to green energy rather than promoting individual tariffs.
Our trio of Excellent suppliers, Ecotricity, Good Energy and GEUK, are all providers focused on genuinely renewable energy. They are committed to increasing the amount of renewable electricity able to be generated in the UK rather than simply buying certificates that say they use renewable energy without investing directly into UK renewables.
Households across the country are receiving notifications about the energy price hikes in April 2022 and there are forecasts that rises in October 2022 will be another major shock.
However, customers are rightfully confused that their bills are rising despite choosing renewable tariffs. Current policies mean renewable energy generated in the UK is priced at the same level as imported fossil fuels, meaning households don't always see the benefit of choosing a green supplier.
The providers highlighted in the Choose Green Energy Awards 2022 are investing in UK renewables and campaigning for changes to the way things are done.
While the Government seems to be moving in the right direction on renewable investment as a matter of national security, it's important to recognise what energy suppliers are already doing and help customers make informed choices about green energy.