CITIZENS Advice want "more assertive interventions" and tougher regulation ahead of Ofcom's mobile phone market review.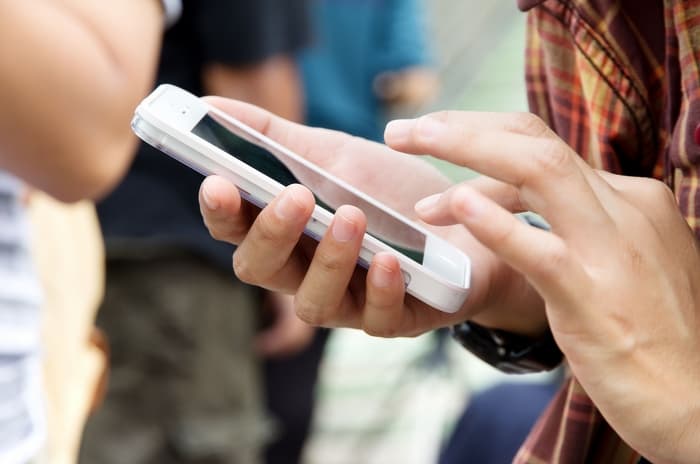 In 2014, 21,500 people complained to Citizens Advice about mobile phone problems and 39% of complaints were about faulty handsets.
There are cases of people passed between a manufacturer, retailer and mobile network operator with each saying it's another's responsibility.
And with average mobile phone contracts now 19% longer than in 2009, it's more costly to switch providers if something goes wrong.
Concerned that Ofcom's looking to deregulate parts of the mobile market, Citizens Advice is calling for mobile phone services to be considered an "essential utility" with well-defined minimum standards and contract exit rights.
Longer contracts
Between 2008 and 2013, mobile bills fell from £628 to £548 yearly while gas and electricity prices increased.
Despite this, longer contracts and increasing popularity of higher priced smartphones mean buying a mobile has become a more "substantial" decision according to Citizens Advice.
People are shifting away from prepay and in 2014 65% were signed up to a contract; encouraged by mobile networks offering cheaper rates.
But contracts are also getting longer; it's most common to sign up for 24-months while in 2009 they usually lasted just 12 or 18 months.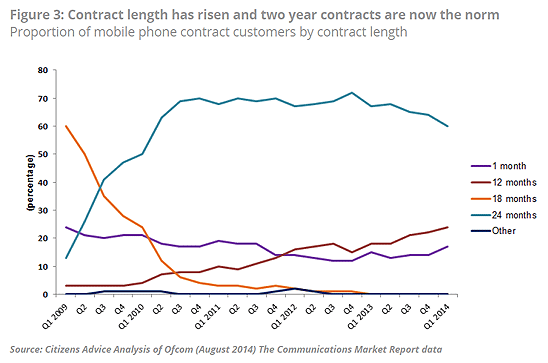 SOURCE: Citizens Advice, Calling the shots? Available here [pdf]
A longer contract means more spending in total and more risk to customers.
So most worryingly, it's more expensive to get out of a contract when something goes wrong.
Contract exit fees
Ofcom say coverage has increased significantly in the last 10 years, with 3G availability increasing from 82% to 99% of premises.
Part of the reason is a deal struck between mobile networks and Ofcom to increase mobile and text coverage.
But 17% of mobile phone complaints to Citizens Advice concerned standards of service and contract exit.
And in these cases people receive poor or no signal on their mobile even though they'd checked coverage maps before signing up to a service.
They must then pay a fee to exit the contract, which is usually the total cost of the rest of their contract.
For example someone wanting to exit a 24 month contract after three months could pay up to £367.
Ofcom's expectations are that, like with broadband, mobile companies will discount a contract exit fee to reflect the savings they'll get from no longer supporting someone on their network.
But this isn't the reality, with some not offering any discount at all and others just 3 or 4%.
Acceptable service?
And at the moment, even if an unsatisfied customer pays their way out of a contract and moves to another provider, there's no guarantee the service will be any better.
Gillian Guy, chief executive of Citizens Advice said: "Consumers should only be paying for the service they receive. For consumers to be guaranteed a good deal from their mobile phone providers, clear minimum standards of service and better contract exit rights are needed."
It's not clear what an acceptable service is, so people have little protection if they aren't happy with their service.
Unfortunately this seems to be a convenient excuse for mobile companies to not take responsibility when customers can't get a good signal.
Slow decisions
When it's left up to the mobile companies to put together voluntary regulations, it's a time consuming process.
This week they've finally agreed to cap call charges on stolen phones, despite telling Ofcom they'd do this way back in December 2013. And the £100 cap is now twice that originally agreed.
But it's still not in place: EE are introducing it in the "coming weeks"; Vodafone by this summer; Virgin by 1 July; and O2 by September.
Ed Vaizey, Minister for the Digital Economy, says, "By working with the mobile operators, we have secured an agreement that will provide consumers with real benefits as well as offer peace of mind."
However Citizens Advice argues it's time for the Government and Ofcom to regulate these sorts of decisions, to speed up the process and get better protection for consumers.
In the time since the cap should have been introduced, people contacting Citizens Advice lost £140,000. They estimate 160,000 people a year are hit with shock bills from stolen phones at a cost of up to £4 million.
Digital communications review
While Citizens Advice want a tougher approach to stop companies dragging their feet, Ofcom are instead considering easing up on their regulation of the industry.
But Ofcom may be focusing too much on general coverage statistics and not enough on day to day problems.
Mobile retailers aren't regulated by Ofcom and when something goes wrong, it's too easy for companies to point the finger elsewhere.
It's left up to mobile networks to give correct coverage information to customers and in the case of faulty handsets, customers have difficulty finding out who, if anyone, should pay for repairs.
These problems often leave people with no solution and are why Citizens Advice see so many complaints.
Ofcom are now consulting on what changes are necessary to promote competition and investment. They're due to publish their results in a digital communications review at the end of the year.