TIGHTER rules on payday lending could be pushing would-be borrowers towards loan sharks, according to a report presented to MPs.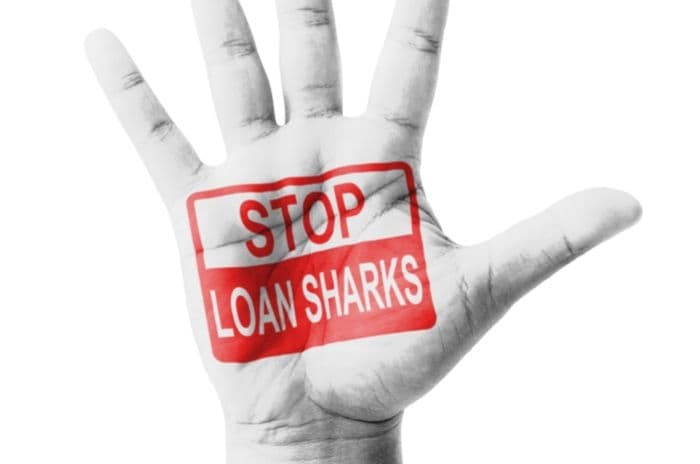 Credit: Jakkrit Orrasri/Shutterstock.com
The Consumer Finance Association (CFA) say access to short term credit has been cut by 68% since the sector's peak in 2013, and that 80% of applicants are now being rejected.
On the plus side, Citizens Advice say they've seen a huge drop in the number of payday loan related issues as a result of the new regulations.
But on the darker side, the CFA say a third of those who have been rejected for a short term loan considered going to an unlicensed lender - a loan shark - and 4% actually did.
Highly regulated
The CFA are the trade association for "major short-term lending businesses" including Quick Quid, Sunny, and The Money Shop.
Their report [pdf] takes into account data from thousands of loan applications made to their members, as well as information from credit agency Equifax and a survey carried out for them by YouGov in summer 2014.
As a result of the price cap and tighter affordability checks brought in by the FCA, the CFA say the number of companies offering single payment loans has dropped from 240 in 2013 to around 30 to 40 now.
And the vast amount of credit information Equifax has access to shows that the number of payday borrowers failing to repay their loans has dropped as a result of those stricter affordability measures.
Complaints down, but...
Citizens Advice say those new regulations have resulted in the number of payday loan related issues they deal with dropping significantly: between April and July they had 53% fewer than they did for the same period last year.
While that's a welcome sign, they've recently warned about increasing issues surrounding guarantor loans, and they're still keen to see a move away from short term and high cost credit.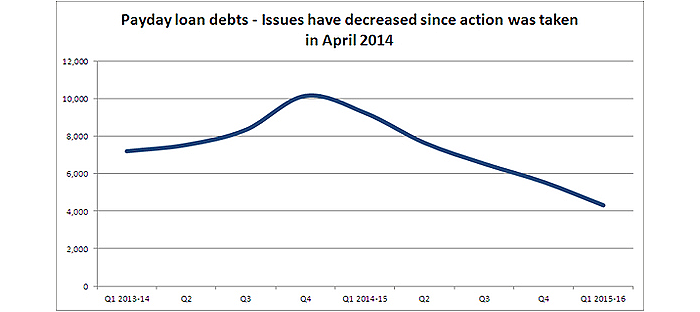 SOURCE: Citizens Advice. Available here
Responding directly to the release of the CFA report, Gillian Guy of Citizens Advice said, "high cost credit is not the answer to financial difficulties".
Both Citizens Advice and debt charity StepChange have repeatedly called for banks to increase the range of credit options they provide, with Ms Guy saying they must provide "more responsive short term credit options".
This is one point on which they could almost be seen to be in agreement with the CFA; Chief executive Russell Hamblin-Boone told MPs that we need "quick decisions, simple products and convenient ways to borrow small sums for short periods of time".
Demand outstrips supply
And as the CFA point out, reducing access to quick credit doesn't do anything to address the demand.
They highlight the fact that the traditional 9-5 full time job isn't accurate any more, with many people working part time rather than not at all, self employed, or on zero hours contracts.
Allied to this is research from the Money Advice Trust showing that people are seeking help with different kinds of debt than they were previously - concerns about credit cards and overdrafts have given way to worries about falling behind with essential costs.
That pattern is backed up by Citizens Advice and the debt charity StepChange, who both say they're seeing an increase in people struggling to meet everyday costs.
It's not entirely surprising then, but definitely cause for concern, that 53% of those YouGov surveyed for the CFA said they used the money they borrowed to pay for groceries or utility bills.
The cost of exclusion
Russell Hamblin-Boone says the CFA's data shows that hundreds of thousands of people are being excluded from credit, "and concerns are growing for how they are filling the gap in their finances."
The CFA report says 26% of the people whose applications were rejected failed to make a payment of some kind, 8% had to resort to using an unauthorised overdraft, and 9% went without whatever it was they'd hoped to pay for.
Then there's that 4% who went to a loan shark.
The CFA aren't the only ones concerned about the unintended consequences of the clampdown on the sector.
In March this year the Financial Inclusion Commission (FIC) said they were worried about a resurgence of illegal money lenders.
But while the CFA have called opponents of payday loans "critics of innovation" who risk being "swept away by modern life", the FIC want more cooperation between sectors.
They say the UK needs a Minister for Financial Health, and a much broader approach to dealing with these kinds of issues.
That would involve "champions for financial inclusion" in every Government department and devolved Parliament, and a group of independent experts who'll study issues as and when they come up.
They say that would make it much easier for everyone - from the Government, to regulators to providers, to civil organisations - to deal much more effectively with the financial and economic world we've found ourselves in.