Beware guarantor loans, Citizens Advice say
©iStock.com/RichLegg
GUARANTOR loans have the potential to be as damaging as payday loans, Citizens Advice are warning.
They say they're seeing an increase in the number of people coming to them for advice about the loans, 43% of whom are the people who've signed up to be guarantors.
Citizens Advice say they're concerned about the lack of protection afforded to guarantors, many of whom don't know what exactly they've signed up for.
The organisation also found that many of the larger providers were pursuing guarantors for debts even when the borrower had died.
What are they?
Guarantor loans rely on a friend or relative agreeing to back the applicant - meaning they basically agree to pay off the debt if the borrower fails to do so themselves.
They're marketed to people with poor credit histories as a more traditional way of being able to access credit, much as payday loans are - but they differ substantially in several ways.
For starters, they're a much bigger in size: the average payday loan is for £260, but guarantor loans range in value from £1,000 to £7,500.
They're payable over a contract of 12 to 60 months, and they attract much lower rates of interest. Citizens Advice say they range from 39.9% to 49.9%, with the average being 46.3%.
The combination of the interest rate and duration of the loan mean they can be incredibly expensive.
The organisation gives the example of a borrower who took out a £5,000 loan with monthly repayments of £197. Despite making £7,000 in payments, the borrower had only paid off £1,000 of the loan capital.
What's the problem?
In their report [pdf] into the sector, Citizens Advice admit the number of people coming to them is small compared with those seeking help regarding payday loans.
Between April 2012 and April 2015 they dealt with 530 cases involving problems with a guarantor loan, compared to 29,000 cases involving payday lending in 2014 alone.
But while payday lending has suffered under various regulator crackdowns, guarantor loans have seen something of a resurgence.
In 2013, 53,000 people took out a guarantor loan and the market was worth £154 million; between 2013 and 2014, the largest lender saw their turnover grow 30% and their profits increase by 40%.
Citizens Advice say they expect to deal with 850 cases involving guarantor loans over the next 12 months - and that because of the borrowing period they expect there to be a considerable lag before they start to see a serious spike in cases.
Of the cases they're already dealing with, the majority are from people who've agreed to act as a guarantor.
More than two fifths have queries about their responsibilities - Citizens Advice say one of the guarantors who came to them thought their role was simply to act as a character witness.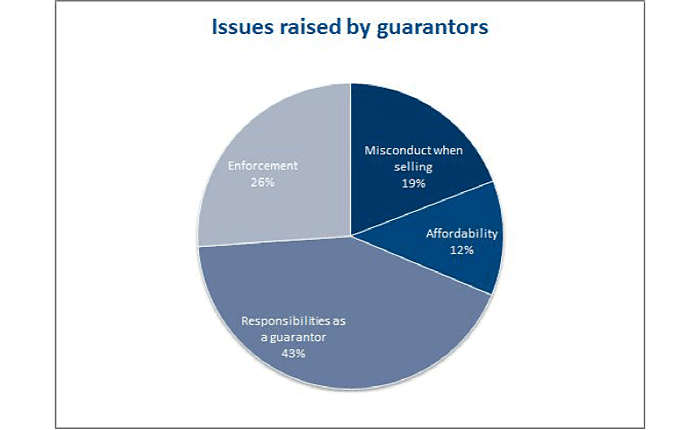 SOURCE: Citizens Advice, A Problem Shared. Available here [pdf]
A further quarter of guarantors are concerned about enforcement should the borrower fail to make their payments.
The organisation cite someone who "foolishly agreed" to act as guarantor to "someone I thought I could trust completely" - but who was forced to remortgage their home to cover the payments they were landed with when the borrower defaulted.
That's not to say borrowers are ignorant or unconcerned about their guarantors: 36% are worried about enforcement, and 8% are worried about their guarantor's responsibilities.
Mis-selling is a common theme too. There are tales of guarantors being asked to give their consent over the phone or email without having access to a decent copy of the terms and conditions.
Other guarantors didn't realise they were signing any kind of agreement, never mind a legally binding one, when asked to provide an electronic signature.
What's being done?
Guarantor loans don't come under the standard definition of high cost credit, which demands an APR of 100% or more and a borrowing period of a year or less.
That means they aren't subject to the same requirements or regulations - for example, while a guarantor is equally liable for the loan they've signed their name to, they don't count as a borrower or customer.
So they're not covered by Financial Conduct Authority (FCA) regulations regarding the information they should receive or how they are treated by lenders.
The FCA have recognised this is an issue and say they believe guarantors should be given the same rights and protections as named borrowers.
To that end they've consulted on whether to introduce regulations designed to expressly protect people acting as guarantors.
Citizens Advice want that protection to include sending all guarantors letters of agreement and allowing them a cooling off period.
They also want to see loan providers include a warning about liability on their marketing and material, and to direct borrowers to free and impartial sources of debt advice.
Finally they have concerns about financial abuse and people being pressured to agree to guaranteeing a loan.
So they've called for any lender who suspects there might be "undue influence" on a guarantor to be required to advise those people to seek independent legal advice.
18 October 2017
17 October 2017
12 October 2017
Follow us or subscribe for FREE updates and special offers