CITIZENS Advice are calling for an overhaul of the UK welfare system, claiming the current system "isn't working".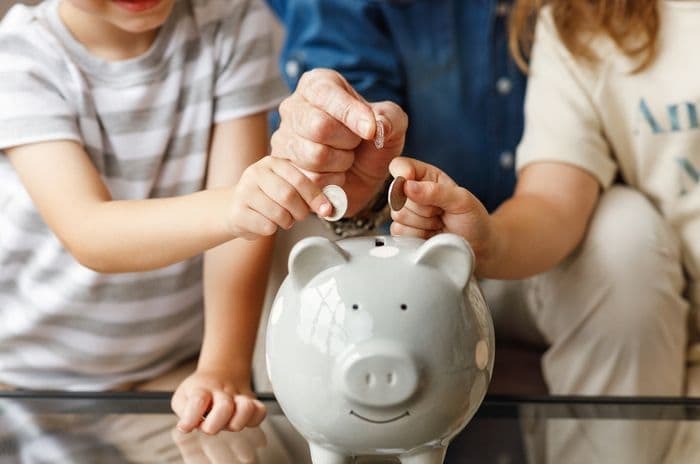 Credit: Evgeny Atamanenko/Shutterstock.com
Their report [pdf] found that current issues with the welfare system "focused on shoring up support for a system that isn't working" rather than looking at how to update it to reflect changes in society.
[...] the system needs to change in three ways: it needs more local differentiation; an intelligent front line; and it needs bringing into the digital age.
Citizens Advice, Responsive welfare: local digital and intelligent
With the Institute for Fiscal Studies (IFS) estimating spending cuts of £51.4 billion over the next four years, the report - advocating a "modern, responsive welfare system" - is likely to be met with trepidation.
However, Citizens Advice claim all the necessary changes are possible without any increased costs.
They say that in most cases, redistributing current welfare spending and improving procedures would achieve this; longer term, the reduced need for ongoing financial support would offset the cost of any additional staff training.
To that end, they're recommending a three-pronged approach: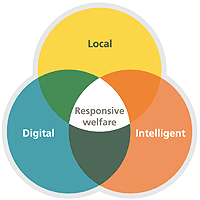 Paying attention to regional differences in economies, including means testing benefits at a local, rather than UK-wide scale.
Adapting to changing work patterns and social issues; providing frontline face-to-face help for people with complex debt, housing and income problems.
Taking advantage of already available technologies by replacing moving more processes online and off the phones.
Costly but essential
Chief Executive Gillian Guy said financial support is "costly but...essential". And with 60% of people agreeing more should be spent on people with lower incomes, welfare is generally seen as a necessary cost.
Additionally, a recent IPSOS Mori Scotland poll found 97% of people were in favour of fast-tracking welfare for terminally-ill patients, displaying a desire for more tailored approaches to welfare provision.
The challenge, therefore, is not to get people's support for welfare, but rather to build up a better system people are happy to get on board with.
Differing local economies
Since 2008, the minimum income required for an adequate standard of living has gone up significantly. Pensioners have seen a 30% increase in their required minimum weekly budget and a lone parent with one child has seen a 38% increase.
Meanwhile, median hourly wages are 4.7% lower than in 2008.
But household needs for financial assistance vary greatly across different regions of the UK.
So Citizens Advice are suggesting means testing benefit requirements by region - rather than the current one-size-fits-all approach, which ignores the differing costs of living in different areas.
With local bodies already established throughout the UK, the charity says redistributing benefits according to regional costs of living is logical and shouldn't require any extra funding.
Changing work patterns
Citizens Advice are among many organisations arguing that the structure of the welfare system no longer fits in with how people work.
Based on the idea that people are either in full-time employment or no employment at all, it fails to take account of the increase in the number of people with zero hour contracts, working part-time or who are self-employed.
Universal Credit, which combines six benefits into one, is in the process of being rolled out across the country. By adjusting, rather than stopping, benefits for people who take on casual, short term or one-off jobs, it goes some way to recognising changing work patterns.
But Citizens Advice recommend still more "intelligent" approaches. Chief executive Gillian Guy says "simple apps to help people find work or manage their income and expenditure could shift an old system towards a modern one."
A self-employment budgeting tool is one such idea. It would enable people to input monthly earnings and outgoings, then calculate how much of those monthly earnings to report to Universal Credit, and how much to set aside to pay National Insurance at the end of each year.
This kind of improved support for self-employed people would reduce the likelihood of their getting into debt - while still being cost-effective because it would be using the technologies already available.
Frontline support
Then there's the highly ambitious proposal to train a fleet of front line social workers, similar to existing Jobcentre Plus advisors.
Many Jobcentre Plus staff have reported an inability to help in complex situations, in part because they have to follow a very rules-based system.
The social workers proposed by Citizens Advice would instead have the power to make flexible decisions. They would work alongside the people they're trying to help, going through complex problems step-by-step.
Frontline support for complex issues would extend to older potential users too. Debt in old age is becoming increasingly common, with 21% of people heading into retirement in debt.
Skilled social workers would be able to provide help at a more local level, and in doing so they would aid older people in making the most of their retirement income.
Ultimately, a more local, more flexible, front line support system would assist people with a wide range of problems to live independently longer term, and reduce their reliance on the State.
Getting off the phones
Another issue Citizens Advice highlighted is that of changing expectations. People expect good service and value for money from public services, much as they do with other consumer services. But the reality is oftentimes the welfare system is difficult to use and overly rigid.
Below is a breakdown of the experience of one Citizens Advice client, Belinda, illustrating the difficulties faced by many in trying to get an answer to a simple question from HM Revenue & Customs (HMRC).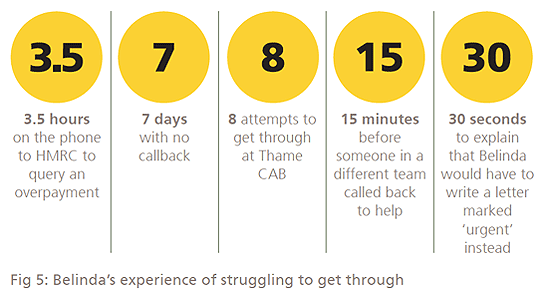 SOURCE: Citizens Advice, Responsive welfare: local digital and intelligent, January 2015.
In 2013 HMRC found that more than a third of people calling were waiting more than 10 minutes to speak to an adviser - and in 2010 it was thought that as many as 77% of calls to HMRC were left unanswered by operators.
With difficulty getting questions answered and widely acknowledged delays in sorting out claims, people considering taking on new work may be deterred from doing so.
The report highlights the example of parents who need help with childcare costs in order that they won't be worse off working, but put off by the fear that claims for benefits like Working Tax Credit will be processed quickly.
Overall, the report says, people have lost faith that the system works.
To address its contact centre problems, the HMRC has reduced the number of calls made by updating its online information and moving more processes online and off the phones, saving an estimated £330 million.
But Citizens Advice think still more can be done, recommending a "user-centred" approach: the way people use the various systems is scrutinised first, then those systems are set up or modified to directly address those users' needs.
"There is real scope to use the expertise of Britain's technology industry to transform the welfare system," according to Ms Guy.
One example of addressing needs while also saving costs is the charity's "problem solver" webpage. People are presented with a range of issues, from which they select the relevant - or most pressing - one, simplifying the process of trying to work through a complex problem over the phone.
Timely reminder
With the 2015 elections looming, the report is a timely reminder for policy makers to think carefully about potential reforms.
Citizens Advice are urging politicians to not use welfare "as a political football", but rather to look at the bigger picture of what is required to "fix" the system for the good of all.