Savings protection is mainly about protection for the banks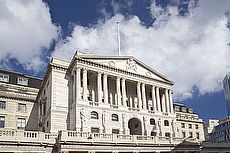 ©Shutterstock
THE Financial Services Compensation Scheme (FSCS) has had its limit raised back up to £85,000, a mere year after it was officially lowered from this amount to £75,000.
From yesterday, this means that anyone with £85,000 or less in a British bank will be guaranteed 100% compensation in the event that the bank collapses, while those with a joint account will be fully covered for £170,000.
At first glance, this may seem like a gain, yet it merely sees the value of people's protection return to its level before Brexit, which caused the pound to decline sharply against the euro.
In other words, it's simply compensation for a recent dip in its own value. But not only that, it's primarily insurance for British banks, who are worried about losing business while the UK still remains a reluctant member of the EU.
UK banking protection
Guides related to this story
Indeed, the reason why the limit was reset on January 30th at £85,000 all stems from the financial crisis of 2008, when the Irish banking industry thought it would be a good idea to attract European money by offering a higher level of deposit protection than that offered by its EU counterparts.
As crafty as this may have been on Ireland's part, the EU quickly realised that it threatened the integrity of the European financial system. In response, they moved in 2009 to legislate for a single EU-wide upper limit on the deposit protection offered by banks.
They set this at €100,000 in 2010, while requiring that those EU nations without the euro (e.g. the UK) recalculate their own thresholds every five years on the basis of current exchange rates.
As we've reported before, the UK last set its FSCS limit in June 2015, when on the back of a relatively strong pound it was lowered to £75,000.
| Date | Limit |
| --- | --- |
| November 30th 2001 | 100% of first £2,000, 90% of next £33,000 |
| October 1st 2007 | £35,000 (100%) |
| October 7th 2008 | £50,000 (100%) |
| December 31st 2010 | £85,000 (100%) |
| December 31st 2015 | £75,000 (100%) |
| January 30th 2017 | £85,000 (100%) |
Timeline of FSCS compensation limits.
Unfortunately, this £75,000 didn't seem like so much money in the wake of the UK's vote to leave the EU, being worth about £87,734 according to the current conversion rate of €1.17 for every pound.
This is why the Prudential Regulation Authority (PRA) proposed in November 2016 to push it back up to £85,000, even though another re-evaluation wasn't due until 2020 and even though the UK is likely to leave the EU by 2019.
Some criticised this move, claiming that it was "absurd" and would only create confusion. This is perhaps true, yet the PRA deemed it necessary in order to avoid a situation where depositors were likelier to leave their money with a French or German bank than with a British one.
Average UK savings
Given that there was roughly a €13,000 difference in the protection offered by British and EU banks before January 30th, an exodus of money from the UK was not only entirely possible, but also worrying in the context of the economic uncertainty that followed Brexit.
However, even if it's understandable that the PRA want to protect the British financial services industry, the FSCS have painted the raising of the upper limit solely in terms of protecting customers.
Their Chief Executive, Mark Neale, said of the readjustment, "Increasing our limit means we'll protect more money and more people ... So people can be sure their money in banks, building societies and credit unions is safe."
Of course, while an extra percentage point of the UK population is now covered by the increase (bringing the total up to 98%), it should be highlighted that the average bank deposit in the UK is only £6952.14 (including savings and current accounts), according to a survey conducted in 2014 by law firm Irwin Mitchell.
And averages can be deceptive, since research published by the Money Advice Service in October 2015 found that 40% of British adults have less than £500 in savings.
In light of this info, it once again becomes clear that yesterday's rise wasn't so much about protecting ordinary depositors, but ensuring that European money doesn't leave British financial institutions.
Confidence, or overconfidence?
This is fair enough, yet the idea that it was purely for guaranteeing consumer "confidence" in UK banks is misleading, even if the FSCS compensated as many as 62,000 people in 2012/13.
It's misleading because, quite apart from concerns over the movement of money within the EU, it's questionable as to whether a deposit guarantee system actually guarantees the stability of the UK or any other banking system.
For example, research [PDF] carried out by the International Monetary Fund at the turn of the 21st Century discovered that, on average, "deposit insurance tends to be detrimental to bank stability".
The researchers concluded that this was because "deposit insurance weakens market discipline", in the sense that it may "lead to weaker incentives to monitor bank management not only for depositors, but for other bank creditors and bank shareholders".
It therefore seems, that with the £10,000 increase in the FSCS' limit, the UK financial system may have received a little more room to be a little less careful.
7 August 2017
Follow us or subscribe for FREE updates and special offers