Credit unions - first established on UK shores in 1964 - are financial cooperatives run by their members.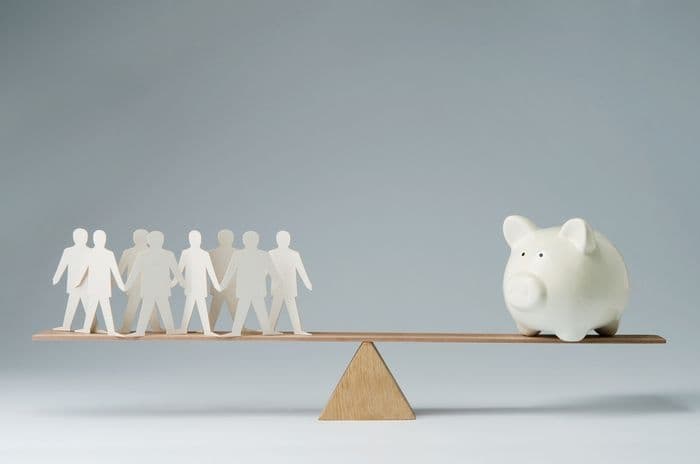 Credit: pogonici/Shutterstock.com
Sometimes referred to as 'people's banks', they are often heralded as a viable alternative to the corporate anonymity of high street banks.
But despite huge amounts of moral and financial support from Government and some of the big banks credit unions still haven't really caught on in the UK.
Why not?
The push for credit unions
Improving access to credit unions is a policy which receives broad cross party support.
In 2010, for example, 170 MPs from all the major parties backed an Early Day Motion which called for improved access.
In 2012, Lord Freud told the House of Lords that the Government was committed to fostering the growth of credit unions.
"We are prepared to support this industry," the Welfare Reform minister said, "[and] we are determined to support it in such a way that it becomes viable in the long term."
More recently, the Government has sought to promote credit unions as an alternative to payday loans (more here). Answering a question in the commons in June 2014, David Cameron said, "We must give more support to credit unions in our country, which I think is one of the best ways of addressing the whole problem of payday loans and payday lending."
This isn't, or isn't just, a case of empty words, either.
In 2012 the Department for Work and Pensions committed to investing up to £38 million in the credit union sector between then and March 2015. The money is going on modernising groups, helping them to become financially sustainable and, in the process, allowing them to start supporting a million more consumers on lower incomes.
Changes in legislation designed to help credit unions have also gone through in recent years. 2012 reforms allowed credit unions to admit local businesses as customers and the Treasury is currently consulting on raising the interest rates unions can charge from 2% a month on the reducing balance of a loan to 3%, a change that would allow them to offer a greater range of products.
Lloyds Bank have also made a significant financial contribution towards improving credit unions: they'll invest £4 million from 2014 to 2017.
Small sector
Between 2005 and 2009, membership of UK credit unions increased by 30%.
But, as of December, there were still just 1.1 million credit union members in the UK, about 1% of the adult population.
"British credit unions have strikingly failed to become widely established despite strong Government support," Sean O'Connell, a Senior Lecturer in Modern British History at Queen's University, Belfast has said.
O'Connell perhaps has an eye on his neighbour, Ireland. In 2010, 70% of Irish adults, about three million people, were members of a credit union.
Elsewhere around the world membership is similarly high. In the US, for example, membership is about 47% of adults.
Why aren't they more popular?
Although the development of credit unions is regularly touted as a good thing for UK consumers, membership is still rising fairly slowly. But consumers often have good reasons to be wary of going to a union.
Risk for customers
A significant number of credit unions do not yet generate enough income from their own activities to develop in a way that is useful to their members, relying instead on external sources of revenue or subsidies.
According to a report from the Research Unit for Financial Inclusion at Liverpool John Moores University, some of those that were unable to access external lines of credit were forced into "closing down services for some of the poorest members of society or even to closure".
In 2008, the Financial Services Authority reported that six UK credit unions failed through insolvency.
Although credit union members are protected by the FSCS, it's not ideal.
Commitment
45% of the population struggle to make it to pay day each month before running out of cash, according to a report from R3, a trade body for insolvency professionals.
Many of those same people also feel financially excluded: unable to finance their monthly expenses through the high street banks.
The result is that many turn to payday loans, which charge extortionate amounts of interest for relatively small sums of money.
To avoid a spiralling cycle of debt, some, such as Ed Davey, the Minister responsible for consumer credit regulation, say that people should "consider affordable alternatives such as their local credit union".
Our alternatives to payday loans guide agrees.
However, credit union loans are not payday loans. They are not available instantly, they are often not available in small amount and they're almost never available online. They're sometimes a viable alternative to payday but they're not all that similar.
Moving to a credit union can be a major emotional and cultural step for borrowers used to the relative convenience of online or doorstep collected home credit to the responsibility needed to manage the repayments of a credit union loan.
According to Sean O'Connell, UK credit unions have been following "an inappropriate model of operating at a small, localised level with a philosophy linking loan provision to savings".
A 2012 report from the Research Unit for Financial Inclusion at Liverpool John Moores University concluded that, "significant support and handholding is often required to assist financially excluded individuals to transition into credit union membership".
Even with this support, some still find the transition problematic. Not least because...
Membership is dependent on location or job
Credit unions aren't open to everyone.
Some may be limited to attendees of a particular church, employees of a particular company or residents of a particular area.
Most people can become a member by hook or by crook but it's not always the case.
There are six boroughs of London, for example, with no credit union open to their residents. Some may be able to go elsewhere but not all.
It is possible for people to start their own credit unions but unfortunately, it's by no means a simple process: it takes one to three years and, according to the association of credit unions, ABCUL, costs between £30,000 and £70,000.
An image problem
As we've seen above, credit unions can sometimes be risky, inaccessible and, once signed up, means more responsibility for consumers.
But it's also likely that these drawbacks are perceived to be more of a problem that they actually are. In other words: credit unions have an image problem.
According to a 2011 survey of Social Landlords in London, credit unions are often "negatively regarded... as 'poor person's banks'" and, therefore, those on low to moderate incomes are ambivalent about taking their services.
We can also see this attitude at work in the Lloyds Bank investment in credit unions. Laudable though it is in many ways, it shows that the banks don't really see the credit unions as a challenger to them and they may even view them as a useful way to take lower income people off their hands.
Though they're required to offer basic bank accounts by law, for example, banks have been reticent about publicising them and have often withdrawn key services.
Charges
Last, but not least, there is the simple problem that credit unions charge for many services that UK consumers are used to getting for free.
In 2013, there were 22 credit unions with current accounts.
Like most basic bank accounts, covered here, these current accounts provide debit cards but do not provide a cheque book or overdraft facility.
Unlike most basic bank accounts, however, credit unions impose charges for members with a current account.
For example, the Edinburgh based Capital Credit Union charges 95p a week, Glasgow Credit Union charges £1 a month and Newry Credit Union £2 a month.
The future of credit unions
As our guide to credit unions sets out in more detail, credit unions are already providing a huge range of services to their members.
In the near future it's likely that credit union accounts will become accessible via Post Office counters, making them easily available to anyone able to visit their local branch.
Over the longer term, it's likely that the trend for unions to merge will continue.
These larger unions will benefit consumers as they will have more money to invest in staff and in providing a greater range of financial products.