Credit broker fee ban saves customers up to £48m
©iStock.com/Imilian
NEW rules to stop harmful practices among credit brokers will save customers up to £48 million annually, say the Financial Conduct Authority (FCA).
Thanks to rules introduced in January, credit brokers aren't allowed to charge fees for arranging loans, unless it is clear who they are and how much they charge.
But the Competition And Markets Authority (CMA) say it still isn't obvious to customers that credit brokers are selling their details onto lenders.
Enforcement action
Each year an estimated 300,000 to 600,000 people lose an average of £100 from credit brokers charging unfair fees.
But this number is decreasing, as the FCA has found it easier to take action on credit brokers with poor practices.
So far, they've stopped 10 brokers taking on new business, and are due to take enforcement action on a further three.
People should also be finding it simpler to tell whether they are applying for a loan via a credit broker or directly with a lender.
And it should be simpler to tell the difference between a broker regulated by the FCA and a scammer.
Brokers generate leads
But the CMA's recent investigation into the payday loans market found most people don't understand what a credit broker's job is.
Most are under the illusion a loan application provided to a broker will be used to find the best value loan available.
In reality, brokers are lead generators, selling on their customers' details to the lenders who bid the most for the information. Around 40% of payday loans are taken out via lead generators as a result.
There are a couple of problems with this scenario.
Firstly, people may prefer find a lender themselves than pay a "middle man" who isn't finding them the cheapest deal.
Secondly, the practice discourages competition in the lending market, and in fact lenders are motivated to increase APRs so they can pay for more leads.
The CMA wants the process of lead sales to be made clear from the outset, before people hand over fees to brokers.
They've suggested a notice such as that shown below, making it as obvious as possible customer details will be sold on in the best interests of the broker.
SOURCE: CMA, Payday lending market investigation, February 2015. Available here [pdf]
More to do
The FCA admits further enforcement action will need to be taken against scams. 20% of complaints relate to brokers who are not authorised to operate, which includes scams initiated over the phone.
A change to the law announced by the Government this week and coming into force in April means fines of up to £500,000 can be more easily imposed on companies making nuisance calls.
To cover all bases, the FCA wants to tighten up on unsolicited calls, and make it clear when it's not acceptable for a broker to phone people.
Widen the net
The FCA say that better regulation of credit brokers will affect more than just the payday lending market.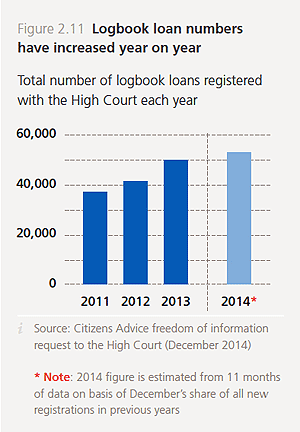 SOURCE: Citizens Advice, Consumer Challenges 2015. Available here [pdf]
This is because brokers also refer people to lenders of guarantor loans and logbook loans.
In fact the guarantor loan market is next up on the FCA's agenda - they're currently consulting over changes to make guarantor lending more transparent.
But the FCA isn't taking any specific action over logbook loans. Instead it's up to the Law Commission to review that law - and not until 2016.
On top of being hit with very high interest rates, often people don't realise they're signing over ownership of their property to a lender when taking out one of these loans.
With more than 50,000 logbook loans registered so far, the Citizen's Advice Bureau is concerned about the further damage that could be done before the law is updated.
Consultation period
While there is good progress being made all round, increasing people's awareness of how the various lenders and credit brokers operate won't happen overnight.
The credit broker regulations will now be carefully scrutinised by the CMA, the Citizens Advice Bureau and the FCA to see if they are effective in the longer term.
And until May 2015 there is a consultation period over whether any additional changes are needed.
12 October 2017
10 October 2017
9 October 2017
Follow us or subscribe for FREE updates and special offers