Loan scams soaring, Ombudsman warns
CREDIT brokers are taking hundreds of pounds from vulnerable consumers in return for loans, the Financial Ombudsman Service (FOS) warned today.
The independent adjudicator dealt with 5,932 enquiries about brokers in the four months to July 21st this year, more than they received in the whole of the 2013/14 financial year.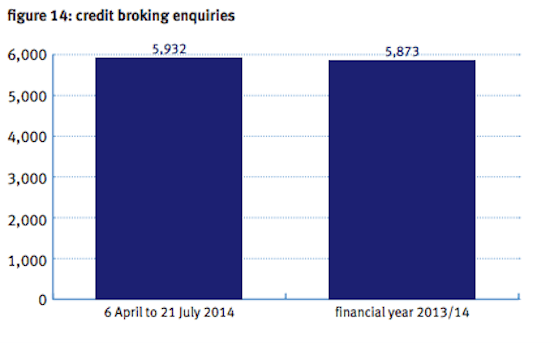 SOURCE: FOS report 'Payday lending: pieces of the picture'. Available here [pdf].
Most of those getting in touch with the Ombudsman had already paid an upfront fee to a broker that they hoped would be able to find them a loan.
In many cases, the promised loan never appeared. In others, it was the fee itself that was unexpected: the broker had just asked for the consumer's bank details "for verification", but then took money from their account or even passed on the details to another broker which took fees.
"It's disappointing that people who are already struggling to make ends meet are being misled into thinking that these websites will get them a loan," said senior ombudsman Juliana Francis.
But even when the brokers behave as they promise to, consumers get a rough deal.
Rough deals
Most often, they're paying for a loan that they would have been accepted for if they'd just gone direct to the lender.
Going straight to a lender, most often a payday lender, seems unattractive because prospective borrowers are worried that their credit history is poor and they'll be rejected.
As the Competition and Market Authority (CMA) report into payday puts it, "credit brokers - and in particular lead generators - ... seek to attract customers on the basis of high acceptance rates and the offer that they will find customers a lender willing to grant them credit."
"Many consumers assume that the broker is 'shopping around' on their behalf to find the best deal," the Ombudsman says.
"In fact the broker or lead generator auctions the customer's application to a panel of lenders - selling to the business that is willing to pay the most."
Two thirds of credit brokerage customers the CMA spoke to didn't even realise they hadn't gone directly to a lender.
Not working
Even when they're working as they should, then, credit brokers aren't working in the interests of consumers.
But often, the FOS found, they're not working.
People pay their money but their borrowing never appears and the broker doesn't refund them (under the Consumer Credit Act 1974 section 115 if a broker fails to deliver a promised loan within six months they must refund all but £5 of the fee).
Or the loan materialises but it's significantly different to what the customer expected.
And then there are the out and out scams.
In some of the cases the Ombudsman reviewed, consumers got calls which were supposedly from well known payday lenders offering them borrowing.
Not only did the loan not materialise, the 'lender' disappeared and with them any chance for the consumer to get their money back.
As the FCA highlighted in May, these 'clone loan' scams can be very sophisticated, aping, or just passing off as their own, the websites and interim permission reference or Office of Fair Trading licence numbers consumers can use to check whether a lender is legitimate.
Loans taken out by identity fraudsters also continue to be a concern.
Of all the cases surrounding payday loans Citizens Advice dealt with in the first six months of 2013, 20% involved a client who was being pursued for a loan they'd never taken out.
Disconnect with complaints
Although the Ombudsman is receiving a lot of enquiries about loan scams, however, it's recording far fewer complaints.
Just 6% of credit brokerage enquires become an official complaint because most businesses return the fees they've been holding on to as soon as the Ombudsman gets involved, a clear admission that they know they're in the wrong.
That isn't a problem currently facing the payday sector as a whole.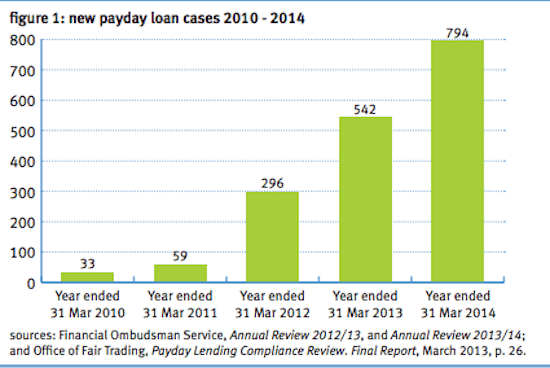 SOURCE: FOS report 'Payday lending: pieces of the picture'. Available here [pdf].
Complaints to the Ombudsman about payday loans increased 46% on the 2012/13 financial year.
Allegations of fraud made up one of the larger parts of that, 16%, but the Ombudsman identified a number of other areas of serious concern mostly in the way debts were collected and administered.
Just 5% of complaints were about loans being unaffordable.
12 October 2017
10 October 2017
9 October 2017
Follow us or subscribe for FREE updates and special offers