Car hire to be made clearer and simpler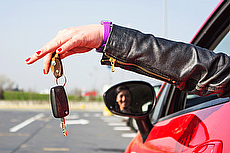 ©iStock.com/oneinchpunch
PEOPLE wanting to hire a car within Europe should find it slightly easier to plan ahead following changes to the DVLA's licence checking process.
At the same time, five of the biggest European hire companies have agreed to make their pricing and insurance information much clearer within the next six months.
The move follows a Europe-wide review led by the Competition and Markets Authority (CMA), looking in particular at complaints about insurance and extra charges.
Customers said they often felt pressured to buy extra insurance, and that extra charges for fuel, young drivers and any damage caused were not clear.
Headline versus actual cost
The companies involved - Avis Budget, Enterprise Rent-a-Car, Europcar, Hertz, and Sixt - account for about two thirds of the UK and EU car hire markets.
The CMA say an estimated £1.2 billion was spent on car hire in the UK in 2012, and that across 10 of the biggest European markets in 2009 car hire revenues totalled 8.8 billion euro.
But their review, based on more than 2,500 cases brought to Citizens Advice during 2014, found that in many cases customers only learned of the full cost of hiring a vehicle when they came to pick it up.
For example, the headline prices for vehicle rental during the booking or reservation process would appear quite low, but wouldn't include other compulsory charges such as one way and "premium location" fees, or Young Driver Surcharges.
It was also unclear in some cases what the costs or availability of some options would be, particularly when they were only available at the pick up - say for those wishing to add child seats, satellite navigation or extra insurance.
Typical price of options for a three day rental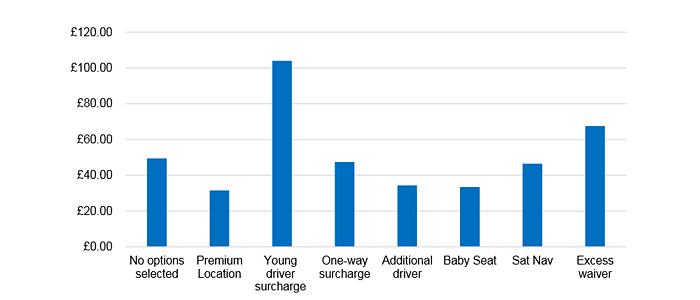 SOURCE: CMA analysis, Short-term car rental in the European Union. Available here [pdf]
Hire companies in Europe usually include third party insurance in the rental price. In the UK there's an extra bit of cover provided against collisions and loss in the form of a waiver included in the rental price.
Customers are still liable for the excess, which can be set at up to £1,000.
An excess waiver can reduce that amount considerably, but as shown in the diagram above an average excess waiver will have a substantial effect on the headline price.
There are alternatives, such as specialist excess reimbursement insurance sold through brokers and third party companies. These refund a customer if the claim they're charged for is upheld.
But as the cost and detail of the products available through the hire firms often isn't clear until a customer arrives to collect their car, it's difficult for them to assess whether this is a better option.
Other people found that additional cover was added to their bill by way of a pre-ticked box during the booking process, or was included in the small print with little or no attention drawn to it.
Unexpected payments
Other issues that came up included the practice of pre-authorising a debit or credit card at pick up to cover extra costs and what those costs might be.
For example, some people returned home from holiday to find their cards had been charged further. When they asked what the charge was for, they would be told it was to cover damage to the vehicle or a traffic fine.
In the case of supposed damage to a vehicle, the CMA wants customers to be given "reasonable opportunity" to challenge it and any associated costs before payment can be taken.
In addition, by the end of the year, each of the five companies have promised to provide:
Clearer information about prices payable ahead of booking, enabling customers to compare companies more easily
Better information at the booking stage about insurance products and any optional waivers
Clearer information about their pre- and post rental vehicle damage inspections
Information, where applicable, on local traffic rules and laws
The option to return a vehicle with a full tank of petrol if they want to
This last point is a direct shot at some of the rental companies that insist customers pay upfront for a full tank of fuel, then return the car empty.
But the hire companies do have six months to make these changes. In the meantime, the CMA have issued a leaflet telling people what to look out for when renting a vehicle, available here.
Limited time offer
What will help us much sooner is a small change to the way both we and hire companies can access some of the extra information required during a booking.
The DVLA had initially made this information available for just three days after a request was made, but that's now been extended to 21 days.
It's the result of the move to get rid of the paper counterpart, which some eight million people in the UK still have.
While the photo card part of the licence contains most of our details, the counterpart carries information about any penalty points and unspent convictions.
From June 8th this year, people in England, Wales, and Scotland, who have been sent new licences won't have received the counterpart.
That's now entirely electronic; the details are available online for the holder to see, and to share with others through the generation of a "check code".
As soon as the new system came in, car hire companies began to complain about long queues as a result of both customers and staff having trouble accessing the DVLA website to use the codes.
Customers had also voiced concerns about whether they would be able to access the internet - and the cost of doing so - should they wish to hire a vehicle while abroad.
As well as extending the length of time the codes are valid, the DVLA have pointed out that users can download and store their records as a PDF on a mobile device for quicker access - which also has the advantage of being usable more than once.
There's a simple guide to the process here [pdf].
For those who really can't get online to request the information, there is also a phone line - but it's only available from 8am to 7pm UK time Monday to Friday, or 8am to 2pm on Saturdays.
12 October 2017
10 October 2017
9 October 2017
Follow us or subscribe for FREE updates and special offers