BLOCKBUSTER'S online DVD rental service has been suspended indefinitely.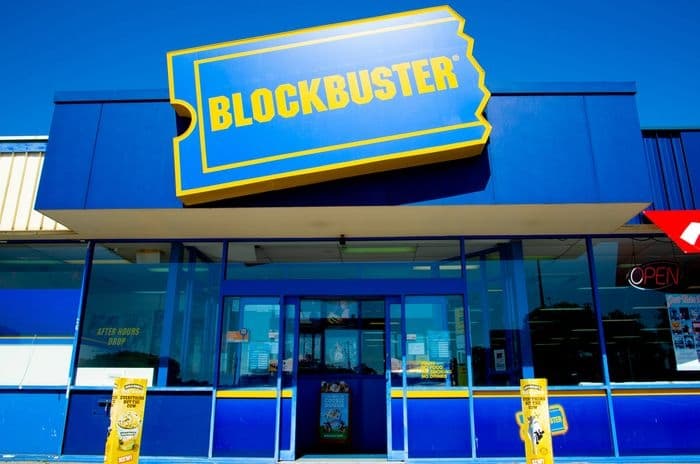 Credit: Adwo/Shutterstock.com
The former DVD rental giant has called in a new set of administrators, after a recovery plan initiated in January this year went nowhere.
This saddens me. The days of having a reliable store to rent from are now over.
Comment on Blockbuster's Facebook
For now, Blockbuster rental stores will remain open as Moorfields Corporate Recovery, the new owners, search for buyers.
However, immediately shuttering Blockbuster online, the part of the business the original administrators hoped could reinvigorate the company, isn't a positive sign.
What it means for customers
Blockbuster stopped taking all payments from their online customers on October 29th and says no further payments will be taken.
If you paid Blockbuster for a product or service after October 29th, you will get a full refund credited to the bank account associated with your Blockbuster account.
If a payment was taken from your account before October 29th but relates to services that should have been provided after that - so, for example, the DVD rental subscription was paid for the month - Blockbuster will refund the portion of the monthly price that covers the period from October 29th to the date of next payment.
Absolutely gutted - been using this service for many years - and have never liked Lovefilm.
Comment on Blockbuster's Facebook
Blockbuster say all repayments will be made in the next 14 days so expect to get money back by November 26th.
The good news for those that have vouchers, gift cards or customer credit or who need a replacement for a faulty item is that Blockbuster stores are still operating for now and can deal with those issues.
Returns are not available for non-faulty items even in stores.
Finally note that any discs you still have still need to be returned (Blockbuster can charge you for them otherwise). The address to send them back to is Blockbuster, Harefield Place, The Drive, Uxbridge UB10 8AQ.
Know your rights
Those with complex problems not covered above can contact the administrators on 0844 573 3817 or by email [email protected].
Blockbuster also have a customer FAQ page up on their blog here although, at the time of writing at least, it's broken and hard to read.
Note that Blockbuster subscriptions are taken by Direct Debit so all customers that are concerned about continuing payments can cancel the agreement and will be able to follow up any disputed payments with their bank or building society under the terms of the Direct Debit guarantee.
Consumers may also be able to reclaim money through a chargeback scheme - see our guide here - although this is a last resort.
For now, it's probably worth waiting for Blockbuster to refund the money.
It would have been helpful to put a message on the website and/or email us, your customers... Sad news if this is the end, but really, better communications wouldn't have gone amiss....
Comment on Blockbuster's Facebook
Bizarrely, the Blockbuster UK site is continuing on as if nothing has happened, I found that I was even able to sign up for a new account, so it might also be worth stopping interaction with the site, adding discs or orders, for example, to avoid confusion later.
In terms of online DVD rental alternatives, there is now only one: Lovefilm.
You can read our full review of the DVD rental by post giant here.
What it means for Blockbuster UK
Blockbuster have about 2,000 employees, in their 264 stores around the UK and in the Head Office in Uxbridge.
They face losing their jobs, unless the administrators can find a buyer with a convincing plan for turning the company around.
The previous owner, Gordon Brothers, planned to sign a licensing deal with Blockbuster's US parent, which has been in dire straights since late 2010.
But the deal fell through, taking with it Blockbuster's chance at a viable new online storefront.
Gordon Brothers pursued other strategies, from internally restructuring the business to negotiating with the stores' landlords, but they weren't enough to turn the company around.
Blockbuster may yet see some sort of reprieve: Moorfields say that they have parties interested in both the physical and online parts of the business.
But since the previous administrators have already been looking for buyers for weeks the prospects aren't good.
Killed by online and TV
Blockbuster have long been under strain as consumers have moved towards renting films online or through TV subscription services.
Netflix arrived in the UK in 2012, joining Lovefilm's on demand service and an ever-growing range of Freeview and paid TV services from giants like Sky, BT and Virgin media.
In terms of online DVD rental, Blockbuster struggled to keep up with Lovefilm.
With millions in investment since their 2004 launch, Lovefilm have been able to buy up almost all their competitors, keep prices low and launch a streaming service.
Blockbuster's stores gave them an edge on their competitor - they offered in-store rentals with some deals and promised speedy delivery using in-store stock - but it was a very small edge.
This article was updated to reflect more up to date information on compensation we received from Blockbuster.