NETFLIX, the US DVD rental giant, confirmed this week that they will expand to the UK in 2012.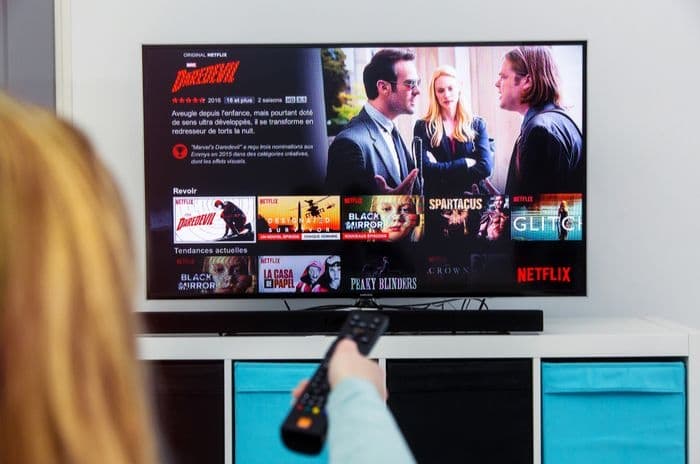 Credit: pixinoo/Shutterstock.com
The launch will be a huge threat to DVD rental giant Lovefilm as well as other streaming services although, having just limped through a PR disaster in their home country, Netflix may not be at the top of their game.
Finally!
It's long been rumoured that Netflix will cross the pond.
The move was planned as early as 2004, though the next year Netflix dropped those plans in order to fight off competition in the States.
In February 2010 the company announced plans to return to the European movie rental market at some point and, describing the plans to Reuters, Hastings dropped a big UK shaped clue saying the service would be, "streaming only. That's a big difference - no warehouses, no integration with the Royal Mail."
By July 2011, Variety was reporting that according to "sources at a few leading European film distributors" Netflix were sniffing around the UK.
This week, Netflix themselves finally confirmed the rumours and confirmed that their UK business will be a streaming only service, no DVD rental by post.
Welcome to the UK:
you've got competition
Lovefilm
Netflix and Lovefilm are very similar beasts: both innovative, marketing happy and multinational (Netflix have operations in the Caribbean and South America, Lovefilm in Germany and the Netherlands).
Perhaps most importantly, though, both have spent the past few years future-proofing their service by expanding into movie streaming on a range of devices.
Currently, no other DVD rental service is even attempting to challenge Lovefilm on that.
Netflix vs Lovefilm
Updated information
in this full guide
»
But the company had better drop that complacency fast if it wants to compete with Netflix.
The company's switchover to streaming has been serious: about two years ago, they spent more on their DVDs than they did on streaming, at a ratio of around 5:1.
Now Netflix invests more in streaming. In fact, DVD content is losing 10:1.
And Netflix made an even stronger move into the streaming model by splitting up its DVD rental by post and streaming subscriptions, much to the anger of its customers (see below).
But behind the bad PR was solid reasoning: the company can't afford to keep taking a hit on cheap streaming.
And that, ultimately, may be the rub in the UK: Lovefilm is now where Netflix was a few years ago and we might have to get used to calling our very own DVD rental giant an underdog.
Other competitors
Netflix will only be moving its streaming service over here and so it'll be as much a threat to the big pay TV providers like Sky, SeeSaw and Virgin Media and online movie vendors like iTunes as it is to Lovefilm.
Broadband: a wake up call?
The move might also be one of many wake up calls to the UK's broadband market. Users with an internet connection that isn't up to speed or on a broadband package with a small monthly data allowance are likely to have problems accessing online streaming services.
The advent of faster broadband in the UK will take time but plans are progressing. For example, BT recently launched a new fibre optic broadband service - BT Infinity broadband (reviewed here) - which is capable of up to 40Mb speeds.
In order to avoid flopping once again, one possibility for Netflix would be to arrange a tie in service with broadband providers, ensuring that less technically aware users can always access their movies.
Other new technologies will no doubt dominate the battle for subscribers.
Games consoles and the latest HDTVs incorporate hardware and software allowing them to connect directly to online movie streams such as those offered by Netflix and Lovefilm.
Netflix subscribers in the US are able to stream movies via Xbox360, PS3 or Wii as well as through some of the latest Blu ray players.
Sony and Samsung recently announced a tie in with Lovefilm at CES2010 in Las Vegas, a move which means users can stream Lovefilm movies direct to their TVs and manage their DVD subscription from their armchair.
Sony's new range of TVs also utilise the same menu system as the PS3 indicating a likely move of the Lovefilm service onto the popular console.
Wobbly
It's worth noting in all of this, however, that Netflix are moving to the UK just as their US operations look more wobbly than they have done in years.
The US DVD rental giant expected to lose 600,000 customers during the quarter running from June to September 2011.
Streaming backlash
It was Netflix's switch to streaming only rental deals which knocked the .6 off its 24.6m customer base.
Like Lovefilm, subscribers previously got streaming included in their DVD rental by post price.
When the company split streaming and by post packages customers trying to sign up for their old dual deals found that the price was increased.
Many customers were handed price hikes of more than 80% and were, understandably, apoplectic.
Unsurprisingly, many chose to leave rather than pay the vastly increased price.
The business lost more than 800,000 subscribers in the US in the last quarter after fumbling an attempt to separate their streaming and DVD rental by post subscriptions.
As a, much delayed, response to the outcry Netflix announced that they were planning to split the American business asunder altogether and re name the DVD rental by post business Qwikster.
"Streaming and DVD by mail are becoming two quite different businesses, with very different cost structures, different benefits that need to be marketed differently and we need to let each grow and operate independently," CEO Reed Hastings wrote, explaining the plan.
That may be true but the plan was swiftly nixed by customers who weren't shy in pointing out that it was a solution for solutions sake.
Two weeks ago, Netflix abandoned the idea.
In that context, the business' acknowledgement that the UK market will be tough to crack should be heeded doubly.
After their bad press, Netflix will need the "aggressively priced, compelling service" they promised shareholders to be more aggressive than ever.
And even if that goes to plan, they admitted, launching the UK business will cause them to make a global net loss over the next few years.
The Netflix price hike has also been pretty nasty all round: customers are incensed; investors have lost money on the share price which dropped 19% on news of the subscriber exodus and commentators wasted no time in rubbing salt in the wound by calling customers "entitled yuppies"

.
The whole thing was so poorly handled that you have to wonder whether a similar crisis in the UK is inevitable.
The letter sent out to Netflix subscribers read: "We are separating unlimited DVDs by mail and unlimited streaming into two separate plans to better reflect the costs of each."
Now, couldn't you have worded that a little better Netflix? In a way which shows some concern for the annoyance of paying much more, for example?