Netflix has announced a limited beta test of a new online cloud gaming service to some members in the UK.
Streaming giant Netflix is continuing their move into online cloud-based gaming by launching a beta test of two games to some existing members.
Beta test supported devices include Amazon Fire TV, Chromecast, Roku, LG and Samsung smart TVs, as well as PCs and Macs on supported browsers.
The move follows the launch of Netflix games on smartphones in late 2021, as well as recent developments by Netgem and Sky into TV-based gaming services.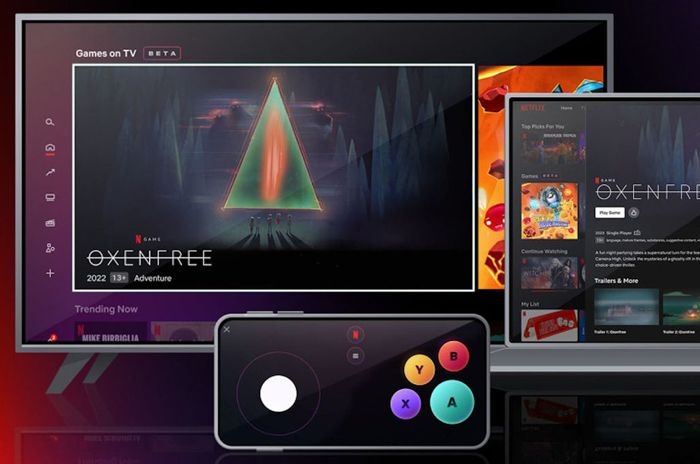 Gaming trial
Starting today, a selected number of existing Netflix members will be able to access and play the games through supported devices on smart TVs, and additionally through supported browsers on PCs and Macs in the next few weeks.
Smart TV supported devices include Amazon Fire TV, Chromecast with Google TV, Roku sticks, LG and Samsung smart TVs, and Nvidia Shield TV boxes.
Customers who can access the beta test can play the games on their TV by using their mobile phones as a controller. While those who game via their computer browser will be able to use their mouse and keyboard.
Netflix say while the beta test is aimed at trialling their gaming technology and controller, they plan to increase support to more devices over time.
The first two games being made available in the beta test are Oxenfree from Night School Studio, a Netflix owned game production company, and Molehew's Mining Adventure, a gem-mining arcade game.
Gaming developments
There's been a noticeable move of various companies operating in the pay TV sector into gaming services over the last several months.
In June 2023, Netgem announced they were partnering with Gamestream, an established cloud-based gaming platform already operating on a wholesale basis.
At the time of the announcement, Netgem said all of their existing customers, whether signed up directly or via a telecoms provider like TalkTalk or Community Fibre, would have the gaming platform rolled out to them automatically.
Pay TV giant Sky, also integrated gaming into their Sky Glass set with the launch of Sky Live, a 4K interactive camera that allows users to play games by converting body movements into gaming actions.
Netflix themselves aren't entirely new to gaming either, having previously launched games to customers accessing Netflix on iOS and Android smartphones, as well as trialling interactive TV programme Bandersnatch.
In 2021, Netflix introduced smartphone games including Stranger Things: 1984, Stranger Things 3: The Game, Shooting Hoops, Card Blast and Teeter Up.
Judging by past actions, it seems reasonable to expect membership prices to remain the same for the foreseeable, with games merely integrated into existing membership plans.
However, since the introduction of a cheaper plan with advertising, as well as boosting their Basic plan to HD, Netflix have now streamlined their pricing, removing the previous 'Basic' plans and instead offering 'Standard with ads', 'Standard', and 'Premium' options.