Business Pro II from Vodafone offers the latest WiFi 6E router that supports up to 150 devices over broadband with up to 910Mb average speeds.
Vodafone Business Pro II is a premium broadband package offering the latest WiFi 6E router, WiFi boosters, WiFi Xpert support, and 4G back-up for the ultimate in reliability. Customers also get free unlimited calls to UK landlines and mobiles.
Pitching itself against BT Business Halo, Vodafone say customers can save over £500 in comparison to BT Halo for Business. They're are the first provider in the UK to offer a WiFi 6E router and WiFi booster.
Vodafone Business Pro II costs from £32.50 a month for 67Mb download speeds, up to £53.50 a month for their fastest 900Mb plan.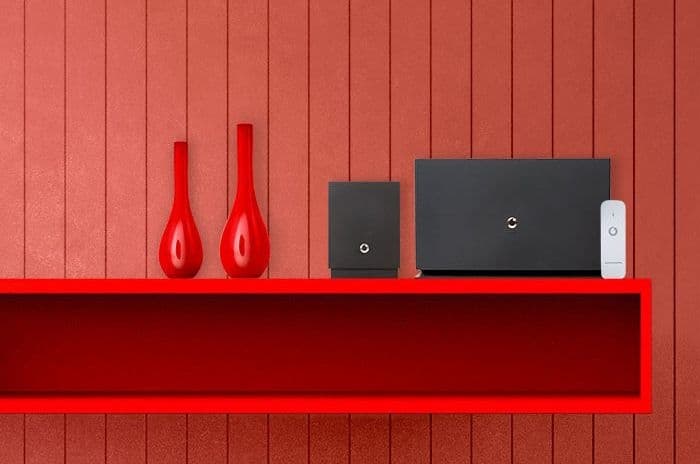 Vodafone Business Pro II
Vodafone claim small business customers can save up to £442 compared to BT Business Halo.
The main features of Vodafone Business Pro II include:
The UK's first WiFi6E router and Wifi boosters, that can connect up to 150 devices
4G Vodafone back-up if the fixed line broadband ever develops a fault or goes down
Up to 3 WiFi Pod extenders, or boosters, to increase wireless coverage around a large office, or through thick walls
Expert business support, with expert engineers to proactively monitor and fix any issues
The benefits of Vodafone Business Pro II are very similar to those already offered by Vodafone Pro packages for retail consumers, so there's nothing amazingly new here.
BT Business for Halo is also a similar service, albeit with a higher price point, but it also offers small businesses a 4G back-up solution in the event of any downtime. Although BT Halo for business has a lot more phone related benefits, such as taking your business number on your smartphone app, a fixed price promise with no min-contract price rises, and a dedicated business support lone for any technical issues.
Package costs
The evolution of full fibre broadband across the UK is beginning to mitigate the need for expensive leased lines for smaller and even medium sized businesses.
Vodafone Business Pro II packages are currently priced at:
| | Superfast Broadband | Broadband Pro | Broadband Pro II |
| --- | --- | --- | --- |
| Price | From £16.95 (+VAT) | From £26.50 (+VAT) | From £30 (+VAT) |
| Full fibre speeds | Yes | Yes | Yes |
| 4G back-up | No | Yes | Yes |
| Mesh Wifi boosters | No | Yes | Yes |
| Router | Vox 3 | Vox 3 | Ultra Hub Wifi 6 |
| Support | Standard | Dedicated business | Dedicated business |
| Static IP | Yes | Yes | Yes |
| Anytime calls | No | No | Yes |
Vodafone Pro was first launched in 2021, and so isn't a brand-new package, and has been available for retail customers for some time now.
It also offers many of the same features, including a WiFi6E router with mesh support and WiFi boosters under a WiFi guarantee, and access to WiFi Xperts for additional technical support.
Prices aren't much different for the business version of the Vodafone Broadband Pro II plan, which should be reassuring to small business knowing they're not being overcharged simply for being a business, rather than a retail, customer.