While the ad said customers would pay £20 for set-up, the fee for existing customers was up to £219.
Sky argued this was made clear in the text supporting the advert but the Advertising Standards Authority (ASA) rejected this claim.
They warned Sky not to repeat the ads in their current form, although this was already unlikely as they appeared in October and November 2019.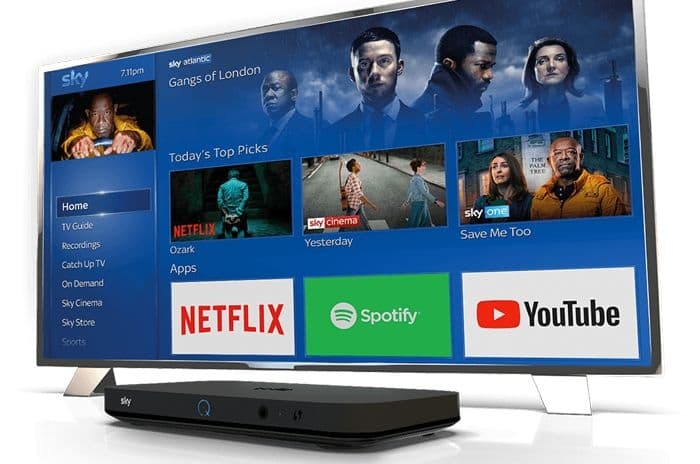 Misleading ads
ASA's ruling related to two ads, one seen on TV in October 2019 and the second on Sky's own website in November 2019.
Both were advertising Sky TV and Netflix together on Sky Q, highlighting the upfront set-up costs as £20.
This was true for new customers but not existing ones, and Sky used smaller text on the TV ad and were more than a click away in the terms and conditions in the ad on Sky's website.
ASA judged customers would reasonably expect the upfront costs to be paid by existing customers to be the same as those paid by new customers, even though Sky argued the information was clearly signposted.
As set-up fees are considered material information by ASA, they stated they should've been in the main text of the ad and consequently banned both adverts.
Upfront costs
ASA's ruling is interesting because, although the ads under discussion were seen on TV and on Sky's website last year, they still routinely offer this type of deal where upfront costs are more for existing customers than new ones.
A glance at Sky's website shows they're promoting the same package (Sky TV & Netflix) again in their banner at the top of the webpage.
This time, though, the small text below the purchase button at least says costs may be up to £219 for existing customers. This is more prominent than it was in the previous incarnation of the ad.
Yet it highlights one of the discrepancies existing Sky customers face when looking to upgrade their package.
Some existing customers may reasonably feel frustrated that Sky is chasing new customers ahead of honouring their commitment to current ones.
Find out more about Sky's TV deals in this review and find out whether they're worth the money.
ASA rulings
This isn't the first time Sky have been rapped by ASA for a television ad and warned not to use it again.
In 2017, they were rebuked for presenting terms and conditions text onscreen against a light background, making it difficult for viewers to read.
It was judged by ASA to be misleading, but the limitations of ASA's remit means that they can only retrospectively ban ads - and they don't have the power to fine companies either.
So, more recent cases of Vodafone advertising 'gigafast' broadband and TalkTalk claiming their wi-fi hub provided a better signal than competitors' were banned but no penalty could be levied to stop the providers doing it again.
This means an ASA ad ban has limited effect and certainly doesn't dissuade companies from pushing their luck and putting out ads that might not meet the right standards.
For instance, the publicity Hyperoptic received back in 2017 for advertising a mocked-up BT contract was probably more beneficial to their company brand than the ticking off they received from ASA about it.