On Monday 13 May solar hit a peak of 9.47GW and the record was broken again the day after when it hit 9.55GW.
Proponents of solar argue this shows UK energy can be produced cleanly and affordably.
The generation records come as the solar industry remains in flux while the UK Government deliberates on the future of the renewable energy sector.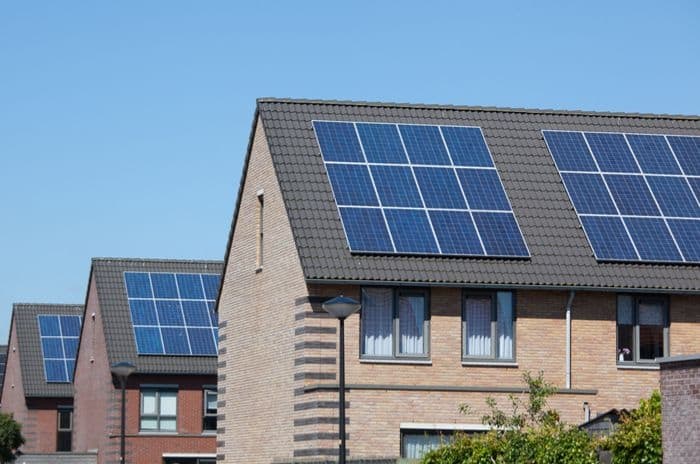 Perfect conditions
It's a common misconception that solar panels derive their energy from heat when, in fact, they extract energy from the amount of light which reaches them.
The conditions on Monday and Tuesday were ideal for solar energy generation as they were particularly cool, clear and bright.
On the respective days, solar peaked at 9.47GW around midday and 9.55GW at around 12:30pm, beating the previous record of 9.38GW set in May 2017.
Solar energy generation in the UK lags behind onshore and offshore wind generation, as well as bioenergy, although it produced more than double the amount of hydro energy in the official 2018 statistics from the Government.
From 2017 to 2018, the amount of energy generated by solar grew by 12.1% and brought it to a total of 12.9 TWh (terawatt hours) across the whole year.
Bright news for the industry?
The Solar Trade Association and other solar organisations were quick to welcome the record-breaking figures as a sign that solar can help plug the energy gap in the UK.
However, they also pointed out that solar isn't as incentivised as it used to be and highlighted barriers that have been put in place and drastically slowed deployment.
For example, the solar feed-in tariff which offered subsidies to homeowners installing solar panels was increasingly scaled back and offered fewer and fewer benefits as time passed.
This culminated in the feed-in-tariff being phased out from April this year, reducing the incentives for homeowners, landlords and community energy groups to install solar.
As an extra penalty, while existing feed-in tariff scheme contracts continue to be honoured, excess energy can now no longer be sold back to the grid.
While the Government continue to mull over replacement schemes, there may be other pitfalls awaiting the industry.
Recent proposals have suggested raising the VAT on solar panels from 5% to 20% for most domestic customers installing them. This will likely raise prices to levels which customers refuse to pay while there is no true replacement to the feed-in tariff available.
A report from Green Alliance published in February also examined the poor state of the community energy sector, which incorporates various solar projects and has stalled due to Government strategy changes.
What next?
Climate change and the need for renewable energy to be increasingly utilised in the UK is never far from the news, meaning the pressure is on for the Government to come up with solutions.
Meanwhile, specialist green energy providers have entered the marketplace in recent years to bring green tariffs to customers.
The most successful of these is undoubtedly Bulb, who have experienced meteoric growth in the last year and surpassed 1 million customers in February 2019.
That said, another renewable energy supplier Solarplicity was barred from taking on new customers earlier this year as their customer service hadn't kept pace with their customer growth.
With conflicting messages across Government, industry and energy providers, we'll have to wait and see how solar energy fits into the long-term plan to address climate change.