It follows the 36-hour closure of Gatwick airport in December due to illegal drone activity.
The new regulations will enforce a greater exclusion zone around airports and runways to prevent air traffic disruption.
In addition, police will have new powers to ground drones and to seize them if appropriate.
Users of drones weighing between 250g and 20kg will also have to register their drone.
A consultation into drone regulations which was launched in July 2018 and received over 5,000 responses has contributed to these proposals.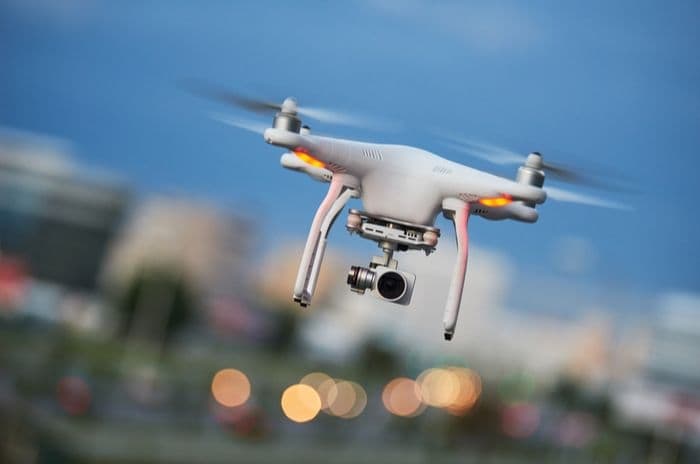 Preventing illegal activity
Drone activity has been causing widespread concern for several years, leading to the Government opening their consultation in 2018.
These new measures are designed to limit the possibility of another airport being subject to disruption by extending the exclusion zone from 1km up to 4.6km.
For the end of a runway, this exclusion zone will further increase to 5km to protect planes landing and taking off.
The police are to be given powers to demand the production of registration documentation and to compel the landing of a drone, along with seizing any drone they consider to be used in illegal activity (in line with a warrant).
Electronic information stored on the drone can also be subject to warrants and therefore be demanded by the police.
Fixed penalty notices will be established for offences relating to drone use including for those who refuse to land a drone when requested by the police and not producing the correct documentation on request.
FPNs may also be given out to offenders who use a small drone (SUA) within 50m of people, vehicles or buildings but did not intend to cause damage, alarm or endanger lives.
These new regulations will come into force in November 2019.
What does this mean for drone users?
Drones have been increasingly regulated over recent years, with rules introduced to prevent drones with cameras flying within 50m of people or buildings. All drones are restricted from flying above 400 feet.
However, the new regulations are designed to ensure that drones are more tightly controlled and subject to stringent security measures.
People using drones legally for personal or commercial use must consider the increased size of airport exclusion zone and only use their drone outside those zones.
Anyone operating a drone of more than 250g must also register it and ensure that the registration number is fixed on to the drone when it's in flight.
Due to consultation feedback, the Government have decided not to extend these new police powers to other groups such as a prison officers, police community support officers and council enforcement officers.
Those legally operating drones should have no problems with the new regulations, although there was some concern in the consultation responses that the police powers could be misused.
Those impacted by drone use, however, should find that these new regulations offer some protection from illegal and nuisance drone usage.
Government playing catch up
While the consultation was opened in July 2018, there is no denying that recent events have brought drones to the forefront of public consciousness and the release of this new report is timely.
As technology becomes more advanced, the potential for utilising drones illegally and irresponsibly becomes more likely.
For instance, the potential of 5G to increase the commercial functionality of drones will also require Government legislation and police powers to keep up.
Nor is the idea of the Government playing catch up restricted to the drone industry, with persistent cold calling targeted by new laws and Huawei technology being brought into the spotlight by security concerns.