Take chip and PIN payments: the best options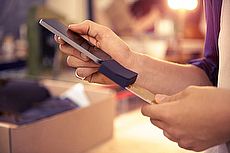 ©iStock.com/pixdeluxe
It's now easier than ever before to take card payments.
New payments providers like PayLeven, iZettle, Intuit and SumUp offer card readers that connect to smartphones and tablets with low fees for every transaction.
Unlike the card readers that are generally available from the banks and big payments providers, the devices are available without having to take out a contract and there are also pay on smartphone options that have no upfront cost.
However, it can be hard to know which of these new payments providers would best suit your business.
That's where we come in: this guide has five top choices, based on factors that really matter for small businesses and sole traders.
At the end we've also covered some frequently asked questions about how card readers work day to day.
1. Taking the most cards
The winner is: iZettle
It's no good having a card reader if you're constantly having to turn customers away because you're unable to take the debit and credit cards people actually have.
iZettle users can take payments from all of the UK's most popular cards issuers.
| | | |
| --- | --- | --- |
| iZettle | Visa, Visa Electron, V Pay, Mastercard, Maestro, American Express, JCB and Diner's Club (that last one with 'chip and signature' only) | Go to iZettle |
| PayLeven and Paypal Here | Visa, Visa Electron, V Pay, Mastercard and Maestro | Go to PayLeven |
| SumUp | Visa, Visa Electron and Mastercard | Go to SumUp |
Let's not overstate the important of this, however.
Visa (standard, not Electron or Vpay) and Mastercard are, by far, the most common type of debit and credit cards in the UK so it's likely that any payment system that can take those two will avoid disappointing too many customers.
American Express, in particular, is highly likely to be held in addition to a Visa or Mastercard and holders are very used to retailers not taking their payments. The exception might be businesses that take a lot of payments from tourists, who will have a different mix of card types.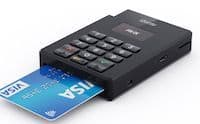 In general, though, other factors, like the cost of the card reader might be more important.
2. The cheapest card reader
The winner is: PayLeven
New payments providers are generally offering two types of card readers.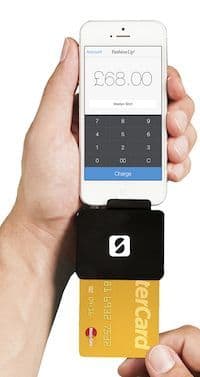 There are wireless devices that look and behave like swish, futuristic chip and PIN readers, like the one from iZettle above on the left.
And then there are smaller readers that connect to a smartphone or tablet so that the customer can enter their number or sign on screen, like the one from SumUp shown on the right.
The Chip and PIN readers look a bit more professional and trustworthy and, depending on your business, it might be safer to not have to take out an iPhone or iPad to take a payment.
The readers are still connected to devices that must be within about 10 metres, via Bluetooth, but they're otherwise wireless and are charged like a phone making them highly mobile.
So let's look at those first.
Chip and PIN card readers
The smaller smartphone readers are cheaper and probably more suitable for occasional users or for businesses already using phones or tablets, for example to take record orders or check stock availability.
Smartphone connected readers
3. The lowest fees
The winner is: Barclaycard
All payments providers take a percentage of each transaction as a fee for taking payments.
One of the advantages of going with a big payments provider is that each transaction attracts quite a low fee which remains the same whether your customer uses a PIN number or swipes their card, although as we've seen above you do lose flexibility and pay far more for hardware.
With these payments providers, the percentage for taking a debit or credit card is higher and swiping cards (where it's possible) or taking a manual transaction, without a card reader, usually costs even more.
However, the difference isn't all that great especially for those making a lot of transactions through the iZettle platform, which reduces its card reader fees to 1.5% when monthly sales hit about £13k.
4. Best maximum and minimum transaction limits
The winner is: PayLeven
Another aspect of these terms that's well worth being aware of is maximum and minimum transaction limits.
PayLeven are our top pick here because they have the lowest minimum - '€1, or 80p - and high maximums, though these vary depending on the business.
Most other payments apps ask for a minimum payment of £1 and impose other restrictions.
For example, iZettle have a limit of £100 of swipe transactions per day.
5. Best interface
The winners are: PayLeven and iZettle
Finally, a really attractive aspect of all these apps is a much more intuitive and potentially useful way of displaying and monitoring products and prices.
We haven't had the opportunity to extensively test all of the different apps but PayLeven is considered one of the best for ease of use, with a nice clean design displaying products and sales.
We've also found iZettle to be extremely user friendly. Below you can see an example of their payments portal showing the transactions taken sales volume, the most popular products and which customers have bought from you before.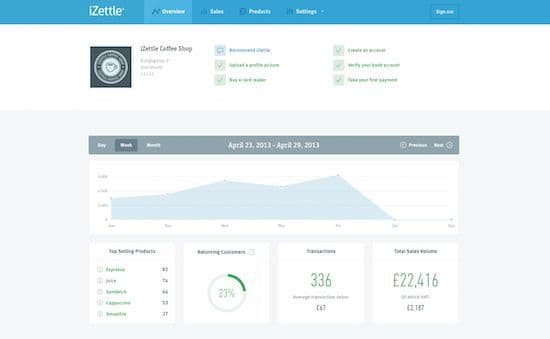 SOURCE: iZettle.
Taking payments: more answers
Still have questions about taking payments? We've got answers.
How do signatures work?
Chip and PIN is obviously the most straightforward way to take transactions but many of these sites do allow customers to sign.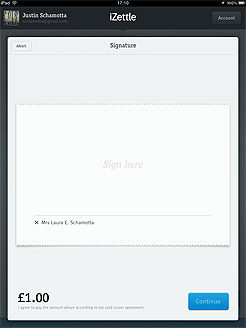 Generally they require you to use a compatible smartphone or tablet. The customer can just draw their signature with their finger.
This is the only way to take payments with SumUp and the disadvantage, with them or any card provider, is that it can seem a less trustworthy to customers who are unfamiliar with new payments.
How do receipts work?
There's no printer on these machines so customers generally enter their email address or phone number to send a receipt by email or text.
If you did want to use a receipt printer to offer customers paper receipts it is possible to do that with most companies. If you already have a printer it'll be worth checking that the payments provider supports it.
How do I get paid?
Payments taken through these providers aren't deposited in your bank account instantly. They take some time to process.
Here's how they four providers compare: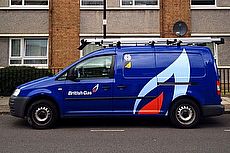 21 November 2017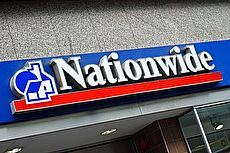 16 November 2017
13 November 2017
Follow us or subscribe for FREE updates and special offers