Take card payments with your phone: iZettle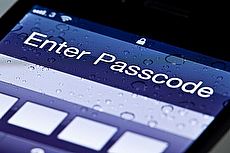 IT'S FIVE years since iZettle launched, and four since it was released in beta, allowing anyone with a reasonably up to date smartphone, tablet or Apple device to accept debit card or credit card payments.
Since iZettle's Scandinavian launch in June 2011, and its arrival in the UK a year later, it's proven incredibly useful for sole traders and small businesses - iZettle say their users' businesses grow by more than 15% per year, almost five times the average growth rates seen in the EU.
But it also has a niche use for non-business users, especially those who want to get cash off their credit cards.
So how does it work, and is it worth it?
How it works
What we need
First things first, the iZettle service consists of a card reader and an app - we'll need either an Apple device running iOS 8.2 or later, or something running Android 4.1 and above.
The iZettle app is free to download from the Apple app store and Google Play. Having installed the app, users must then create an account at iZettle.com.
It's very like setting up a Paypal account: our iZettle account must first be verified - which takes less than a minute - before we then nominate a bank account, which must also be verified.
Users can get started very quickly with just the app, but the whole point of iZettle is that it allows anyone to take card payments - for which we need the card reader.
Specs
iZettle offer
Click here
to get the new iZettle Reader
for only £25 + VAT (Business customers only.)
While the app is free, the card reader does cost - it's usually £59 plus VAT for business users, but it is occasionally available at a reduced price.
The card reader has come on a long way since the first generation to be available in the UK - seen to the left in the picture below.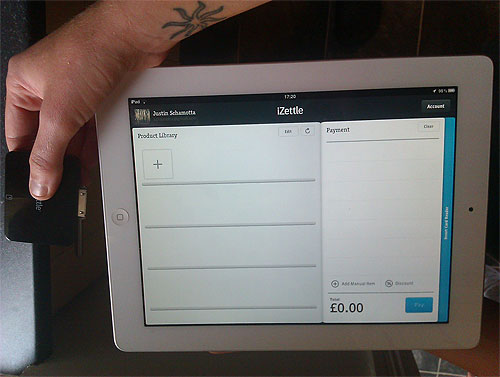 An early iZettle card reader (to the left) in use with the app
It's now a sleek white device measuring 11 cm x 7 cm x 2 cm, and can take contactless payments as well as the more traditional swipe and dock card payments.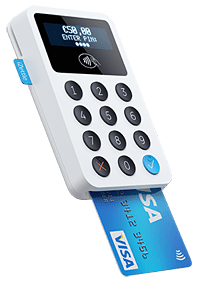 The earliest versions, and the recent Card Reader Lite, had to be connected to our device via a dongle or cable to work, but most now use Bluetooth.
The USB jack at the top of the reader is there purely for charging purposes - or users can sit the reader in the iZettle dock to power it up between transactions; without charging it should last for up to eight hours in active use, or for around 100 transactions.
In use
Because the readers use Bluetooth, they should work at distances of up to 10 metres from the device.
The vendor adds a product or types a transaction amount into the app on their device, then taps "charge". They then hand over the card reader to the buyer, who can choose whether to pay contactlessly, or by swiping or inserting their card.
All the major card types are accepted -
MasterCard
Visa
American Express
Maestro
V Pay
Visa Electron
JCB
Diners Club
- as well as Apple Pay, Android Pay and Samsung Pay.
If paying contactlessly, the buyer needs to wait until all four lights have illuminated before removing their card; those paying by docking will need to type in their card's PIN then the tick button.
There'll be a brief pause while the bank is contacted to authorise the payment.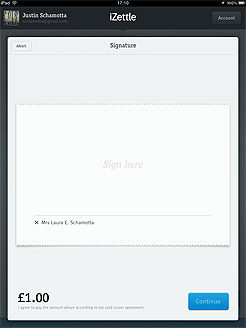 As some people don't have Chip and PIN cards, those who wish to confirm the transaction with a signature can do this too.
The card is read as above, but the vendor takes the signature on their device's touchscreen after the card is removed (see screenshot to the right).
Depending on the accessories the vendor has, they can either print, text, or email a receipt for their buyer.
All in all, it's a simple and painless process.
The account at iZettle.com can be used by sellers to view their sales and create a portfolio of products with individual prices and images - ideal for market traders and vendors.
Account owners can customise the image that will appear on their receipts.
Fees
iZettle offer
Click here
to get the iZettle Reader and dock
for only £45 + VAT (Business customers only. Usual price £79 + VAT)
iZettle make money by charging a fee on each payment.
Depending on the number and type of transactions made, the fee will range from 1% to 2.75%.
Bear in mind that the lower fees are available only to business, not personal, users:
The first £2,000 of card transactions every month will be charged at 2.75%
1% fee is only charged once more than £40,000 of card transactions have been made in one month.
Compared with the classic merchant card machines, where the machine itself typically costs around £20 a month on top of the fees, it's a big saving. For individuals it's less appealing except, perhaps, in the case of credit cards.
Useful for credit cards?
PPI refunds and other large refunds - say in cases of card fraud - often go back on to credit cards which means more people carrying a positive balance that they don't want to spend, or at least, not on their card.
Accessing that positive balance by withdrawing the money from an ATM as a cash advance incurs both fees and interest at a very high rate.
Money transfers - sometimes known as super balance transfers and explained in this guide - can help but even they have a transfer fee, as well as the threat of future interest after any 0% period is over.
So, we thought, iZettle could be a possible way for credit cardholders to "pay" themselves for less.
Let's take a look at how much a typical credit card - charging a 27.9% p.a. rate on cash advances and a 3% fee - compares on a £1,000 withdrawal/payment.
| | 10 days* | 20 days | 30 days | 50 days |
| --- | --- | --- | --- | --- |
| Credit card ATM | £37.64 | £45.28 | £52.93 | £68.22 |
| Credit card iZettle | £27.50 | £27.50 | £27.50 | £27.50 |
* days refers to the number of days before the card balance is paid off in full.
It's not cheap. But it is a bit cheaper than most cash advances.
For more on credit cards and cash see this full guide.
The verdict
The iZettle reader is undeniably simple to operate.
In brief
Pros
Easy to use
Ideal for SMEs
Cheaper than alternatives
Cons
2.75% fee
Despite having its uses for individuals, it's properly intended for micro businesses who can't justify the expense of a traditional card reading machine, especially as most of us, traders included, now have smartphones.
The dock, and the range of accessories and supported other devices, makes it suitable for a huge range of users, and the card reader itself seems sturdy enough.
It was the UK's first mobile card reader and has therefore benefited from having a bit of an edge on later arrivals - but while businesses will really make the most of its features, there are better options for individuals.
For more information visit iZettle here.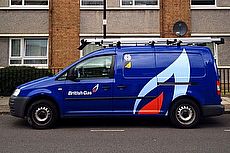 21 November 2017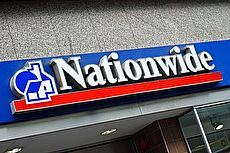 16 November 2017
13 November 2017
Follow us or subscribe for FREE updates and special offers