Reviewed: a router that keeps kids safe online
The Cyberoam Netgenie is a wireless router with a built-in suite of parental controls, security and reporting features that allow parents to maintain finely tuned control over what their children get up to on the web.
For households with a number of computers, tablets or smartphones, router level controls are far preferable to control software, which has to be installed and set up for each device.
That's why all the big UK ISPs now offer router level parental controls to their customers.
But Netgenie say their family friendly router offers far stronger and more targeted blocks than those ISP controls as well as far more ways to customise controls, making them safer for children and more convenient for adults.
In this full review, we tested out Netgenie's router to see whether those claims stack up. Read on for our full verdict or skip ahead for the conclusion.
Hardware
Let's start by getting the router out of the box and getting it set up.
Your old router and your ISP
The version we are testing is compatible with all broadband services provided via a normal phone socket (ADSL2+) as well as fibre broadband services like BT Infinity that are also supplied through a normal phone line (VDSL).
Fibre broadband customers will most likely have two fairly ugly plastic boxes in their home, one installed with a BT logo on it connected directly to the phone socket and another box connected to that supplied by your ISP.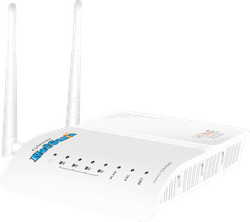 The Netgenie can be used to replace both and anything that helps reduce the amount of wiring around the house is surely a good thing.
Most ISPs have no problem with their customers using their own routers. However, Sky dislikes customers using their own equipment so those with Sky broadband will need extra set up support from Netgenie.
If you get your internet via 3G or 4G mobile broadband the Netgenie can accommodate this too. A USB slot on the back of the router creates a filtered wi-fi hotspot from your dongle.
How to set up
Hooking up the Netgenie is something even staunch technophobes will be able to do thanks to the clear instructions provided.
These form a comprehensive guide on how to setup and swap over the router equipment, covering the myriad possible ways your broadband could be set up, down to the finest details.
Most people's experiences with wi-fi routers is plugging them in and then entering the wi-fi name and password that's usually written on a sticker on the bottom.
As a third-party router, connecting the Netgenie to your broadband account is perhaps the trickiest interaction you will encounter with the device.
Bluepath, who supplied us with the review unit, have written detailed guides for different ISPs to help smooth the configuration process, which is necessary, as otherwise for the novice it would be difficult to know what to do.
After a little bit of tinkering with the settings for our Plusnet connection, we were connected and ready to put the Netgenie's parental controls to the test.
Setting up parental controls
How does the filtering work?
The Netgenie filter system uses a built-in web and application database called Web Cat created and updated by Cyberoam, a division of the UK web security firm Sophos.

Web Cat is maintained by a Cyberoam team in India and updates are regularly pushed to registered devices.
The basic idea behind Netgenie is to give each member of the family their own user ID and password through which they can access the web.
When someone opens the browser, a Netgenie page asks you to login, and then filters content against the settings defined for that user.
Creating a profile for each family member is easy enough.
There is a set of predefined age settings you can choose from, or if you prefer, you can fine tune the settings for each user separately, down to individual website level.
As you can see below, the interface is clear and there is a handy "tips" tool tip that explains each item as you click on it.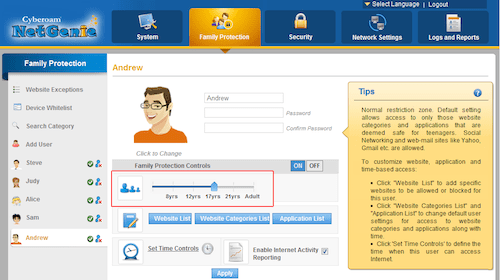 SOURCE: Netgenie supplied screenshot, 8/5/14
The detail to which you can control internet access for users is impressive and easy to set up.
For example, it is possible to restrict access to particular websites at particular times of day for a particular user.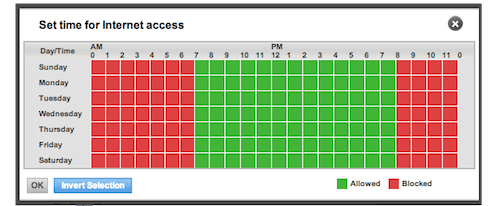 SOURCE: Neil Hawkins/Choose.net screenshot, 8/5/14
Other controls allow you to let older children have access to more mature content whilst youngsters are kept away from it.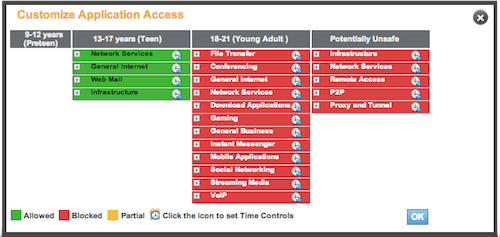 SOURCE: Neil Hawkins/Choose.net screenshot, 8/5/14
One quibble we did find annoying was that, when adding new users, you could easily overwrite the settings for a user you had just created by accident because the interface does not present you with a blank form when hitting "Apply".
In addition, you may have to disable the HTTPS scanning feature as we found this caused trouble with many everyday things such as uploading files to attach to emails in Gmail. It's a minor set up niggle but worth being aware of.
More generally, logging in with the Netgenie details every time you want to get online can be frustrating after a while, but if you have a device only adults have access to or a device which does not need filtering such as your internet fridge, you have the option to whitelist devices, giving them unfettered web access.
We connected a Humax Freesat HD set top box to the Netgenie and whitelisted it with no problems accessing iPlayer or other on-demand services through the television afterwards.
Tip for parents: Don't forget to change the default admin username and password immediately in order to thwart anyone who might want to log in to the router and change the settings.
Content filter accuracy
For our tests we set up an imaginary family with content blocked at different levels for each age group and tested across all major browsers.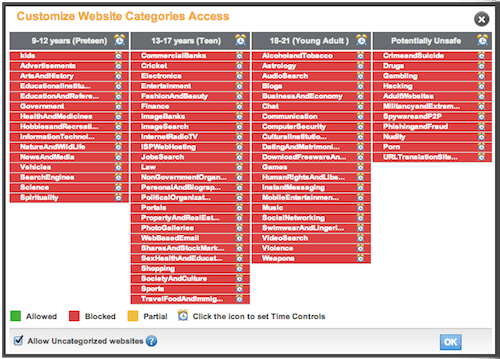 SOURCE: Neil Hawkins/Choose.net screenshot, 8/5/14
In general the content filter is very reliable and there were almost no occasions where it slipped up by either blocking something it should not have or allowing some content through that should have been blocked.
Of course these systems are never 100% foolproof and there were a couple of ways we found to get around the blocks.
When filters are set to their maximum, access to everything except pre-approved websites is blocked but peculiarly if you enter a search term directly into the Firefox address bar it will return a page of uncensored search results.
From there it is possible to access Google image search which can yield adult content even when adult content is set to be blocked.
Similarly, the same issue can arise when opening a new tab in Google Chrome and searching via the search box presented to you.
The ability to whitelist (i.e. unblock) certain websites for all age categories is a useful feature, though one slight difficulty with this is that a lot of websites use different domains to serve different parts of their content.
When whitelisting the BBC website, for example, we had to add bbci.co.uk and bbcimg.co.uk as well as bbc.co.uk, otherwise the site was completely broken. Finding the necessary information in scenarios like these could be beyond some novice users.
On the whole, though, the Netgenie does a very good job of blocking content to the levels you specify whether people are connecting via computers, tablets or smartphones.
Other features
There are also a range of other features available to you through the Netgenie's control panel including the ability to log and generate reports on everyone's browsing activity and set up guest users.
The reporting and logging features are extensive, essentially letting you set up an outpost of GCHQ in your own home.
Security is catered for with a firewall and "intrusion prevention system" both of which are pretty much standard features on any router these days. See more on router security in this guide
Wireless performance appeared no better or worse than the standard Plusnet supplied router, though the Netgenie is a dual-band router, with an option to run at 5GHz if that works for your home.
Competitors
More on parental controls
At £99 the Netgenie isn't the cheapest parental control solution on the market, there are free software options, such as OpenDNS, Norton Family or K9 but these tend to be much less comprehensive and customisable.
The major benefit we can identify with a hardware filter such as this is the convenience of having it apply across all devices on the network and allowing management of these devices in one location.
Of course, anyone with one of the big ISPs - that's BT, Sky, Virgin Media and TalkTalk - can now get that benefit direct from their broadband provider for free.
However, as you can see in our reviews, ISP blocks are pretty basic.
What Netgenie are offering is the range of settings and monitoring options you'd get with top software as well as the convenience of router level controls. The downside is that getting those two things isn't cheap.
Our verdict
Verdict: in brief
Pros:
Highly customisable and easy to configure options for filtering web content for multiple users and devices.
Very few incidences of underblocking or overblocking websites.
Very difficult to bypass.
Cons:
Setup requires some manual configuration.
Not the prettiest piece of hardware.
Although set up isn't simply a case of plugging in the router, a very good setup guide and user friendly web interface make the Netgenie router fairly simple to set up and start using.
In the long term, as long as you are willing to invest some time creating a set of filters that work for your family, the Cyberoam Netgenie NG11VH is a good choice for anyone looking to maintain safe and customisable internet access at home.
However, you do have to invest that time and be prepared to spend some more maintaining those settings.
15 November 2017
10 November 2017
9 November 2017
Follow us or subscribe for FREE updates and special offers