Virtually all cars sold in the UK are assigned to one of 50 car insurance groups. Each group is given a rating, based on how risky insurers perceive them to be.
Cars found in group 1 are thought to be the least risky. They might have low top speeds, or come equipped with a variety of safety features.
The riskiest cars are found in group 50. These vehicles might have large, powerful engines and be very expensive to repair in the event of an accident.
The car insurance group of a vehicle will give you a good indication of how much it will cost to insure, and is worth considering before you buy a new car.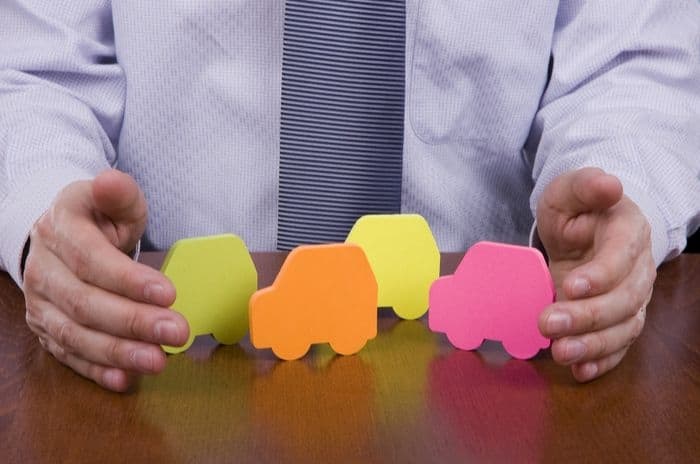 ---
How are car insurance groups decided?
Car insurance groups are set by a collection of insurance companies in a monthly meeting of what's known as the Group Rating Panel. Members include the Association of British Insurers (ABI) and Lloyds Market Association (LMA).
The panel base their decisions on the following, before giving each car an overall group rating of between 1 and 50:
Damage and parts costs - lower costs will contribute to a lower group rating. The cost of repairing a car in the event of an accident is said to have the biggest influence in determining its group. According to the ABI, the cost of repairs account for more than 50% of the amount paid each year for car insurance claims.
Repair times - cars that need longer repair times are placed in a higher group rating.
New car values - The more expensive the car is new, the higher its group rating.
Performance of the car - Cars with higher speeds and quick acceleration get a higher group rating.
Car safety - Cars with safety systems such as an Autonomous Emergency Braking (AEB) system have a lower insurance rating.
Bumper compatibility - Cars with bumpers that meet the insurer's criteria in terms of structure and alignment receive lower insurance ratings.
Car security - Each car insurance group is associated with a standard level of security features (alarm, immobiliser etc.) that should apply to the models within the group. The more security features the car has, the lower the group.
---
How car insurance groups affect premiums
The cheapest types of cars to insure are those found low down in the car insurance groups list.
These tend to be cars that are relatively cheap to buy new, and have smaller engines and low specifications.
Examples from insurance group 1 include the Fiat Panda, Citroen C1, Chevrolet Spark, Peugeot 107, Ford Ka Plus, Hyundai i10, Kia Rio, Nissan Micra Hatchback, Seat Mii, Skoda Citigo, and Volkswagen Fox.
Let's look at how much it costs to insure a group 1 vehicle.
Elliott is a 43-year-old accountant who wants to get cover for a 2011 Fiat Panda.
He's married, owns a house, and has had a driving licence for nine years with no claims. He says he'll keep the car in a locked garage overnight and at his workplace during the day.
The cheapest fully comprehensive policy he can find costs £444.
After deciding he wants a more powerful vehicle, he looks at cars further up the insurance group rankings.
Cars in the mid-range car insurance groups include the Fiat Bravo, Ford C-MAX, Citroen C4 Picasso, Chrysler Voyager, Chevrolet Epica Saloon, BMW 1-Series Hatchback, Audi A1 Hatchback, and the Land Rover Freelander.
If he chooses to buy a 2015 Ford C-Max2.0 TDCi Titanium, prices for fully comprehensive insurance would start at £700.
Let's now say he decides to splash out and buy a vehicle at the very top of the car insurance rankings.
Cars in insurance group 50 include the Audi A8 Saloon, BMW 7-Series, Chevrolet Camaro Coupe, Ferrari F430 Coupe, Jaguar XJ Saloon, Jeep Grand Cherokee, Land Rover Range Rover Sport, Lexus LS, Lotus Exige, Mercedes-Benz CL, Porsche 911 Speedster, and the Tesla Roadster.
Elliott decides to buy a 2015 Audi A8 Saloon 6.3 Quattro. Fully comprehensive insurance for this car starts at £1075 - more than double that of a group 1 vehicle.
---
How to reduce your premiums
If you drive - or want to drive - a vehicle that isn't found in the lower car insurance groups, don't despair - there are a number of measures you can take to reduce your premiums.
Increasing the voluntary excess - the amount you have to contribute to any repairs - will help make your policy cheaper. Be certain, though, that you can afford the excess should anything happen.
Another option for cheaper insurance is to improve your car's security by adding a car alarm or tracking device.
Paying for your policy annually rather than monthly will shave off some of the policy's overall price. This is because monthly payments are, in effect, loan repayments and have interest added to them.
If you're a young driver you can reduce your insurance premiums by choosing a policy that uses telematics to track your driving behaviour. This involves the installation of what is known as a black box.
If you're a safe driver, your premiums may be reduced on renewal. However, the opposite is true if you prove to drive dangerously.
Drivers of vehicles built before 1990 may be able to get quotes for classic car insurance, which can often work out cheaper than policies designed for modern cars.
Another option is to join an automotive organisation. Some insurers will offer a discount if you're a member of something like the IAM Roadsmart charity, which promotes road safety and driving standards.
---
Summary
Car insurance groups give you a valuable insight into how different cars compare with regard to how much they'll cost to insure.
They're a great tool if you're looking to buy a car and want to keep the associated insurance costs low.
While individual insurance companies don't have to base their premiums on these ratings, they do all use them to inform their decisions.
You can safely assume that cars in insurance group 1 are going to be your cheapest options, but the exact figure will depend on a host of other factors such as your age, driving experience, postcode, number of miles driven etc.
So, for example, while our hypothetical accountant could find a policy for £444 for a car in insurance group 1, if he was 23 years younger his quotes would start at £1071.
Although you can cut the cost of your premiums in various ways, the relative expense of cars across insurance groups remains.
To find out how much a particular car might cost to insure, visit our car insurance comparison tool here.