The company provided electricals, furniture and domestic appliances to customers who repaid on a weekly basis with high levels of interest and extra fees.
Following a rule change, the company found themselves facing caps on charges and problems with historic affordability checks meant rising levels of complaints.
The final nail in the coffin came in March 2020 when the coronavirus closed their physical stores, giving the company no option but to fold.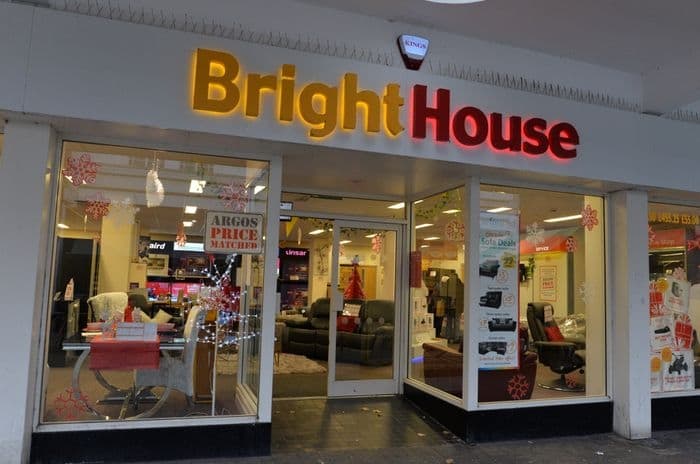 ---
How did BrightHouse work?
BrightHouse were the UK's largest rent-to-own company, operating between April 1994 and March 2020. At the time of their collapse, BrightHouse had 240 stores across the UK.
Rent-to-own companies allow customers to obtain household goods upfront and then pay for them in instalments.
As such contracts are designed for customers who have no other option but to buy household items in this way, they are often far more expensive than buying outright or buying with other forms of credit.
So, BrightHouse provided a niche service which was evidently needed by some customers - the company had around 200,000 current customers when they collapsed.
What did BrightHouse offer?
BrightHouse specialised in household goods ranging from big brands to their own models of domestic appliances, furniture and electronics for the home.
Brands they stocked during their time on the high street included Whirlpool, Beko, LG, Samsung, Sony, Acer, Baird and Nokia.
With branded products like these, BrightHouse's promise to match prices found elsewhere was more straightforward, but this promise was hollow for their own items - there were comparable products but not exact matches.
Buying from BrightHouse
Customers buying a product from BrightHouse went through the following process:
Visit a store and choose the items they wanted
Pass a credit check and provide proof of income and identity
Purchase verified and delivery date arranged
Make weekly payments until the debt was paid in full
While the process was straightforward, the interest rates involved were high, and mandatory extras increased prices even further before the Financial Conduct Authority (FCA) intervened in the sector in 2019.
For instance, BrightHouse advertised their Five Star Service which was included with every product and offered delivery and installation as well as their ServicePlus pack.
ServicePlus included:
Unlimited repairs
Loan products if product removed for repair
Like-for-like replacement
It was essentially a warranty that was sold with products whether customers wanted it or not.
What was BrightCare?
BrightCare was an optional service that pack customers could take out on their products to provide peace of mind.
The theory was that customers who couldn't afford the upfront replacement costs of another product would benefit from an extended warranty agreement which repaired and replaced items for the life of the rent-to-own contract.
Given that customers were choosing BrightHouse because they couldn't currently afford products upfront or were unsuitable for other forms of credit, the appeal of this reassurance is easy to understand.
BrightCare offered:
Unlimited repairs with no call-out charges or bills for labour or parts
FastFix which aimed to repair domestic appliances and TVs within two working days, furniture within five days and technology also within five days.
New for Old promise to replace a faulty product with another
No extra charges if it turned out there was no fault
As usual with guarantees like this, there were some caveats on repairs:
Money spent because a customer couldn't use their product - i.e. laundry charges or takeaway bills
Batteries, bulbs, batteries, vacuum bags and other consumables
Accidental damage, fire or theft
Scratches, dents and any other cosmetic damage
Damage from mishaps
The prices of BrightCare were dependent on the products purchased and so it makes it difficult to suggest whether they were fair or unfair, but complaints about warranties and mis-selling of insurance policies were rife.
What went wrong at BrightHouse?
BrightHouse had been in difficulty for some time before its eventual collapse in March 2020.
There are four distinct elements we can point to which help explain why the company collapsed: their 2017 refund saga, the imposition of more stringent FCA rules in April 2019, growing complaint levels and the coronavirus crisis in early 2020.
2017 redress scheme
In October 2017, it was announced BrightHouse would be paying around £14.8m in refunds and redress following an FCA investigation.
The FCA had identified concerns about the lender's business practices as far back as 2014, and their subsequent investigation found their affordability assessment procedures and collection processes weren't always in the best interests of the customers.
BrightHouse agreed to pay redress to customers in two categories:
Customers whose circumstances weren't assessed properly when they first made their RTO agreement and could have had difficulty making the agreed payments.
Customers who made the first payment due under an agreement which was cancelled prior to the delivery of the goods - the payment had not always been returned.
On the first point, BrightHouse paid £10.1m to 81,000 customers who entered into 114,000 agreements between April 2014 and September 2016.
181,000 customers with 270,000 agreements between them were refunded for the second infraction. This included 8% compensatory interest and totalled around £4.7m.
The FCA warned BrightHouse had not been a responsible lender during that time but admitted the practices they had investigated were historic ones.
Nevertheless, the redress scheme did highlight the problems within the rent-to-own sector, and it fed into an ongoing review of the RTO industry.
FCA price cap
In November 2018, it was confirmed a price cap would be implemented in the RTO sector from 1 April 2019.
The main point of the cap was to stop customers paying more in fees and charges than they were paying for the actual item.
So, if a TV cost £300, BrightHouse would not be able to charge more than £600 in total including delivery and installation.
To protect against the possibility of companies raising the base prices of their products to compensate for the reduced income, the FCA proposed prices were benchmarked against the same products from different retailers.
Firms were also banned from raising insurance premiums and arrears charges which could have been used to recoup losses.
At the time, critics of the proposals warned they could force companies out of the market permanently, but that didn't stop them being implemented in April 2019.
So, at a stroke, several elements that allowed BrightHouse to make a profit were eliminated.
Rising complaint levels
The RTO sector has seen an increase in complaints in recent years along with other high cost short term credit companies.
Complaints about affordability checks began stacking up, with BrightHouse expected to pay compensation to customers who shouldn't have been allowed to take out a rent-to-own agreement in the first place.
The FCA's official figures cover the last full six months of BrightHouse's trading and they show the company had the dubious honour of being fourth in the list of companies with most complaints opened in the second half of 2019.
17,406 complaints were opened in the period and 17,712 were closed, with 57.9% of complaints upheld.
While the percentage of complaints upheld wasn't the highest among financial providers, it was an intolerably high proportion.
To put it in context against their main RTO rival:
| Company | Complaints opened | Complaints closed | Percentage upheld |
| --- | --- | --- | --- |
| BrightHouse | 17,406 | 17,712 | 57.9% |
| PerfectHome | 3,733 | 3,623 | 31.4% |
Even by the standards of their sector, then, BrightHouse were struggling and it meant the company was already talking about diversifying their product range and moving towards short term loans - and then the coronavirus crisis hit.
Coronavirus
BrightHouse's model of credit relied upon their bricks and mortar stores.
Customers hoping to buy products on their website were instead directed to their nearest store where the appropriate verification checks could take place and delivery could be arranged.
When the coronavirus outbreak hit and lockdown began in the UK, all 240 remaining BrightHouse stores were forced to close to comply with quarantine restrictions.
Without those physical stores, BrightHouse couldn't trade and they collapsed just a week after lockdown was imposed in March 2020.
So, ultimately, it was coronavirus that fatally wounded BrightHouse, yet talk of their collapse had been rife before that and it's likely some sort of restructure would have taken place if coronavirus hadn't put paid to efforts to save the company.
Where next for BrightHouse customers?
200,000 customers had credit agreements outstanding at the time of BrightHouse's collapse and the administrators will continue to collect all debts until they have been repaid.
For customers and ex-customers with outstanding complaints, the future is less certain.
Customers waiting for refunds or redress will find themselves labelled as unsecured creditors, which means they will go to the back of the queue - and the process may take some time.
Two years after the collapse of payday lender Wonga, 358,000 customers were informed by administrators they would only receive a 4.3p for every £1 they were owed. That left customers only receiving £64 on average when their debt was £1,200.
So, it's likely customers of BrightHouse can expect a low return on any compensation they're owed.
Alternatives to BrightHouse for customers
With BrightHouse gone, PerfectHome are the only major RTO lender left in the UK.
PerfectHome have had their own troubles. This includes identifying and paying redress to customers who were given loans they couldn't afford, and a restructure took place in 2019 to try and safeguard the business.
More importantly, they took the step BrightHouse seemed unable to - they closed the majority of their physical stores and moved their business online.
Whether this is enough to protect their business for the long-term or not, it has at least shielded them from the worst of the coronavirus crisis.
Is rent-to-own a good thing?
BrightHouse's collapse wasn't greeted with dismay by some commentators who pointed out that rent-to-own agreements charge high interest rates and were bad for customers.
That said, there were real concerns raised at the time that the disappearance of RTO would push customers into riskier forms of credit such as unregulated loan sharks.
The fact remains that RTO fulfils a vital purpose for many customers - the ability to pay weekly for goods yet receive them upfront.
Sometimes the people who criticise customers for using firms like BrightHouse and PerfectHome fundamentally fail to understand the precarity of some people's lives and, after all, if the cooker breaks down, it needs to be replaced as soon as possible.
With RTO options diminishing, many customers will turn to high cost short term lenders, yet many of those are facing mounting complaints too, and we've seen a spate of collapses among them since Wonga disappeared from the market in 2018.
There are options other than RTO though, and we've covered those in our guide to payday loan alternatives.
Conclusion: Will BrightHouse be missed?
BrightHouse was a fixture on the UK high street for over 25 years, but their inability to pivot to online sales was as much of a reason for their collapse as their mountain of complaints and compensation requests.
It's true BrightHouse enabled many customers to purchase essential goods, but it's also clear they were overpriced, and many were mis-sold.
The people who relied on BrightHouse may well miss the peace of mind they had from passing the shop on the high street and knowing it was there if they needed it, but the move away from RTO credit more generally should mean customers will pay less - if they can get that credit to pay for the items they need at home.