Which mobile phone takes the best selfies?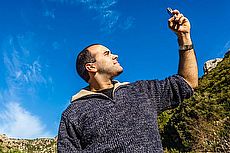 ©iStock.com/porpeller
WHEN it comes to picking a new mobile phone, it's often not how good it is at making and receiving calls that's uppermost on our minds, but how good it is at taking photos.
Perhaps more accurately, we don't just want something that can capture pretty sunsets, but a smartphone that can also take good selfies.
Front cameras have come a long way since their sole purpose was to provide a reasonable image for video calling. Despite the fact that they still tend to feature lower specs than a phone's main camera, they're increasingly impressive.
So what makes a good selfie camera, and which mobile phones take the best shots? In this guide we look into the technical details before summing up our favourites.
Megapixels, sensor size, aperture
Most smartphone cameras are spoken about in terms of a few headline features, usually not going much further than the megapixel count. Every digital image we look at or snap is made up of thousands of pixels, so the more pixels an image has, the better - the more detailed - it'll be, surely?
And yet even with all the advances made in smartphone camera technology, most new handsets have front cameras of around 5MP. The problem is that while higher megapixel counts do lend themselves to higher resolution images - and the ability to zoom in further when we're editing or viewing later - they need to be balanced with a couple of other factors.
The first is the size of the sensor. In a basic point and shoot compact camera, we could expect to find a 1" sensor. In a smartphone, the best rear camera sensors tend to be around 1/3". A selfie camera, stuck in the space above the phone's screen, will have a smaller sensor still.
Now consider the impact of trying to fit as many megapixels as possible onto a smaller sensor: each pixel has to be far smaller, which can make a big difference in their ability to register the light hitting them - which is crucial for a halfway decent photo.
The best selfie smartphones
Here's where the next factor - aperture, or f-number - comes in. This refers to the size of the hole in the shutter when open - the wider the shutter opens, the more light that can hit the sensor. Slightly confusingly, the bigger the aperture, the smaller the f-number.
Smartphone rear cameras tend to have apertures ranging from f/1.7 to f/2.4 - which is very wide, in general aperture terms, but necessary considering the small size of the sensors. Front facing cameras tend to have slightly smaller apertures.
That's why many selfie cameras aren't particularly great at coping with low light conditions - which is something of an issue given the kind of social situations in which we're most likely to want to grab a selfie.
Is there a flash?
Handset reviews on Choose
Frustratingly, it's difficult to find out much more than the megapixel count for most front facing cameras, as that's the simplest specification to explain; if the other specs are mentioned, it's usually because they're noteworthy.
The best smartphone selfie cameras tend to balance the three features mentioned above so that we get good, if not great, self portraits without much effort. Even so, they - and lesser selfie cams - can benefit from a bit of help in anything other than the best of light.
Given a front camera's reliance on plenty of light for a good photo, at least two manufacturers have realised that smartphones have a good source of light available to the front camera: the display.
From the Apple iPhone 6 onwards, and in Samsung Galaxy S series handsets from the S7 on, the screen will increase considerably in brightness - Apple's Retina Flash makes it three times brighter, for example - to provide extra lighting for selfies in darker conditions.
Only a handful of handsets feature a true LED flash for their front cameras - including the mid-range Samsung Galaxy J series and Sony's Xperia C handsets - but there are apps available for both older iPhones and other Android devices that work on a similar principle to Retina Flash.
Image stabilisation
The other feature that can really help improve selfies taken in lower light is image stabilisation. This helps negate any tiny movements we make with our hand while taking a photo.
There are two types of image stabilisation: optical and electronic.
Optical stabilisation is better - and more expensive - as it keeps the lens or sensor physically stable. Because it relies on the components being able to move slightly, it requires more space and is generally used in rear cameras on smartphones - but there are one or two handsets that include it in their front cameras too.
Most selfie cameras instead rely on electronic image stabilisation, which uses one or more processing tricks to keep the image as sharp as possible. The easiest option is to boost the sensitivity of the sensor, allowing for a faster shutter speed, but that often leads to noisy images.
Others take a series of shots and offer us either the least blurry or an image produced from combining them.
Image processing
As well as automatic built-in processing like this, most smartphone selfie cameras offer a range of other processing options to help us get the best shot possible.
As well as providing the usual modes - for low light, face recognition, and so on - the most obvious selfie setting is "beauty mode".
It varies hugely from brand to brand, and even model to model within a manufacturer's range: the idea is to smooth out skin tone, but while some beauty modes do indeed help us look like our best selves, others process the faces they capture until they look like Barbie or Ken.
Some smartphones allow us to fiddle with just how much beautifying they do, but for those that don't, or if we have more time to spare, look for a decent photo editing app, either as a downloadable add-on to the camera software, or as a standalone app.
The best smartphones for selfies
Now we've looked at the various technical issues that can make or break an impromptu self portrait, here, in no particular order, are our pick of the best selfie smartphones.
The LG G5
One of the extra modules available for the LG G5 is a combined bigger battery and camera grip, which makes it easier to hold the phone one handed when taking photos - which is just as useful when snapping selfies as it is when using the main camera.
The front camera itself takes 8MP images through an f/2.0 aperture, which is as good as we'll find on some main cameras.
Switching from main to front camera is as simple as swiping the screen, and the beauty filter is adjustable, so users can decide just how airbrushed they want to look. The selfie camera can also be voice activated - once switched on, the front camera will snap a photo when we use one of five key words (including "smile" and "cheese").
The G5 also wins points for making sharing selfies almost instantaneous: once the image has been captured, an icon for the app we last used to publish a photo will appear, ready to go with just a tap.
Get the LG G5 (in Titan Grey) from the following providers:
Data
Calls and texts
Upfront price
Monthly price
5GB
Unlimited
£49.99
£35.99
Free
£40.99
5GB
Unlimited
£119.99
£38
Free
£43
4GB
Unlimited
£29
£36
Free
£34
5GB
Unlimited
£10
£38
The Sony Xperia X
While the rest of this phone doesn't know whether it wants to be a flagship or not, there's no doubting who Sony had in mind when they designed the cameras on the Xperia X.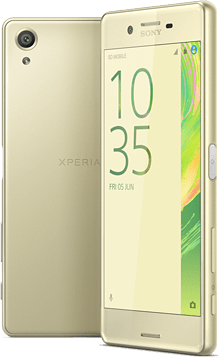 The main camera can take photos with a resolution of up to 23MP, although straight out of the box it'll shoot at 8MP - but the selfie camera combines a 1/3" sensor that can take snaps of up to 13MP, with an aperture of f/2.0.
That's better than the specs for the main camera on the iPhone 6S.
On top of some solid basics, Sony layer a heap of extras - almost everything that's possible on the rear camera is possible with the selfie cam - but despite the high megapixel count, images can suffer from noise in less than perfectly lit areas.
Get the Sony Xperia X (in Graphite Black) from the following providers:
Data
Calls and texts
Upfront price
Monthly price
5GB
Unlimited
£49.99
£35.99
Free
£40.99
5GB
Unlimited
£89.99
£34
Free
£38
4GB
Unlimited
£19
£36
5GB
Unlimited
£10
£43
The HTC 10
The HTC 10 is highly unusual among smartphones for featuring optical image stabilisation on both its main and selfie cameras. It also boasts an f/1.8 aperture, the widest among the phones in our selection, and what HTC call "ultrapixels".
Ultrapixels are basically much bigger pixels, allowing more light to be captured. Here they measure 1.34 micrometres.
For comparison purposes, the main camera in the Samsung Galaxy S7 features a sensor covered with pixels measuring 1.4 micrometres; those in the much vaunted Huawei P9's main camera are 1.25 micrometres; the main cameras in Apple's iPhones have even smaller pixels.
Basically, this smartphone has been designed to deal with selfies in the real world, where lighting isn't always great. It also starts up incredibly quickly - in 0.6 seconds - and has an ultra fast laser autofocus for blink-and-you'll-miss-it moments.
Get the HTC 10 from the following providers:
Data
Calls and texts
Upfront price
Monthly price
5GB
Unlimited
£9.99
£50.99
£99.99
£45.99
4GB
Unlimited
£49
£44
The iPhone 7
Apple's iPhones have long punched above their weight when it comes to their rear cameras, taking images of a quality that we'd expect from phones with twice the megapixel count. Until 2015, however, the front cameras took images of just one megapixel, making them something of a weak point for the handsets.
After boosting the front camera on the iPhone 6S to 5MP, the iPhone 7 saw another upgrade to the selfie cam, to 7MP. Apple kept the f/2.2 aperture - smaller than that on its biggest rival, the Samsung Galaxy S7 - but the iPhone takes better selfies. It's possibly because the iPhone has a narrower field of view which keeps the attention on - and adjusts exposure for - the selfie taker, not their surroundings.
Apple's take on the display as flash is better too - Retina Flash boosts the screen to three times its usual brightness, which is enough to illuminate without being blinding; Samsung's version is uncomfortably bright.
Get the iPhone 7 32GB (in black) from the following providers:
20 October 2017
19 October 2017
17 October 2017
Follow us or subscribe for FREE updates and special offers