Latest flagship device unveiled at Samsung Unpacked event with a design incorporating an S-Pen stylus into the phone itself.
The Samsung Galaxy S22 Ultra starts from £1,149 for the 128GB storage model and is available for pre-order from major UK networks.
Samsung also unveiled the Galaxy S22 and Galaxy S22+ at the event, with prices starting from £769 and £949 respectively.
It was also confirmed that Samsung will support Android software updates for a longer period than any other manufacturer.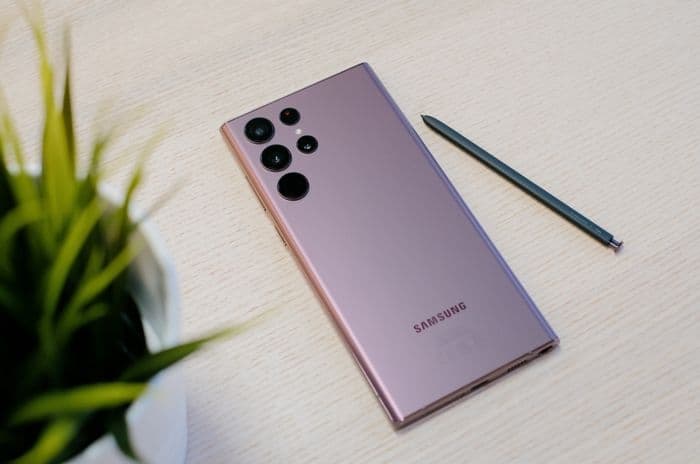 Samsung Galaxy S22 Ultra
The standout device announced at the Samsung Unpacked event was the Samsung Galaxy S22 Ultra, the most expensive device in the new line-up.
It's the only device featuring a redesign that removes the contour cut camera seen in the S21 range and creates a smoother finish. In addition, the Ultra has square edges compared to the rounded edges of its siblings.
There is also space within the S22 Ultra for the S-Pen stylus to be stored safely and, for the first time, the S-Pen is included as standard with a device in the range.
While S-Pen functionality was added for the S21 range in 2021, it was sold separately and difficult to store without a special case, but now this has been fully integrated into the S22 Ultra handset.
There are three storage options for the Samsung Galaxy S22 Ultra: 128GB, 256GB and 512GB. It comes in a choice of seven colours, although only Burgundy, Green, Phantom White and Phantom Black will be available through retailers and the rest must be purchased direct.
Last year's flagship, the Samsung Galaxy S21 Ultra, was our top choice in our guide to the best Android smartphones for 2021.
Other models
Samsung also launched the S22 and S22+ at the Unpacked event.
These devices look broadly similar to their S21 series counterparts and come in a choice of eight colours, again with four available through mobile networks.
Unlike last year's model, the basic S22 has Gorilla Glass Victus+ on both the front and back instead of relying on a plastic back, boosting the protection and durability of the handset.
Both devices have Dynamic AMOLED 2X displays with adaptive refresh rates of between 10Hz and 120Hz.
Samsung have upgraded the camera with a revamped 50MP primary lens and a 10MP telephoto for better up-close photography. They also say they have improved the Optical Image Stabilisation (OIS) correction angle by 58%.
While the Samsung Galaxy S22 Ultra will be released on 25 February 2022, the S22 and S22+ will be released in early March.
Last month, Samsung released the Galaxy S21 FE, a streamlined version of last year's S21.
Android support
Another eye-catching announcement at Samsung Unpacked was the fact that Samsung will now support four years of operating system updates and five years of system updates.
This is part of an ongoing drive towards more sustainable devices since customers will be able to hang on to them for longer rather than discarding them because software updates have ceased.
As well as applying to the new devices announced this week, this extra support has also been extended to older devices such as the Galaxy S21 range and the Galaxy Z Flip 3 and Galaxy Z Fold 3.
This means that Samsung devices offer longer software support than any other Android device, with the latest Google Pixel 6 devices only offering three years of operating system support.