Best phones to stay in touch in old age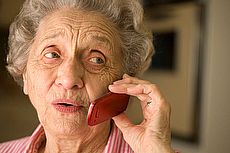 ©iStock.com/ebstock
BEING older or having a disability that makes using standard mobile phones difficult shouldn't mean having to be out of touch with friends and loved ones.
Yes, many people in their seventies, eighties or even nineties are quite happy swiping away on an iPhone
But others find their declining vision and hearing make using ordinary phones a challenge, and many more would just as soon go without all the fuss that comes with a smartphone.
So in this guide rather than looking for the latest version of Android, Bluetooth connectivity, and a Super AMOLED display screen, we've focused more on simplicity, big buttons and visibility.
Here are our top five picks.
1. TTFONE JUPITER
RRP: £29.99
Why is it useful?
Emergency SOS
Loud speaker
Desktop charging station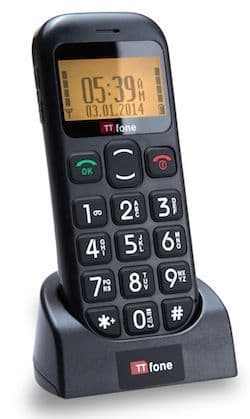 In pole position is the TTfone Jupiter, which offers a simple solution to mobile phones for the elderly. Rather than bombarding users with software applications and unnecessary features, it makes it easy for users to call and text.
Older people with hearing and visual impairments will appreciate the little extras that the TTfone offers, such as a loud speaker and built-in speakerphone, as well as large separated buttons and bigger characters on the display.
As the elderly are more at risk of illness or injury, the TTfone also has an SOS emergency panic button, which can be programmed to call any number. However, the dedicated side switch will prevent the user from making unwanted calls from their pocket.
Perhaps the most useful feature is the desktop charging station, pictured, which makes charging the phone really simple.
As it's such a simple call and text phone, it only uses the 2G network - worth bearing in mind when choosing a network provider. TTfone advise that it won't work on Three, for example.
2. DORO PHONEEASY 610
RRP: £34.99
Why is it useful?
Direct SMS key
Emergency call button
Hearing aid compatible
Next up is the PhoneEasy 610, which is from Doro, a brand dedicated to developing easy to use mobile phones. This handset is also a flip style phone, making it really simple to answer and end calls - and avoid making calls accidentally.
It may be a world away from the latest model of the iPhone or Galaxy S range, but the design is quite impressive - in fact we think it's better than the newer 606 model in this respect.
It has raised edges, a soft touch coating, and large, spaced out concave keys, to make it as easy as possible to use. Users can send and receive text messages with just one click, thanks to the direct SMS key.
Like many of the other phones on this list, the PhoneEasy 610 also has an emergency calling feature. Pressing the button on the back of the handset will trigger an attempt to contact up to five numbers by calling or texting.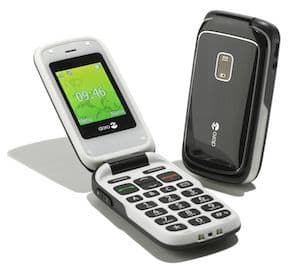 As with all Doro mobiles, there is a louder speaker volume than on modern smartphones, as well as larger characters on the display screen, and the phone is hearing aid compatible.
There are a number of extra features that you might not expect to find on an easy to use device, too. It has a wake up alarm, reminders, speed dial memories and Bluetooth.
3. THE BIG FRIENDLY PHONE
RRP: £28.85
Why is it useful?
Big clear buttons
Loud ringtone
Can be programmed remotely
The Big Friendly Phone from Fonerange boasts cloud connectivity - which may not seem like the most useful feature for older users.
But here it's used to make the phone easy to set up and maintain by other people. Each handset has a unique code which allows remote access via the Fonerange website; those with the PIN can add pictures to contacts stored in the phone, edit those numbers and check other settings, like the alarm clock.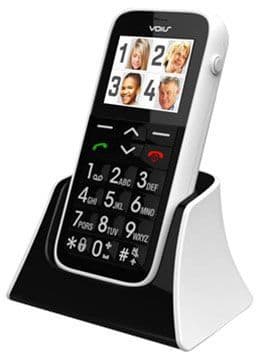 The emergency contact feature can be set up to send GPS location details via text should the user be out and about when something happens.
It's also possible to set the phone up so numbers saved as SOS contacts will always get through even when the phone is switched off. As long as it has some battery life, the phone will wake and start ringing.
The connectivity lends itself to lots of other fancy features, like being able to set up health monitoring and reminders for the user - but being able to use it as a simple phone hasn't been overlooked.
The layout is pretty simple with good sized buttons, it has a loud ringtone and speaker volume, and the photo contact option can be combined with the speed dial to make it quick and easy to call the most important people.
4. CPR CALL BLOCKER BIG BUTTON
RRP: £79.99
Why is it useful?
Photo contacts
Emergency button
Call white listing
Next on the list is the CPR Call Blocker Big Button phone. The call blocking functions might seem a bit fancy, but they make this a good phone for vulnerable as well as older adults.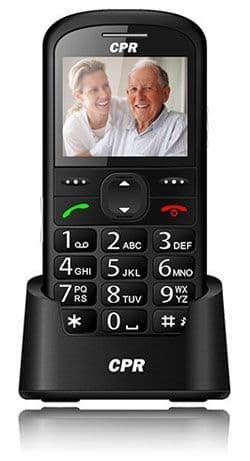 The blacklist function lets users block certain numbers at the touch of a button. But the whitelist function is potentially more useful: it can be programmed to allow calls only from numbers programmed into the phone.
The large colour screen also means users can see who they're calling, or who's calling them, by flashing up a photo associated with that contact rather than just a name or number.
The buttons are big and well spaced, and the phone will "speak" the numbers as they are pressed.
Like other phones in this list it has an emergency setting that will work through a list of programmed contacts at one touch.
But oddly for a phone that seems to be designed to cater for people whose eyesight may be failing, it loses points for having instructions in very small print.
5. SPARE ONE
RRP: £49.99
Why is it useful?
10 hours talk time with one battery
Simple to use
Speed dial
The last handset in the top five is the SpareOne, which claims to be able to last for 15 years on one single AA battery. Designed to be an emergency phone, the SpareOne can even make calls without a SIM card.
What looks like a display screen at first is actually a transparent display giving a view of the battery that powers the phone. If the owner actually uses the phone, the AA battery should last for up to 10 hours of talktime.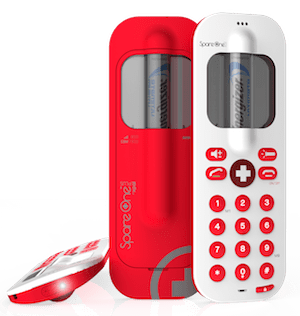 The handset itself looks more like a very simple cordless home phone. It is made of white plastic, with 12 large spaced out keys, a red button for emergencies, as well call, torch, power, and volume keys.
Call quality isn't what we might expect from modern smartphones, but it does the job, and manages to impress with good background noise cancellation. Without a display, texting obviously isn't an option. The only other feature of note is the ability to set speed dial on the nine number keys.
The SpareOne is the ideal device for someone that literally wants an emergency phone.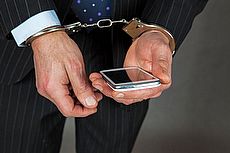 23 November 2017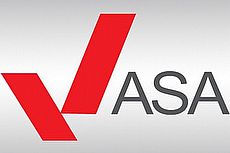 23 November 2017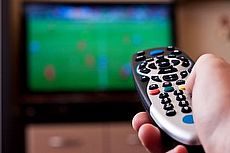 15 November 2017
Follow us or subscribe for FREE updates and special offers