Windows 10 begins roll out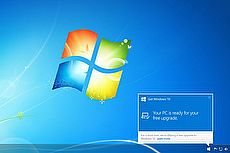 &copy Microsoft
MICROSOFT have begun to roll out what they say will be the final version of Windows, with users being prompted to download and install the operating system from today.
Windows 10, being offered free to home users with Windows 7 and 8, sees the return of the traditional Start Menu - albeit with the much maligned tiles still present in their own panel to its side.
Users who reserved their copy, having been prompted by Microsoft during other updates, may find the operating system has already downloaded and just needs installing.
From that point on, they'll find machines running the operating system update automatically, both with security patches and new features and services.
Forced updates
With previous versions of Windows, users could choose to ignore or put off updates, or to download them there and then but install them at a more convenient time.
As we're at pains to point out in our guides to staying safe online, ignoring service updates is particularly unwise - they are, after all, released to fix issues like bugs and vulnerability to malware.
Windows 10 has taken some of the choice away in this regard: users will find that once installed, their OS will download and install both service and feature updates automatically.
The only choice we'll have in the matter is whether we want to reboot straight away, or postpone the restart until we're not knee deep in work - or Minecraft.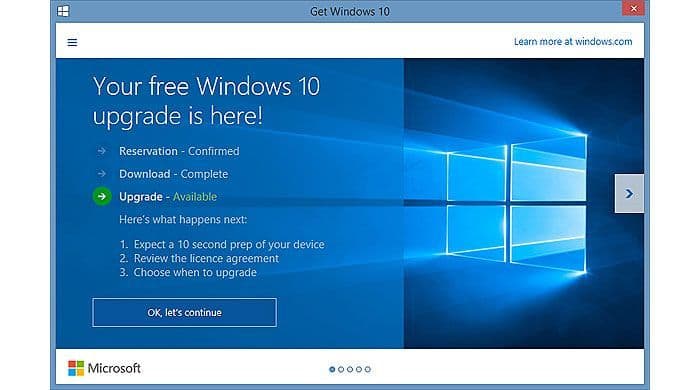 There are two reasons this is significant.
Firstly, as we've already mentioned, it means users will always be running the most secure version of Windows 10.
Secondly, it's the best way Microsoft have of getting us to go with "Windows as a service".
Instead of building and releasing a whole new operating system every few years - from 3.1, to Vista and XP, to 7 and 8.1 - Windows 10 will be gradually updated and upgraded free of charge, as and when new features become available.
Working but obsolete
This sounds pretty good then - except that lots of us are using programmes and features that may be a little dated but work well for us with our current operating system.
Windows 10 has been designed to cover as many programmes popular and in use with Windows 7 as possible - and upon install it checks that device drivers are up to date and problem-free so printers, speakers and other accessories will keep working.
But as time goes on, older programmes won't be supported in the same way any more. At some point, there'll come an update that will make using a favourite or just plain useful older programme stop working.
In the past, it was possible to put off installing a Service Pack, or roll back from it if, it broke things on our computers, but still get all the security patches and other updates we needed.
That's not the case with Windows 10 - which could force a lot of us to shell out for new programmes and software, with all the expense and relearning that entails.
Anyone making the bigger jump from XP, or using programmes that only worked in newer versions of Windows in "XP mode" is guaranteed to have issues.
Ham fingers
One of the major criticisms of Windows 8 was that while it was designed to take account of touchscreen technology, it did it really badly.
Not all devices that come with 8.1 have a touchscreen - lots of new laptops come with the OS, but all running a finger over the monitor does is leave a big smear.
And yet their owners have little choice but to live with the live tiles screen accessed by clicking on the Windows icon, and the "charms" that sweep in from the right hand side in a not entirely predictable way.
As Windows 10 is designed to be cross-platform it'll eventually run on tablets, the Xbox, phones - replacing the existing Windows smartphone OS - and eventually devices like smart watches and Hololens.
But no one will be forced to live with an interface that better suits a different device - as long as one of the new features works as planned.
It's called Continuum, and it promises to detect how we're using our device and adapt to that.
So people with tablets, or with a touchscreen enabled laptop and swiping left and right, will be presented with an interface full of bigger, more finger friendly icons.
Go back to using the keyboard, or plug one in, and Continuum will detect that, giving us a much more traditional desktop interface.
Our robot overlords
Much has been made of Cortana, Microsoft's answer to Siri.
The digital personal assistant first featured on Windows phones can deal with spoken or typed requests, and helps users manage their diaries, and find information online.
The more Cortana is used, the more it can learn about its user, supposedly enabling it to make better suggestions.
But those who find a computer getting to know and anticipate them a little bit creepy can restrict the data it can access.
When it's not free
Much has been made of the fact that Windows 10 is free for people with 7, 8 or 8.1 - but as mentioned in our introduction, this is only the case for Home users.
Companies must pay to upgrade - whether rolling out the new system across their existing computers, or to build machines with it pre-installed.
New computers may well ship with Windows 8.1 for some time - but upgrades for people buying them should also be free.
Home users who are still running an older version of Windows will also need to pay to upgrade: a licence for the Home edition will cost £99, while the Pro edition costs £189.
Finally, anyone who's got a free update should install it sooner rather than later. How long users will be able to put off installing the update is a little fuzzy, but it's thought to be up to a year.
After that, some users could be forced to update - and those who resist, but then decide they want to upgrade after all, will have to pay.